It's crazy: people pay HRK200 (EUR27/USD30) and more to walk in blazing sunshine and over 30 degrees heat on top of a 2-kilometre long wall made of highly reflective, light-coloured stone. Now and then, the flow of people grinds to a halt, and they patiently wait in single file in the midday heat while someone in front of them snaps a photo or while they wait to climb the next tower. All just to look down into Dubrovnik's Old Town, its narrow streets and over its terracotta roofs?
We get it, the views are nice. But being a coastal town backed by mountains, don't you think there are other vantage points where you can enjoy the same (or even more) gorgeous views (for free or at least less) and with far fewer people likely to photobomb?
Today's article is for those of you who can let go of the idea of having to tick off walking on the Dubrovnik city walls and are happy to check out other spots instead.
Download your Sustainable Travel Checklist and show the world you care
As travellers, we should all be aware of our travel behaviour and its environmental, economic and social impact; and make conscious decisions about it. Too often, we hear negative stories in the media about tourists behaving badly.
Here is your chance to tick some boxes and check out what it really takes to travel with a sustainable mindset.
#1 – Dubrovnik Old Town Basketball Court
The closest viewpoint over the Old Town is still in the Old Town. It's the public basketball court [Google Maps location] below the Minčeta Tower. Be mindful though if people are playing and don't disturb their game. It's great that the locals who remain in the Old Town have this facility. So don't spoil it.
There is no denying it. Dubrovnik gets crowded. If you are looking for a quieter, more authentic experience check out these five simple tips to avoid the tourist crowds.
And if you think Dubrovnik is suffering from too much love, check out these other Dalmatian coastal cities that have stunning Old Towns and UNESCO Sites to match.
#2 – Foundry Museum
Parts of this archaeological museum [Official website, Google Maps location] are right underneath the basketball court. We had no idea until we visited the museum and realised where it was.
As you're heading from the museum along the lower fortifications towards Pile Gate, you can enjoy pretty cool views along the wall and towards the Gate and Lovrijenac Fortress. It may not be the Old Town you're looking at but pretty special nevertheless.
Can you afford to visit Dubrovnik?
Are you planning a trip to Dubrovnik and wonder if you can actually afford to go? Our
travel costs
can help budget for your trip.
#4 – Ploče Gate
The views of the Old Harbour from the bridge and the little park at Ploče Gate [Google Maps location] are amazing.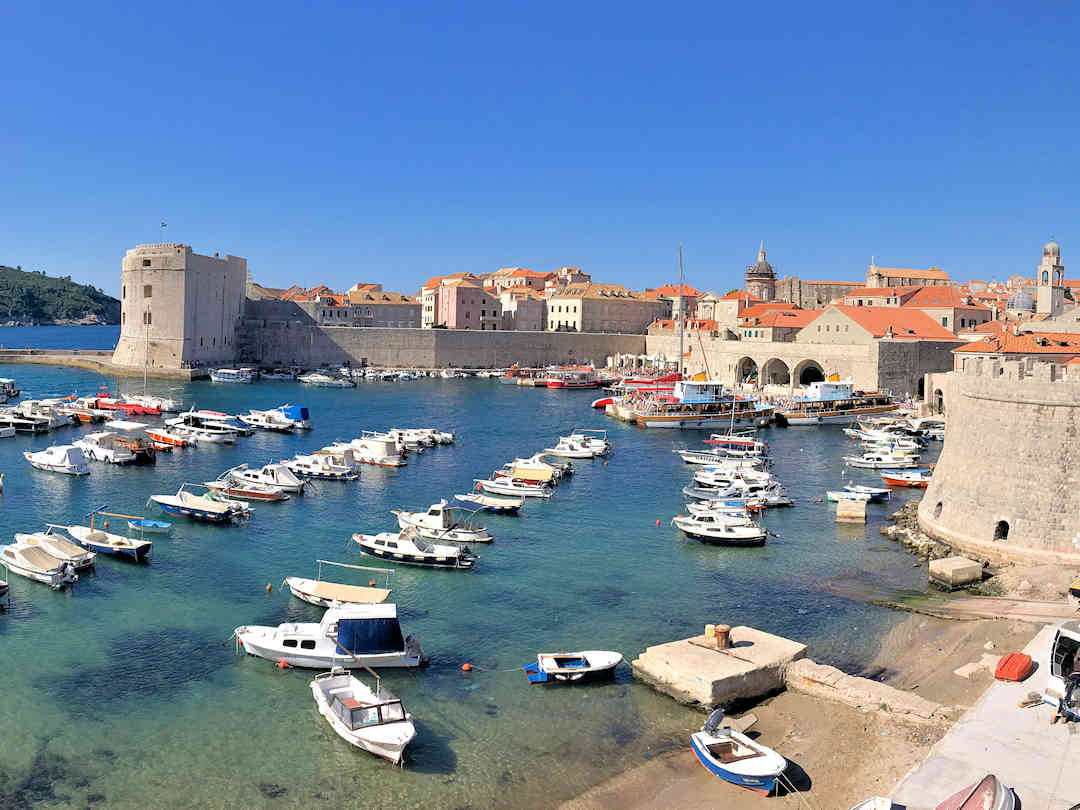 #5 – Ploče and the roads above the Old Town
Whether you walk along Jadranska Cesta [Google Maps location], Peter Krešimir Street or any other of the many streets in Ploče, the suburb above the Old Town, there are countless spots from where to catch views over the Old Town. Just watch the traffic and don't block the narrow walkways.
#6 – Mt Srd
Mt Srd [Google Maps location] is the mountain right behind Dubrovnik. It's a great spot to watch the sunset. And a great spot for views over the Old Town.
When we were there, the cable car wasn't in operation due to some dispute with the council. Other options to get up Mt Srd are to hike [Google Maps location] (there is a zig-zag path up but it's largely unprotected from the sun) or by Uber/taxi. Or join a buggy tour.
#7 – Culture Club Revelin
Next door to Ploče Gate, the old fortress-turned nightclub called Culture Club Revelin [Official website, Google Maps location] also offers great views. Entry fees are about half of what you pay to walk along the city walls AND you can enjoy amazing acts.
Can you recommend any other great Dubrovnik viewpoint(s) not yet on our list?
What other vantage points did you find when you explored Dubrovnik? Please send us an email so that we can include it on our list.