When people plan a trip to Montenegro it's almost guaranteed their itinerary will include the Bay of Kotor. They may even venture to the sights along the Southern Adriatic Coast (to Lake Skadar, Stari Bar or even Ulcinj). Yet one destination that is only 12 kilometres away from Kotor (as the crow flies) is often forgotten: Cetinje.
If you've landed here wondering whether Cetinje is worth a visit, and what's there to see and do, you've come to the right place. We'll talk about all the cool things we discovered when we stumbled upon this great little town off the beaten tourist path.
If you'd like to see all the highlights of Montenegro (without a vehicle) or wonder how much to budget for your Montenegro trip we can help you with that too.
Download your Sustainable Travel Checklist and show the world you care
As travellers, we should all be aware of our travel behaviour and its environmental, economic and social impact; and make conscious decisions about it. Too often, we hear negative stories in the media about tourists behaving badly.
Here is your chance to tick some boxes and check out what it really takes to travel with a sustainable mindset.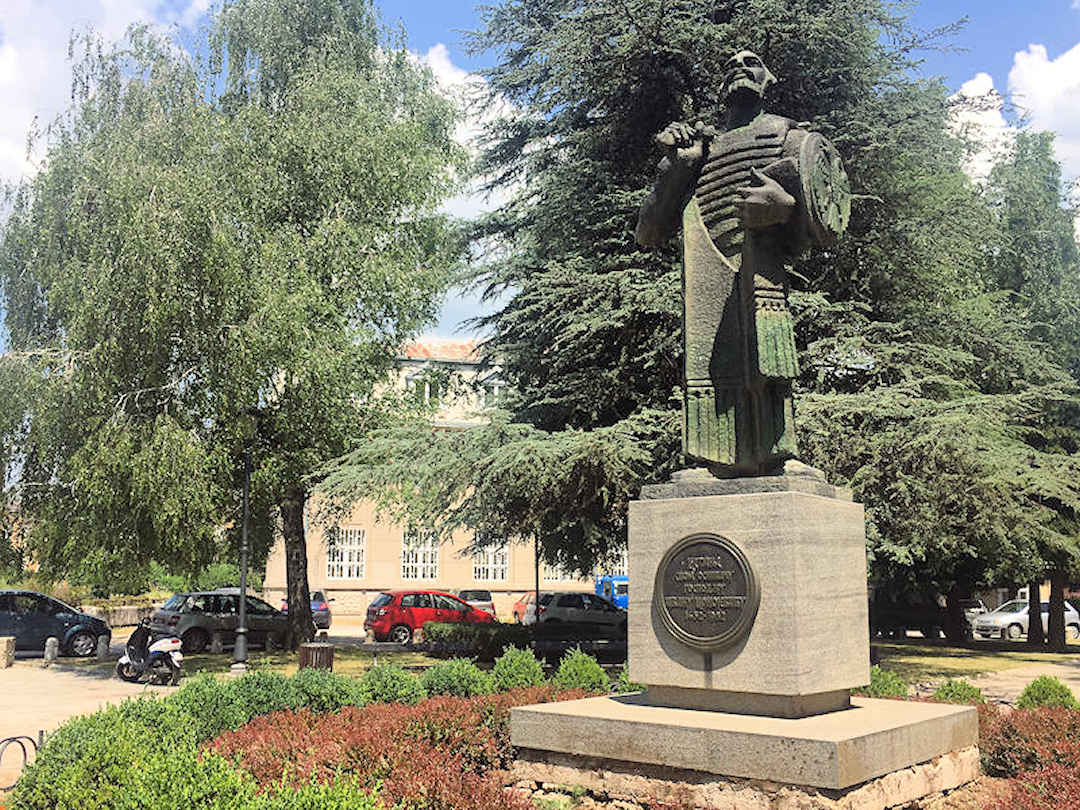 Why Cetinje is worth a visit
Let's start with a very abridged version of Montenegro's complex history.
In the middle ages, the territory of present-day Montenegro was made up of three principalities: Duklja in the south (known as Zeta from the 13th century), Travunia in the west and Rascia in the north.
The Crnojević Dynasty ruled over (large parts of) Zeta in the 15th century. Ivan Crnojević (Ivan the Black) made Cetinje his capital in 1482 and founded an orthodox monastery here in 1484. Crna Gora (as Montenegro is called in the local language) traces part of its name to the Crnojević dynasty.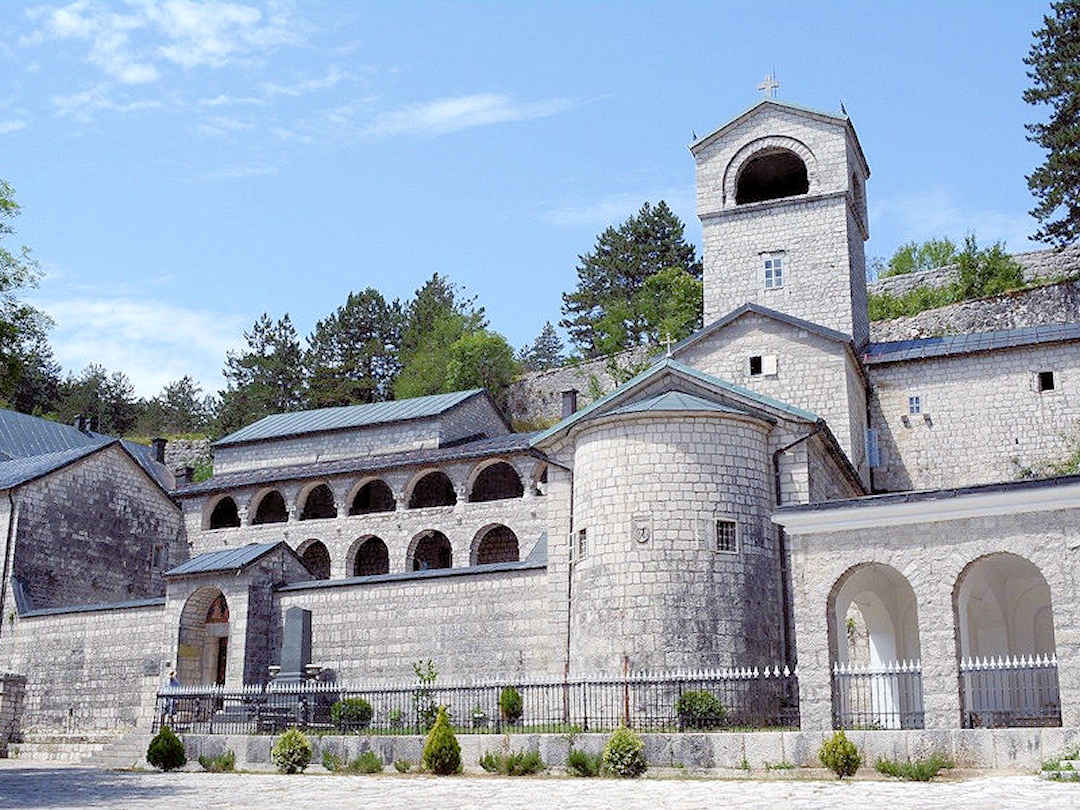 Over the following centuries, some of Zeta's territory was under the control of both the Venetian and Ottoman empires. Those parts that remained independent were under constant threat of invasion, particularly by the Ottomans. The monastery in Cetinje was destroyed during that time, and the town's development stagnated.
The town regained importance under the Petrović dynasty, especially in the 19th century under Petar II Petrović-Njegoš. It continued as
Montenegro
's capital under Prince Nikola I Petrović, who later became King of
Montenegro
and reigned until 1916.
As the capital of a European country, Cetinje experienced somewhat of a building boom in the 19th and early 20th centuries. The diplomatic missions from that time are still some of the most beautiful buildings in Cetinje today.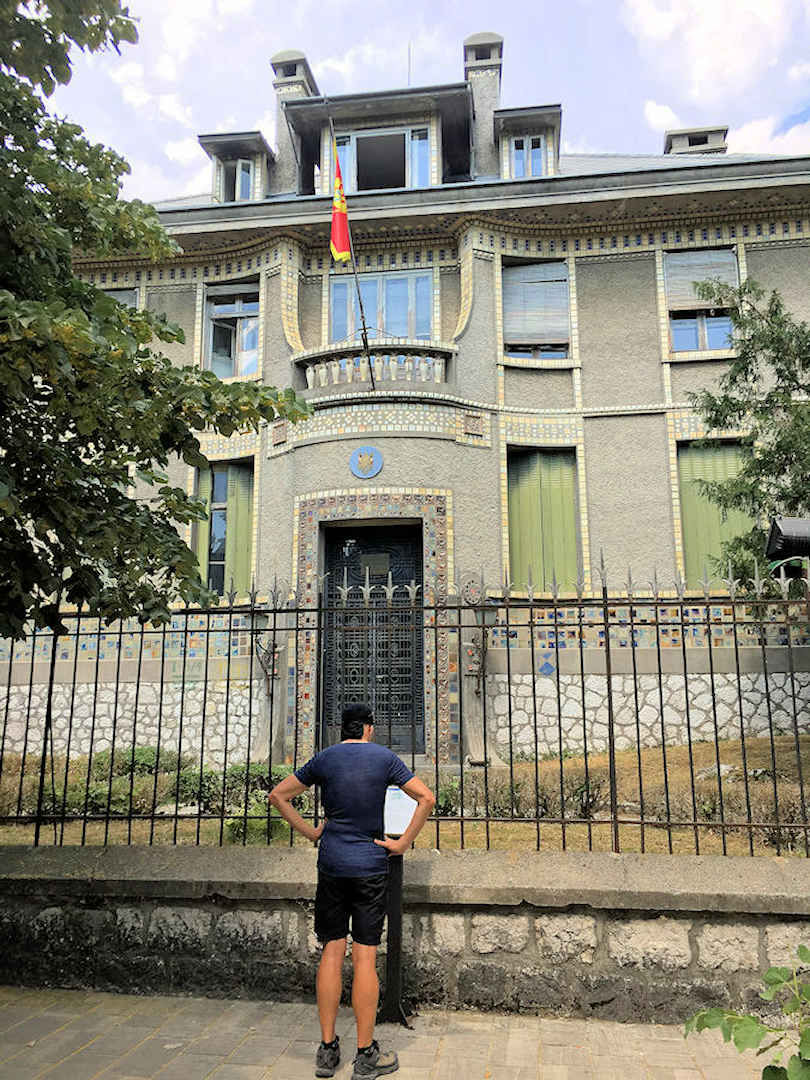 If you want to gain a better understanding of Montenegro and indeed the history of the Balkan peninsula, you can't miss Cetinje. As the former capital, this small town on the other side of Mt Lovćen (one of the mountains surrounding Kotor) is the historic and cultural centre of Montenegro.
While Podgorica is the present-day capital, Cetinje is the seat of the Ministry of Culture and Media, the National Library and the State Archives. Even the President of Montenegro has his official residence in Cetinje (in the Blue Palace next to the Hotel Grand).
With its central location, Cetinje would even make a great place to base yourself during your
Montenegro
holiday, especially if you come here in summer. At almost 700 metres above sea level, summer temperatures in Cetinje are much more pleasant than in the holiday hot spots along the coast. Even in peak season accommodation here is very affordable. And it's easy to visit other parts of the country on day trips.
How much time to spend in Cetinje
Cetinje is one of those places that grow on you the longer you stay. At first glance, it didn't seem to offer much, but the more we explored the more we discovered. We left thinking what an underrated gem.
We recommend staying in Cetinje for at least three nights. That gives you the chance to spend a full day exploring the old capital (and nearby Lipa Cave) and time for a day trip to either:
After checking into your accommodation, grab a map and start with a self-guided walk around town to get your bearings.
What to see and do in Cetinje
Cetinje has so many museums and historic places, you'll be spoilt for choice. There are:
We decided to first head to the Historical Museum (Istorijski Muzej) and ended up spending a good few hours roaming the different halls. With collections showcasing Montenegro's history from the earliest settlement of the area all the way to modern times, it had interesting exhibits and the right amount of detail (in English) to gain a better understanding of Montenegro's history.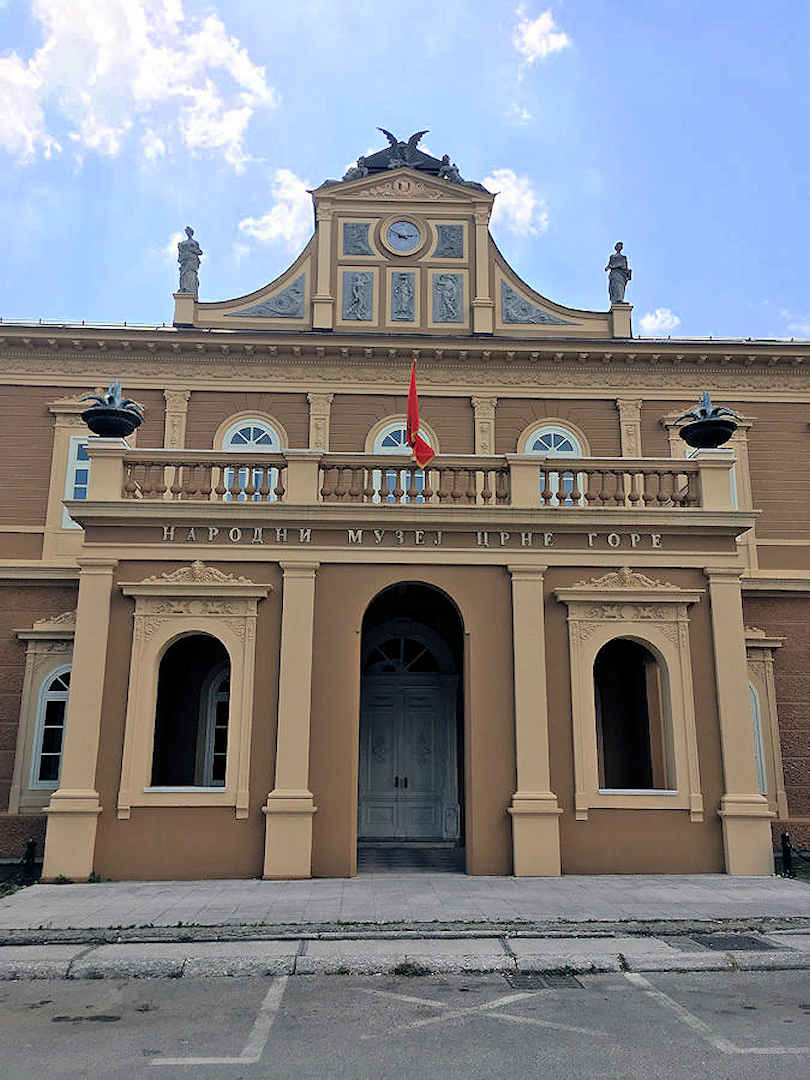 Another museum we can't recommend highly enough is the
Money Museum
(Muzej Novca). We stumbled upon it by chance on our walk around town, as it's located near the former French Embassy. We were wondering why
Montenegro
used the Euro without being a member state of the European Union, so we popped in and asked.
With the small entry fee comes an excellent free guided tour (in perfect English). Not only did we get an answer to our question. We were also shown historic bank notes, jewellery made of coins, special edition gold coins, a still working minting press and much more.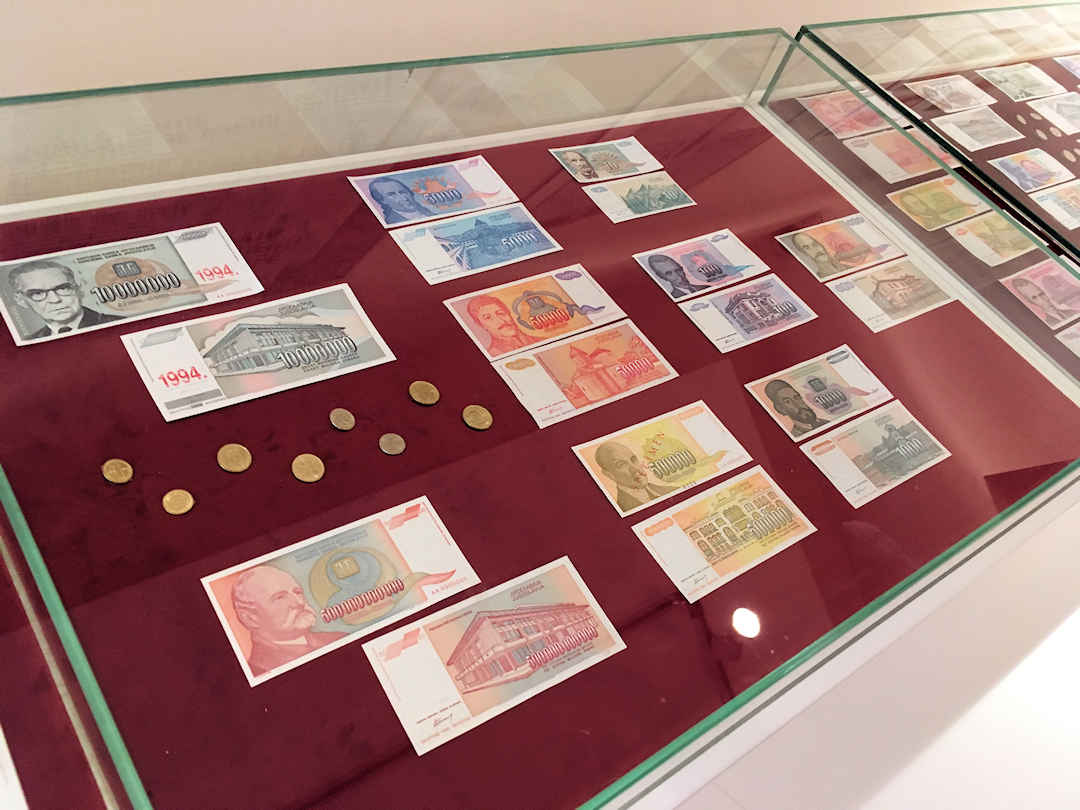 Lipa Cave (Lipska Pećina) is one of the largest cave systems in Montenegro. Admittedly, it is quite developed, but it's still worth a visit.
Located only 5 kilometres outside of Cetinje, the cave is easily reachable by bicycle or taxi: Leave Cetinje along the M2.3 towards Podgorica, turn right towards the village of Lipa Dobrska after a few hundred meters and pass the National Restaurant Belveder.
The temperature in the cave is around 10 degrees Celsius all year round, so bring a jumper/jacket and wear long pants to stay warm, even on a hot day. Tours of the cave take about an hour. Book ahead, especially if you visit in peak season and/or want to make the last tour of the day.
How to save money on experiences
Free activities or experiences
Many activities (and some of our most treasured experiences) are free or cost very little. On our journeys, we have
Visited many museums free of charge (including the Colosseum and Forum in Rome, Italy which is free on the first Sunday of the month)
Joined Al Green's Baptist Church Service in Memphis to experience local community life (rather than pay the exorbitant entry fees at nearby Graceland)
Attended free guided walking tours through Buenos Aires and Merida (you pay a tip at the end based on your budget and how much you liked the tour) and a free guided walking tour as part of Auckland Heritage Festival (which even included coffee and scones afterwards)
Did countless self-guided walks and used public transport to get to know a city
Swam and snorkelled at countless beaches, using tree shade rather than paying for parasols; and
Attended free performances and danced with locals in Cuba.
Just search for free activities for your destination and chances are someone has made a nice list for you already. Here are some examples
Paid Experiences
Paying for experiences or activities can add up quickly, especially if you're travelling as a family. Make use of family passes (if available). Look out for special deals and discount coupons. If you travel in a group, you may also pay to book a private tour and share the cost. Definitely shop around.
We use and recommend the following service providers for all our paid experiences and activity needs:
Day trip from Cetinje – Lovcen National Park
Lovcen is one of five national parks in Montenegro. It is also one of the oldest. The top of one of its peaks, Jezerski Vrh (1,657m), is the location of the mausoleum of Petar II Petrović-Njegoš, one of the most revered figures in Montenegro's history.
While the climb to the tomb (over 461 stairs) requires some fitness, you're rewarded with spectacular 360 degrees over Montenegro's mountains, to the Adriatic and Lake Skadar. So, pick a day with nice weather.
And mind your steps, especially when taking photos – the path has no barriers, and the mountain drops a few hundred meters on either side.
Lovcen National Park is also home to numerous hiking and mountain bike trails.
We recommend hiking the Wolf Trail, an easy 7 kilometers/3 hours loop hike that starts and ends in the small settlement of Ivanova Korita, by the Ivanov Konak Hotel. Do the trail in an anti-clockwise direction to walk the sunniest section early in the day. If you add another 3.5 kilometers/2 hours (return) to hike up to Babina Glava (1,474m), you can enjoy similar views to those from the mausoleum (but likely have them all to yourself).
If you want to visit the mausoleum or hike one of the trails from Ivanova Korita we recommend hiring a bicycle – your accommodation may even provide one for free. From Cetinje, ascent along the R-13 to
Ivanova Korita: a total of 620 metres over 15 kilometres; or
the parking lot at the foot of Jezerski Vrh: a total of 870 metres over 20 kilometres.
You return the same way you came. The R-13 road, while asphalted, has quite a few hairpin turns, so take your time and always pay attention.
If mountain biking is not your thing, you can also hire a taxi. Expect to pay EUR10-15 one way from/to Cetinje. There is also a small entry fee for the Lovcen National Park itself.
Day trip from Cetinje – Ostrog Monastery
Ostrog Monastery was founded in the 17th century by St. Basil of Ostrog, the most revered Orthodox Saint in the Balkans, who died here in 1671. Resembling an eagle's nest, the upper monastery is literally carved into the mountainside, some 1,000 meters above sea level. Its white walls can be seen from far away.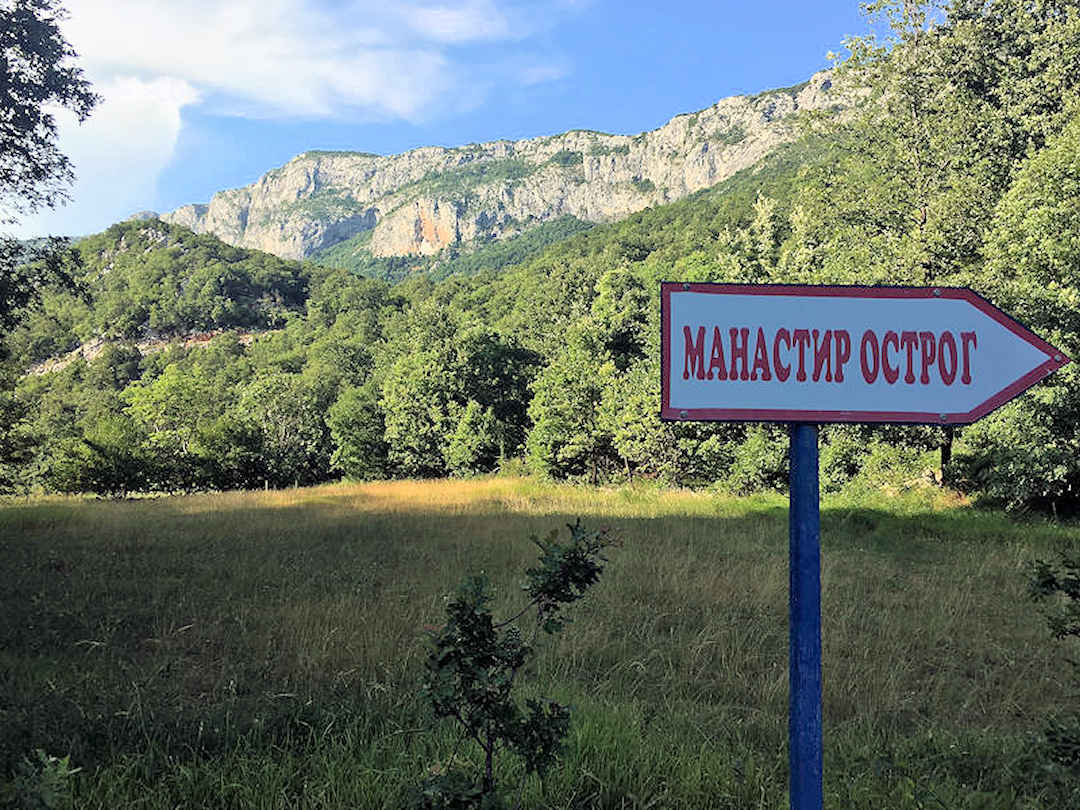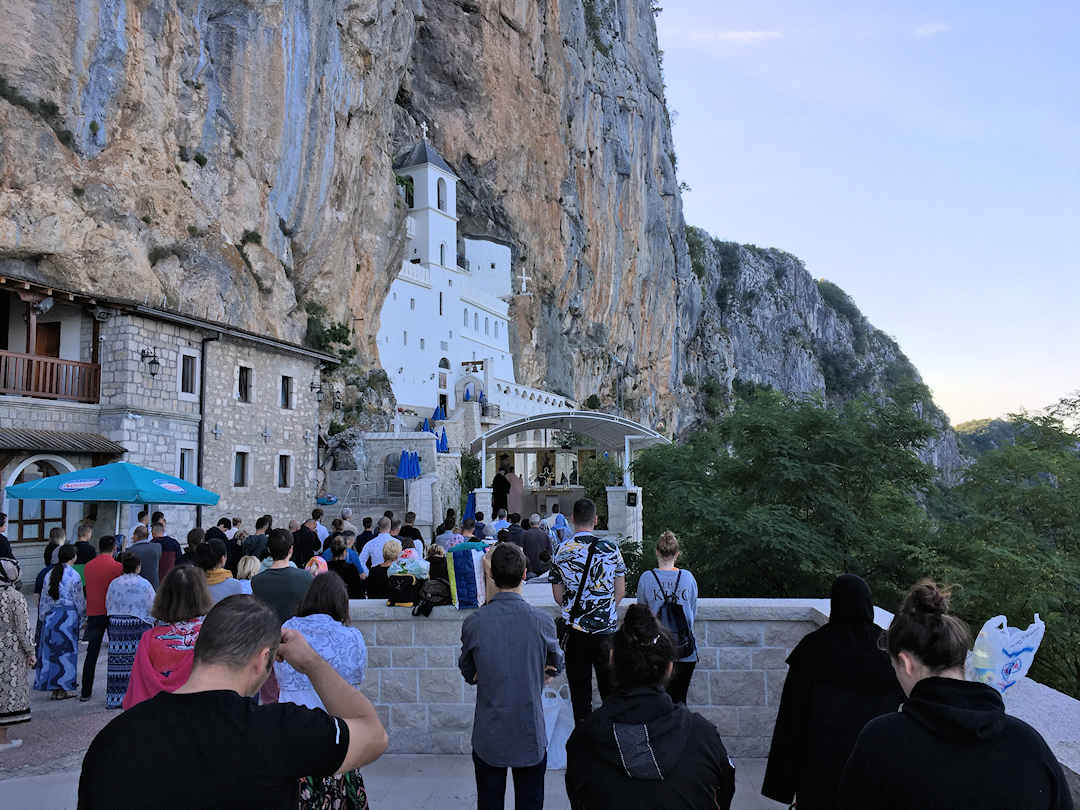 How to get to Ostrog Monastery (without a vehicle)
Ostrog Monastery can be easily visited on a day trip from Cetinje:
First, take an intercity bus from Cetinje to Podgorica (45 minutes) and then the train from Podgorica towards Nikšić, getting off at Ostrog (another 45 minutes).
From the Ostrog train station, it's a steep hike of just over 2 kilometres/280 meters elevation gain to the lower monastery (and an additional kilometre/280 meters elevation gain) to the upper monastery. Cross the railway tracks and immediately turn left onto the path up to the monastery. Follow the signs from there (or use MapsMe for directions if in doubt).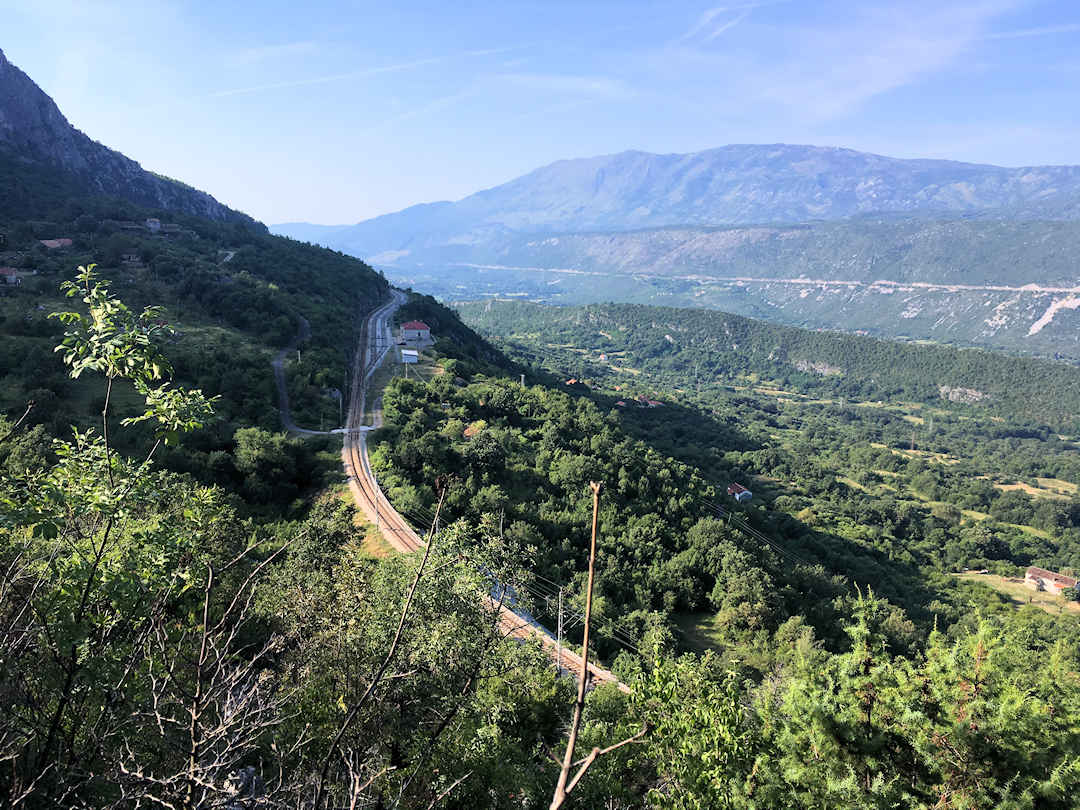 We recommend to take the first bus/train combination. Not only will you avoid the midday heat on your hike up, but you will also have more time to explore both the upper and lower monasteries before making your way back down.
Expect to take 1.5 to 2 hours to get to the upper monastery and about an hour back down to the train station – 2.5 to 3 hours in total plus rest stops and your time at the monastery.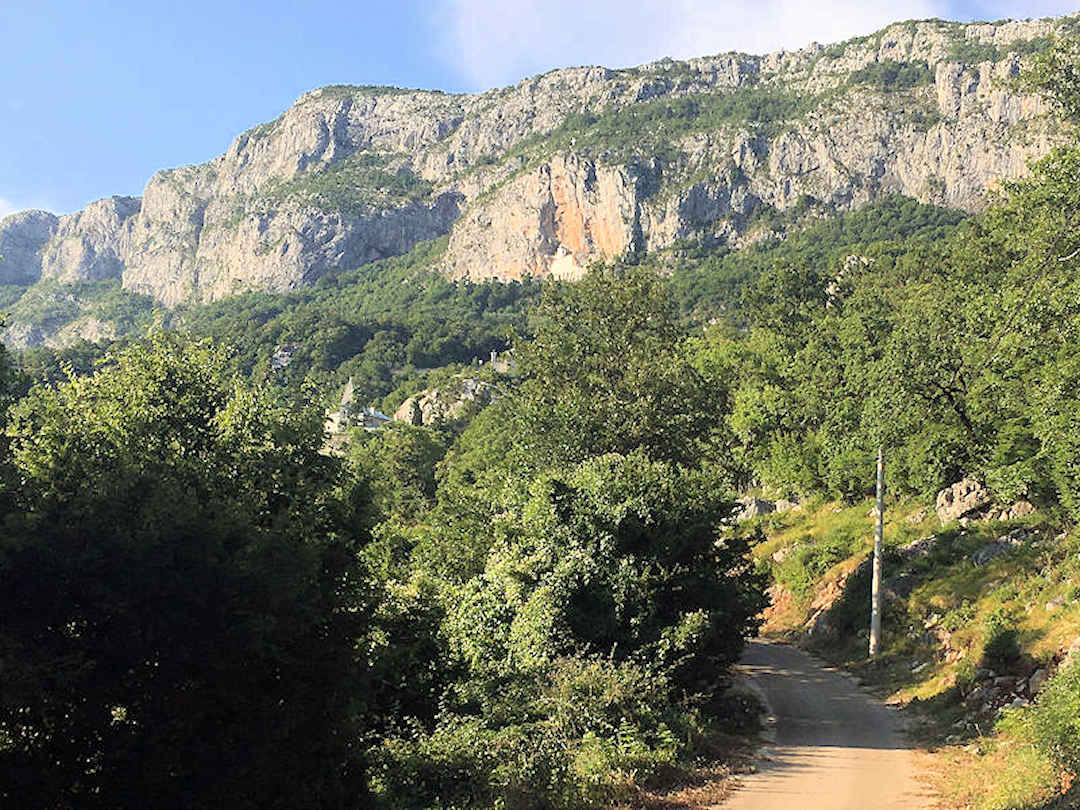 You return the same way you came: first take the train to Podgorica, then the bus to Cetinje. Alternatively, you can take the train from
Ostrog
to Nikšić and then the bus from Nikšić to Cetinje. Check the bus and train connections before you go. You can buy your train ticket from the conductor on the train.
In case you wonder: It is possible to overnight at Ostrog Monastery. There are dorm rooms (separated by gender) at both the lower and upper monastery (we paid EUR5 per person at the lower monastery). You can even sleep in the courtyard of the upper monastery if the weather allows and you bring your own sleeping bag/mat.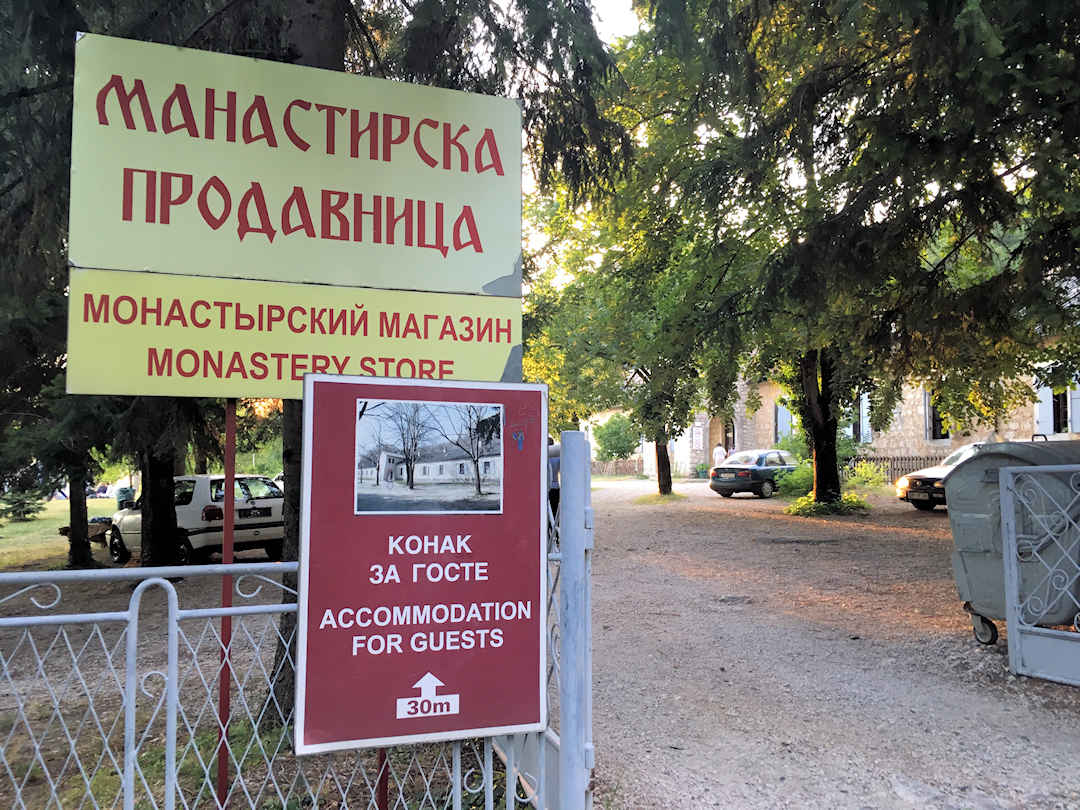 What else to be aware of when visiting Ostrog
As mentioned, Ostrog is a holy site with pilgrims visiting all through the year. Dress accordingly, covering your shoulders and legs.
Bring your own food and water for the day (or overnight stay). There is a restaurant by the lower monastery but don't assume it's open when you visit. Other than that, we only saw a few vending machines. There is a water fountain at the entrance of the upper monastery where you can refill your water bottle.
When you visit the monastery, it is a tradition to bring offerings (food, clothing, soap or blankets). There is a basket just outside the cave chapel holding the relics of St Basil where you can leave your offering.
It gets very busy on feast days, and the monastery is at its busiest on the days leading up to and on 12 May, when the Feast Day of St Basil of Ostrog is celebrated. While it may sound like a good idea to witness the festivities, you will also share the space with tens of thousands of worshipers.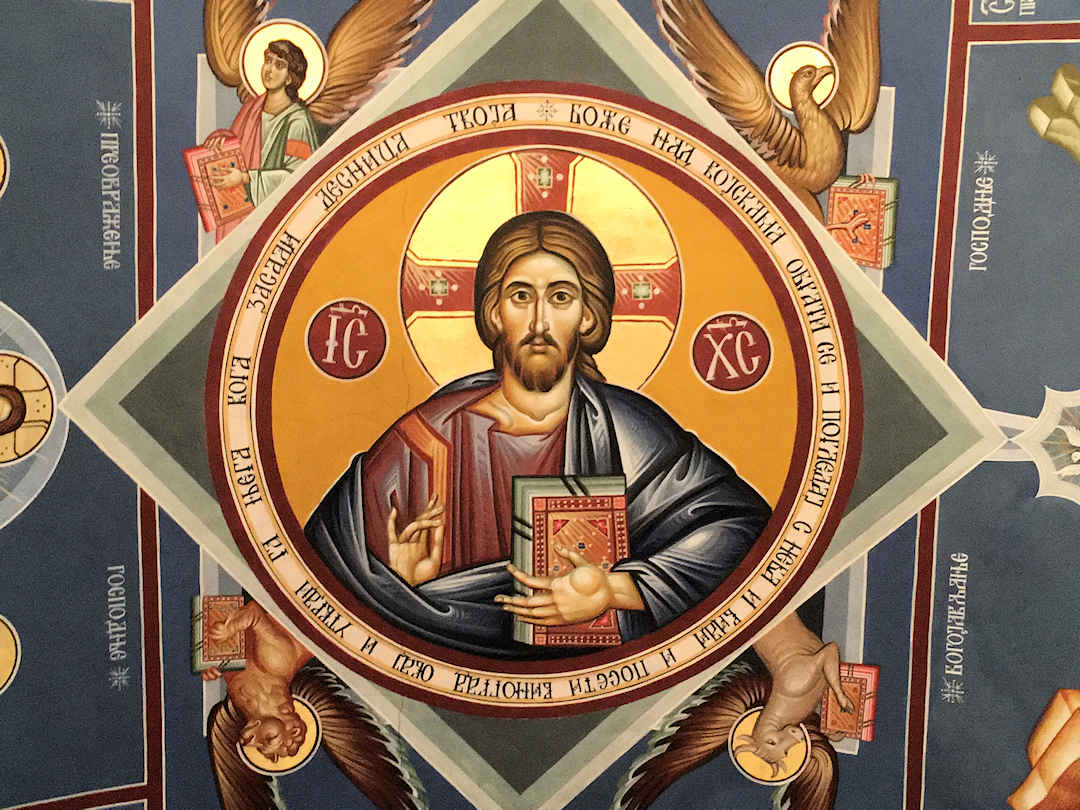 How to get to and around Cetinje
There are frequent intercity buses between
Kotor and Cetinje (via Budva) – the journey takes approximately 1 1/2 hours;
Podgorica and Cetinje – the journey takes around 45 minutes;
and many other places around Montenegro.
Cetinje itself is compact and easy to explore on foot or by bicycle – your accommodation may include one free of charge. When we visited, there was also an electric tourist train vehicle, starting at the square outside King Nicolas Museum and passing through all the important sights.
Where to stay and eat in and around Cetinje
As mentioned, Cetinje is easy to walk or cycle, and you can even visit Lovćen National Park or Lipa Cave by bicycle. We have therefore included some accommodation options that provide a bike free of charge:
Alternative options are below.
If you dislike the service and prices in some of the more touristy spots in Montenegro you'll be surprised by the value for money you get in Cetinje:
Alternative options are below.
How to save money on accommodation
For accommodation, as with any other travel expenses, it's worth shopping around. When we book accommodation somewhere, we tend to look across a number of booking platforms to find the best value-for-money option. Wherever you book, make sure you read the fine print to make sure you compare apples with apples. For example, your stay may incur extra charges (like local tourist taxes or cleaning fees). Some booking platforms include them, while with others, you have to pay them to your host upon arrival.
Nightly rates are generally cheaper outside of peak season. If you can only travel in peak season, look for accommodation options that are a little further away from the main tourist attractions, yet have good connections by public transport. Always double-check the cancellation policy and payment terms before you book.
We use and recommend the following online travel agents and service providers for all our accommodation needs:
Have you visited Cetinje in Montenegro?
If you have visited Cetinje recently, what was your experience like? What other tips can you share?
If you want to visit, what additional questions do you have about Cetijne's old capital in Montenegro?