Are you looking for an all-natural, plant-based, eco-friendly and
plastic-free deodorant
? Coconut Matter's Mood deodorant range could be just what you're after. It has lots of reasons going for it and not much against. And by the way: although some of the advertising and marketing seems geared towards the female audience, the more neutrally scented choices can be used by males as well.
But before we jump into the detail let's first explain why we reviewed a deodorant.
Want to do your bit to halt global warming and climate change?
Download our poster of 50+ simple and effective ways to reduce your carbon footprint. Pick those that apply to you and get started.
How did this review come about?
Whether at home or on the road, we are always looking for ways to reduce our plastic waste. Toiletries have been especially challenging for us as we travel with carry-on luggage only (and smaller quantities usually mean more plastic waste). We've been replacing fluids (packaged in plastic containers) with solids (wrapped in cardboard or unwrapped) as much as possible: from soap and shampoo bars to toothpaste tablets.
One toiletry we hadn't been able to find a more sustainable alternative for was our deodorant… until we came across Coconut Matter.
We first heard about them and their products through our ethical influencers network. Hearing their story, we approached the company, and Coconut Matter was kind enough to send us four different deodorant samples to (road)test. In our post today, we share our experience with Coconut Matter's deodorants. Our opinions are entirely our own (and can't be bought).
Who is Coconut Matter?
Based in Hong Kong, Coconut Matter makes coconut-based products people can use every day without compromising their health, the environment or the communities the raw materials are sourced from.
Coconut Matter's founder Diane van Zwanenberg started with virgin coconut oil lip balm in 2015. Over the past four years, she has also created soaps, body balms, body butter and deodorants. And we can expect to see more Coconut Matter products over time.
Using only a few all-natural, plant-based ingredients, Diane sources the virgin coconut oil for her products from Fairtrade small-hold farmers in the Solomon Islands whose production process retains most of the oil's bioactive ingredients. Coconut Matter was introduced to the Solomon Islands farmers by Kokonut Pacific, an Australian-based organisation that works with rural populations in the South Pacific to help improve their lives 'one coconut at a time'.
We told you the story behind Coconut Matter intrigued us… If you want to learn more about the company and its products, check out this insightful interview with Diane.
But let's check out the product – that's what you're really here for.
What's different about Coconut Matter deodorants?
Ingredients
As mentioned, Coconut Matter's products only contain a few all-natural, plant-based, sustainably sourced ingredients. Coconut Matter's deodorants don't contain any water (who would have thought that what keeps us hydrated internally isn't really needed to hydrate our skin), aluminium, baking soda, parabens, silicone, phthalates, toxins or alcohol. Great news for people with allergies and hypersensitive skin.
Coconut Matter deodorants are currently available in four scents (Coconut Matter calls them moods) and as one unscented product (aptly called Coconut):
Bliss
Coconut
Hero
Spring
Zen.
Combining a variety of essential oils (and no artificial fragrances) gives each of the different moods its unique scent:
Bliss
Coconut
Hero
Spring
Zen
Lemongrass
Lime
Frankincense
Coconut scent
Peppermint
Eucalyptus
Rosemary
Geranium
Lavender
Lime
Cedarwood
Bergamot
Vetiver
As with other common deodorants, Coconut Matter deodorants are made up of the actual deodorant stick and the tube that protects the stick. The deodorant stick weighs 30 grams. The whole product (stick and tube) weighs 52 grams and is a bit smaller than the core of a toilet paper roll.
Packaging
According to the manufacturer, the Coconut Matter deodorant sticks are wrapped in zero-waste biodegradable packaging. The tubes containing the deodorant stick are made of cardboard lined with food-grade wax paper on the inside and biodegradable laminate on the outside.
Food-grade wax paper is an organic and inherently biodegradable packaging material. Both the cardboard and wax paper will decompose at the same rate as leaves in a forest. The biodegradable laminate takes three to five years to decompose. While this may sound long, it's significantly shorter than any plastic packaging.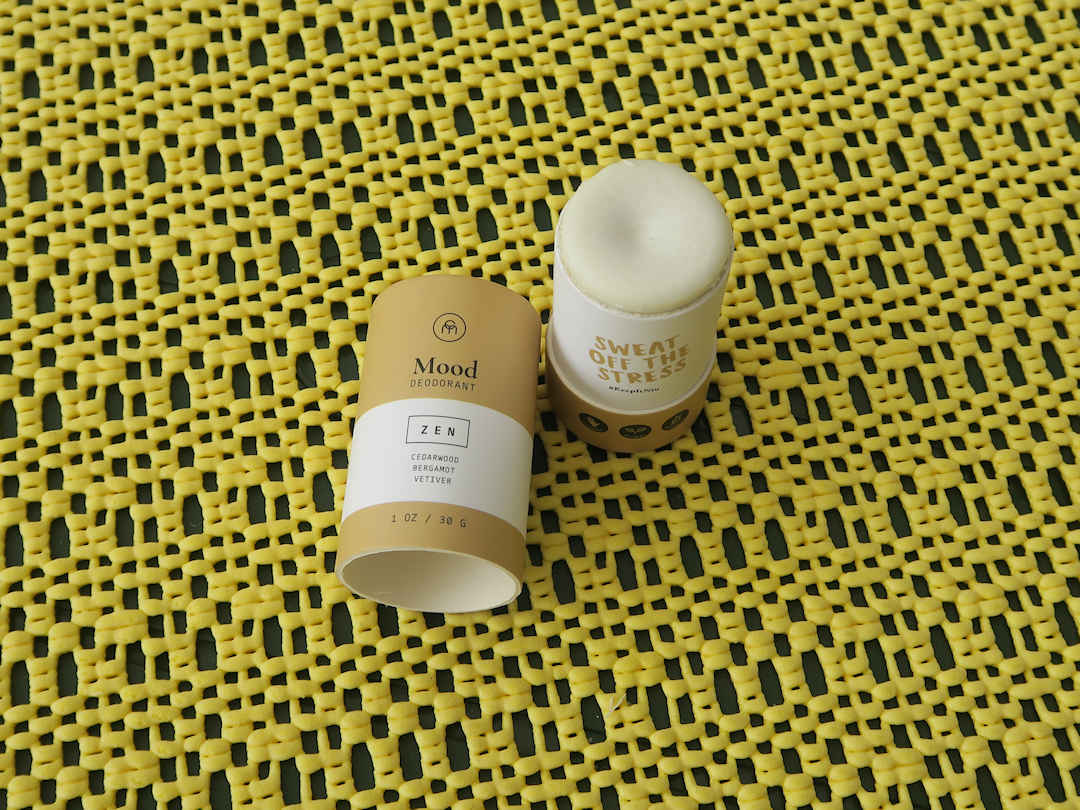 How did Coconut Matter's deodorant perform in our test?
What and how did we test?
Since September 2019, we have tested the moods Hero, Zen, Coconut and Spring, assessing the following:
Ease of Use
Effectiveness
Longevity
Customer Service and
Value for Money.
Given that we are consumers, not scientists, we did not do any laboratory testing.
For those of you who don't know us: We are full-time travellers who enjoy an active lifestyle. We eat a normal balanced diet and sweat lightly to moderately during normal exercise. We don't have any health conditions that make us sweat more or that cause our body odour to be significantly stronger than the average person.
When we tested our first scent, Hero, for 14 days, each of us applied the Coconut Matter deodorant under the left armpit and our usual deodorant under the right armpit. For the following 14 days, we continued applying the Coconut Matter deodorant under the left armpit but left the right armpit without any deodorant. After this initial comparison, we each used Coconut Matter deodorant on both armpits. And we continued to do so as we tested the other scents.
Every time, we only applied deodorant in the morning after showering as usual.
What is our verdict?
After ten months of using the Coconut Matter Deodorant, our test results are as follows (5/5 – love it; 0/5 – hate it):
Deodorant Review
Ease of Use

Effectiveness

Longevity

Customer Service

Value For Money
Summary
Ease of Use
Once you realize that you don't need to twist the bottom of the tube but just push the stick upwards, the deodorant is applied just like any other. It seems others also have this twist habit, as the 'push, glide, shine' instruction on the tube indicates. A very cute and subtle hint.
The deodorant stick is smooth and super easy to apply. It's sufficiently moist that it doesn't pull on your skin, yet firm enough that it doesn't fall apart. It absorbs immediately, without any residue. It doesn't stick at all, and there are no stains on our base layers. Beauty.
Effectiveness
All scents (or moods) we tested were very pleasant and not at all overwhelming. In fact, we started our test with the Hero mood as we thought it was suitable for both females and males. If you've ever been to a sauna in Europe and witnessed the Aufguss (or infusion) when they pour herb-infused water over the hot sauna stones that are how we would describe the Hero scent.
Coconut Matter's deodorants have pleasantly surprised us right from the start of our test. Our usual deodorant left us pretty smelly at the end of the day, even on a normal day of exploring a new place for a few hours (but without any real exercise). With Coconut Matter's deodorant, on the other hand, our armpit/s smells nice with just a faint body odour at the end of the day.
The best proof of the noticeable difference are our clothes: As we travel with carry-on luggage only, we usually wear the same base layer for up to three days. With our usual deodorant, three days would be a real stretch, especially for Sandra (anyone who's heading towards menopause may be able to relate). Wearing the Coconut Matter deodorant, she could wear her base layer even longer than three days. She doesn't break a sweat in the middle of the day anymore (as she did with our usual deodorant). Her armpits stay dry all day long.
Longevity
We have used the Coconut Matter deodorant in all four seasons, and cold climates (Norway, Iceland) as well as warmer climates (Greece). The stick's consistency has not changed.
The only thing we have noticed is that after a few weeks of use, a bit of oil penetrates the top of the tube (the part closest to our armpits when we apply the deodorant). However, the cardboard tube remains very sturdy, and it doesn't impact the use of the product or its effectiveness.
Apparently, one Coconut Matter deodorant should last up to five months. Given we share a deodorant (and Paul applies deodorant quite generously), each of the scents we tested lasted around two months.
Customer Service
While the product is sent from Hong Kong, Coconut Matter's approach appears to be under-promise and over-deliver. Our deodorant was sent to Germany and arrived much faster than expected.
Included in our package of deodorants was a handwritten note, an unexpected personal touch in Coconut Matter's communication with its customers.
Value for Money
When we tested the deodorants, they retailed at USD19 on the Coconut Matter website. That's a hefty difference from the USD2-3 we pay for our usual deodorant.
Considering the Coconut Matter deodorant doesn't contain any harmful ingredients, supports farming communities in the South Pacific and does not create any plastic waste, we would be happy to pay more for it. The effort and dedication, Diane has invested in developing these products, also warrant a higher charge.
Would we pay USD18 on a regular basis though? That's a hard one, given our budget is USD50 per person per day.
What did other people say?
Don't take our words as the be-all and end-all. Here are some snippets from other bloggers who have checked out Coconut Matter deodorants:
The Honey Combers tested the product in Hong Kong in a variety of situations and concluded: "Coconut Matter has done a great job in creating a range of great smelling eco-friendly prebiotic deodorants.".
Canadian blogger Sandra Nomoto attested "The cruelty-free ingredient list gets an A grade – it's free of aluminium, triclosan, baking soda […], paragon, phthalates, alcohol, fragrance, and plastic."
Ciara from Sassy Hong Kong talks about the pros and cons of natural deodorants and lists a number of different options including Coconut Matter.
So, what do we conclude?
Does the Coconut Matter deodorant deliver on its promises? We think so. The biggest draw cards for us are that the deodorant contains no harmful ingredients and causes zero plastic waste.
Would we be happy to use Coconut Matter deodorants and recommend them to our friends and families? Absolutely. We love the story behind Coconut Matter, and we love the deodorant.
Is the product worth the regular price of USD19? Yes (but). Would we still work in corporate careers with salaries to match, we would not hesitate to buy Coconut Matter deodorants regularly. While we do not (earn that much anymore), we will still replace our usual deodorant. But we'd look for special sales and other opportunities to save – like the sets available on the Coconut Matter website.
Where can I buy Coconut Matter products?
All Coconut Matter products can be purchased online directly from the Coconut Matter website. The company currently ships to 44 countries and offers free shipping for purchases over USD50. Plus, if you subscribe and become a #CocoTribe member, you get a 10% discount on your first purchase.
All Natural Deodorant for Women and Men. Handmade Vegan Deodorant Aluminum Free and Natural – Zero Waste Deodorant. Five different options including Bliss - Refreshing citrus, Coconut - Unscented, Hero - Invigorating Mint, Spring - Uplifting Floral, and Zen - Relating Woody.
How do I contact Coconut Matter?
Would you replace your current deodorant with one from Coconut Matter or are you already using one?
Would you replace your current deodorant with one from Coconut Matter or are you already using one? Please share your thoughts/experiences.
Full disclosure: We received four Coconut Matter deodorants free of charge to be able to do this review. As mentioned above, our opinions are our own and can't be bought (awesome deodorants or not).