When I flicked through the Jetstar Magazine on our recent flight from
Auckland
to
Sydney
, a statistic caught my eyes. According to the Magazine's sources, 326 couples get married in
Australia
every day, and on average, each spends AUD51,245. That's a whopping AUD6.1bn per year (or each couple foregoing deposits for a $256k+ property of their own). Mind-blowing… and this is only
Australia
.
The statistic reminded me of a recent conversation I happened to have with the lady seated next to me at a wedding reception. Weddings should be one of the most memorable days of your lives, yet all too often, they cause anxiety and lead to debt (or missed opportunities if couples used their savings on their first home instead).
Download our 40+ Tips To Cut Your Spending
Let us help you make it through financial hardship, get out of debt and achieve your financial goals with these 40+ tips to cut your spending.
It doesn't have to be that way. You can have the most amazing wedding without breaking a sweat or the bank. And in today's article, we share with you how.
What makes a wedding special?
Paul and I have both been married before. My first time (2004), I married my Italian-Australian partner in my hometown in Germany, even though we lived in the United Kingdom at the time. Our wedding guests – close family and friends – came from the United Kingdom, Germany, Italy and Australia. I ended up being the travel agency for everyone who wasn't local, researching transport, reserving hotel rooms, etc. Given the ceremony was to be in German, I had to organise an interpreter. Decent off the rack wedding dresses in the UK only started at GBP1,000. That's a lot of money to blow on a dress you wear just for a few hours. All the stress leading up to my first wedding caused a lot of tears (and almost a mental breakdown).
Needless to say, I didn't want to have any of that stress the second time around. This time, it was just Paul and me on a beautiful beach in Samoa. We booked a wedding package with the Seabreeze Resort Samoa, which included a wedding planner who organised all the things we needed. A month later, we had a catered reception in our backyard in Sydney. My wedding dress was a simple off the rack creamy silk dress by Zimmermann costing AUD350 (which I could have easily worn again). My stress levels the second time around? 1/10. Our enjoyment? 10/10.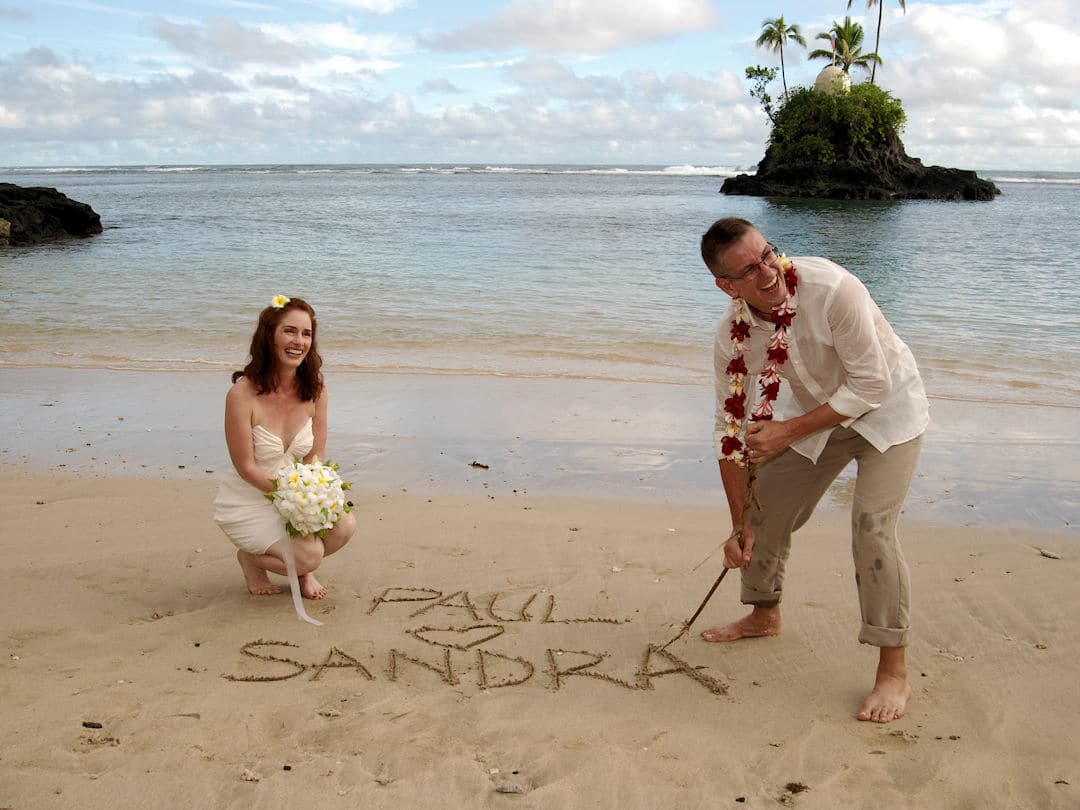 Why do I mention all this? What made our wedding special (whether the first or second time around) was not the wedding dress, the flowers or the meal choice. It was being with the person I love, having a recording of our special moment and celebrating the occasion with loved ones.
The most important thing to remember before you set out to plan your wedding: It is YOUR day!
Think about what would make your special day truly special and write it down to remind yourself (when others try to force their opinion upon you, well-intended or not).
How much is your wedding worth to you?
A wedding can cost as much or as little as you want. It helps to set yourself a rough budget before you start planning (even if someone else pays for parts or all of it). BTW, I'm not suggesting here any institution that charges you interest. Stay away from them!
Think about
how much you (or those kind people financing you) have saved up for your special day; and
how much is your wedding worth to you (if you paid for everything yourself)? Keep in mind other things you could spend your savings on instead (a deposit on your first home, x months of backpacking around the world, etc).
That way, you will be able to prioritise and find ways to save when it comes to individual elements of your wedding.
How can you make your dream wedding more affordable?
Below, I've listed the most common elements of (Western-style) weddings and some options to consider when you are looking to make them more affordable.
As you do some research on how much things cost in your area, write down the cost estimates to get an initial feel for your wish list. Then start whittling it down to something more realistic and in line with your (financier's) budget/priorities.
Wedding Ceremony (including Venue Hire, Celebrant, Marriage Licence, etc)
If you have your ceremony and reception on the same day, have your ceremony in the late afternoon and therefore only one (evening) reception. The late afternoon light is also better for photos. As for the location: Why not have your ceremony in your own or someone else's backyard (or another location that doesn't charge a hire fee)?
Reception Venue
Like the ceremony, why not have your reception in your or someone else's backyard? Just make sure it fits the intended number of guests. And don't forget to hire a marquee if it might rain or you get married in the colder months.
BTW, your reception doesn't have to be a formal sit-down dinner. Why not make it casual and offer seating/lounge options dotted around the venue? Not only is it a more social and inclusive experience for your guests. It also alleviates any awkward decisions you may have to make about who sits next to whom.
Food/Drinks
Limit it to one reception. Instead of a formal sit-down dinner, get a catering company that serves high-quality finger food. Bulk purchase drinks (and check with your supplier if you can return any unopened bottles).
For those of you who don't mind a bit of DIY (and have guests who'd be up for it): Allocate dishes for guests to bring (instead of presents) and make some delicious fruit punch (with and without alcohol).
Dress/es and Suit/s (for the Bridal Couple and Bridesmaids/Groomsmen)
If you or someone you know can sew create your dress and/or get them to do it – it could be their wedding gift to you. Look for off the rack dresses of brands you like (especially when on sale). Don't discard second hand/charity shops, especially in well-off neighbourhoods. You never know what gem you may find.
It may even be worth looking at hire options, at least for the groom (and groomsmen/bridesmaids). Alternatively, let bridesmaids and groomsmen wear their outfits. Or don't have bridesmaids and groomsmen at all. Instead, ask your best friends on either side to be witnesses and let them wear their outfits.
Bridal/Bridesmaids' Make-up/Hair
No bridesmaids = no make-up/hair required for them. Which leaves just you, the bride. Some brides prefer putting their make-up on themselves. If you prefer to be pampered by someone else, get a professional to do it for you. The same goes for your hair unless a friend or family member happens to be a hairdresser or make-up artist.
Wedding Rings
Think outside the box (pun intended): Combine your engagement and wedding rings into one. It doesn't have to be platinum or gold either. We've seen people who wear silicone rings and even matching tattoos on their ring fingers. In the end, the rings are just a symbol of your marriage (visible to the outside world). You decide whether you need/want them and what fits your personalities.
Wedding Cake
Do you have someone in your family or among your friends who really should audition for MasterChef? Why not ask them to make your wedding cake? They've never made a tiered cake… Well, who says you have to have a tiered cake? Beautifully decorated cupcakes and/or small desserts could be alternative options. And yes, you can even cut those…
Photographer/Videographer
If one of your wedding guests is a hobby photographer/videographer, and you trust them to do a good job, ask them. It could be their wedding gift to you.
Master of Ceremony
The same goes for your Master of Ceremony (if you need one). Get a friend or family member to do it who is extrovert and funny.
Music/Entertainment
Instead of paying a stash of cash to a band or DJ, create playlists of your favourite songs and assign a friend or family member to organise/bring the equipment and look after it during the night. And don't forget the music for your wedding ceremony.
Wedding Invitation
That's an easy one to DIY (thanks to the Mail Merge function in Microsoft Word): Buy some nice paper and print it/send it yourself.
Flowers/Table Decoration/Wedding Favours
Only get a bridal bouquet (and maybe a groom's buttonhole), even if you have bridesmaids and groomsmen.
If you have a catered reception with finger food you don't need table decoration/wedding favours, and if you have your reception in your/someone else's backyard, you won't need decorative flowers either.
If flowers/table decoration/wedding favours are really important to you, making them with your friends could be a great way to start your hen's night.
Is this the perfect dream wedding gift?
Tinggly's Dream Wedding collection features a handpicked selection of unique experiences tailored for dreamy honeymoons. Is this the ultimate gift experience?
Soar above the iconic New York City skyline, dive into the wizarding world with Broadway tickets to Harry Potter and the Cursed Child, adding a touch of fantasy to your love story.
Recognising that every couple is unique, the Tinggly Dream Wedding collection offers a range of handpicked experiences that cater to different preferences. Whether they seek adventure, romance, or a blend of both, you will find it all between 5,000+ experience gifts included in this collection. Celebrate their love and create stories, not stuff!
Honeymoon
Pick a destination and experiences, and let guests contribute money (or vouchers for a travel agent).
A final recommendation: Who says that a wedding registry only works for physical gifts like crockery, bed linen or appliances? You could create a registry for the different elements of your wedding and let your guests choose whatever they'd like to contribute to (any elements too expensive for one party could be divided into manageable shares). Just make it clear (in a friendly way): your guests may contribute financially, but it's still YOUR wedding.
What other ideas do you have for an affordable wedding?
I wrote this wedding cost article based on my own experiences. If you are planning your wedding soon and you have something to add to this list of way to have an affordable ideas, please feel free to contact me. If you liked my Wedding cost saving tips and found them helpful, I would appreciate it if you could share them with your friends and family via the Share buttons below. Even better, link to the page from your personal blog or social media platforms.