Are you planning a trip to
Nicaragua
? Do you have limited time and can only squeeze in one of the historic cities: Granada or León? Or do you want to visit both and wonder what to expect? Well, I hope we have the answers here for you.
Both founded by the Spanish in the year 1524, Granada and León have been rivals throughout their history, shaped by different values and political views. In fact, the rivalry between the two cities even led to Managua taking over from León as Nicaragua's capital in 1852.
We visited both cities – first León, then Granada – staying five nights in each.
Download our 2024 Minimalist Travel Wardrobe and Carry-On Packing List
This list for women and men was created as a result of more than seven years of full-time travel around the world in all seasons with only carry-on luggage. This is the packing list we have used as we embark on our adventures into 2024.
Map of Recommended Points of Interest, Eateries, and Transport Hubs
Below is the map of the points of interest, eateries. and transport hubs mentioned in this article.
Granada
Granada, named after the city of the same name in Spain, is situated on the North-Western shores of Lake Cocibolca (better known as Lake Nicaragua), the largest lake in Central America.
It already was a thriving settlement when the Spaniards arrived, but its indigenous population was all but wiped out.
Only 75km away from the Pacific and connected to the Caribbean via the lake and the San Juan River, Granada was a key transport hub between the Atlantic and the Pacific Oceans, before the Panama Canal was built.
Because of this strategic location and the riches that came with it, the city was the target of several pirate attacks throughout its history.
León
The original city of León was located on the Western shores of Lake Xolotlán (Lake Managua), across the bay from the Momotombo volcano. All but destroyed by Momotombo's eruption in 1578 and an earthquake in 1610, León was rebuilt around 35km west of the original city. The ruins of León Viejo are now a UNESCO World Heritage site.
León is considered the liberal political and intellectual centre of Nicaragua and the birthplace of the Sandinista Revolution. It was here that local artist Rigoberto López Pérez shot the first of three dictators of the infamous Somoza family in 1956. It was here that the Sandinista National Liberation Front (FSLN) was founded in 1961. And León was the first city liberated when the Sandinista Revolution finally managed to put an end to the Somoza dictatorship of 43 years in 1979.
Your top five things to see and do
Granada
Admire Granada's beautiful colonial architecture on a self-guided walk, starting from the Chocolate Museum of Granada​ [Official website, Google Maps location], passing Parque Central de Granada [Google Maps location], strolling down Calle La Calzada [Google Maps location] (ignoring the touts and the fact that this is probably the most touristy street of Granada) all the way to the shores of Lake Nicaragua and the Malecon [Google Maps location].
Another great walking tour takes in the city's famous churches: Start at the Iglesia La Merced [Google Maps location], then walk past Parque Central to visit Granada's Cathedral of the Immaculate Conception [Google Maps location]. Continue walking towards the lake to check out Iglesia de Guadalupe [Google Maps location] and finish at El Convento San Francisco [Google Maps location], where you can catch a glimpse into Granada's tumultuous history.
Watch and mingle with the locals on a weekend afternoon at Centro Turistico along the lake shore southeast of Granada, then hire a boat to explore Las Isletas. A good starting point is Puerto Asese, which is also very pretty at sunset.
Deep dive into the unique local experience of Granada's main Mercao / Market area [Google Maps location]. The surrounding streets and lanes are jam-packed with stalls, selling everything from Chinese designer fakes to fresh fruit and veggies. Watch out for your valuables and prepare yourself for an insult to your senses. It's amazing to watch but if you're a bit claustrophobic like me you will want to get away from it all pretty quickly.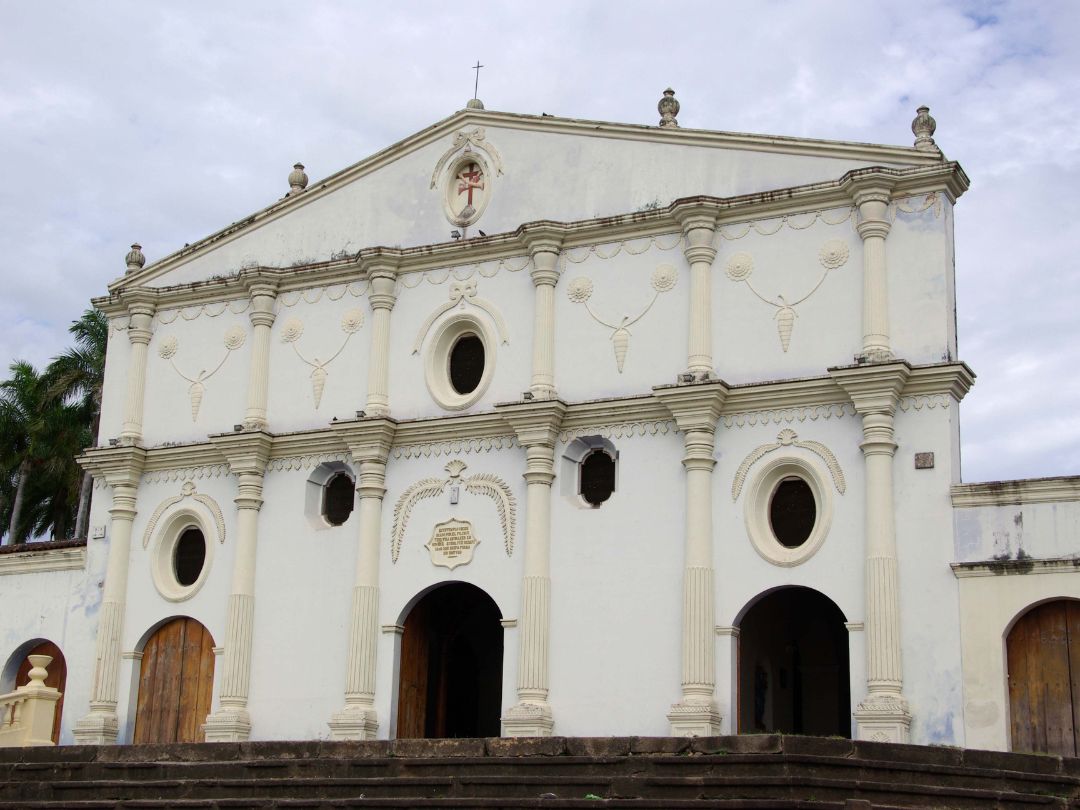 One of our top five experiences is actually not in Granada, but a short drive away:
5. Hire a car for the day and visit the Laguna de Apoyo [Google Maps location] and Catarina, Masatepe, Nandasmo, Nindirí, and San Juan de Oriente collectively known as the White villages / Pueblos Blancos). The water temperature of the lagoon is perfect (I didn't want to get out), and the water is crystal clear.
The lodges by the lake all charge fees to use their facilities and access the lake (USD6-7 per person seems to be standard). We drove all the way to the southern end of the lake road (turn right as you reach the T junction). Using the facilities of theLaguna de Apoyo Restaurante [Google Maps location] in front of the Apoyo Resort and Conference Center was free. They do ask you to eat or drink something while there, and we think this is only fair. The setting is gorgeous.
Continue your drive from the lagoon to Catarina, a cute little town full of garden nurseries. From Mirador de Catarina [Google Maps location], you can enjoy views across the lagoon to the Mombacho volcano as well as Granada and Lake Nicaragua in the distance. We had lunch at one of the restaurants at the Mirador but wouldn't recommend it (both in terms of quality and price).
From Catarina, Continued in a little loop, visiting the neighbouring village of San Juan de Oriente [Google Maps location], famous for its pottery, and finishing at Niquinohomo [Google Maps locatiohn], the birthplace of Augusto Cesar Sandino. If you need to furnish your new home in Nicaragua, the Pueblos Blancos seem to be the place to go: the road back to Granada and Masaya was full of stalls selling wooden furniture.
With giant rugged Volcano Mombacho looming over Granada, another great day trip is a hike along one of the many trails on its slopes. Check out this website for more information.
León
Listen to veterans of the Sandinista Revolution as you are led through the rooms of the Museo de la Revolucion [Google Maps location] and learn about this important part of Nicaragua's history – from the rebellion against US military occupation under Augusto Cesar Sandino to the successful overthrow of the Somoza dictatorship. Our guide Marcelo fought in the FSLN aged 17, losing his whole family during the revolution. He was very honest about present-day Nicaragua and how things have changed since the Sandinista Revolution. The guided tours are in Spanish.
Admire the impressive private art collection at Centro de Arte Fundación Ortiz-Gurdián [Official website, Google Maps location]. The collection is housed in four (partially) connected grand colonial homes and includes works by Picasso (including one from his blue period), Matisse, Chagall and Miro as well as Warhol (a painting from his Marilyn Monroe series) and Indiana (known for his LOVE pop icon sculptures).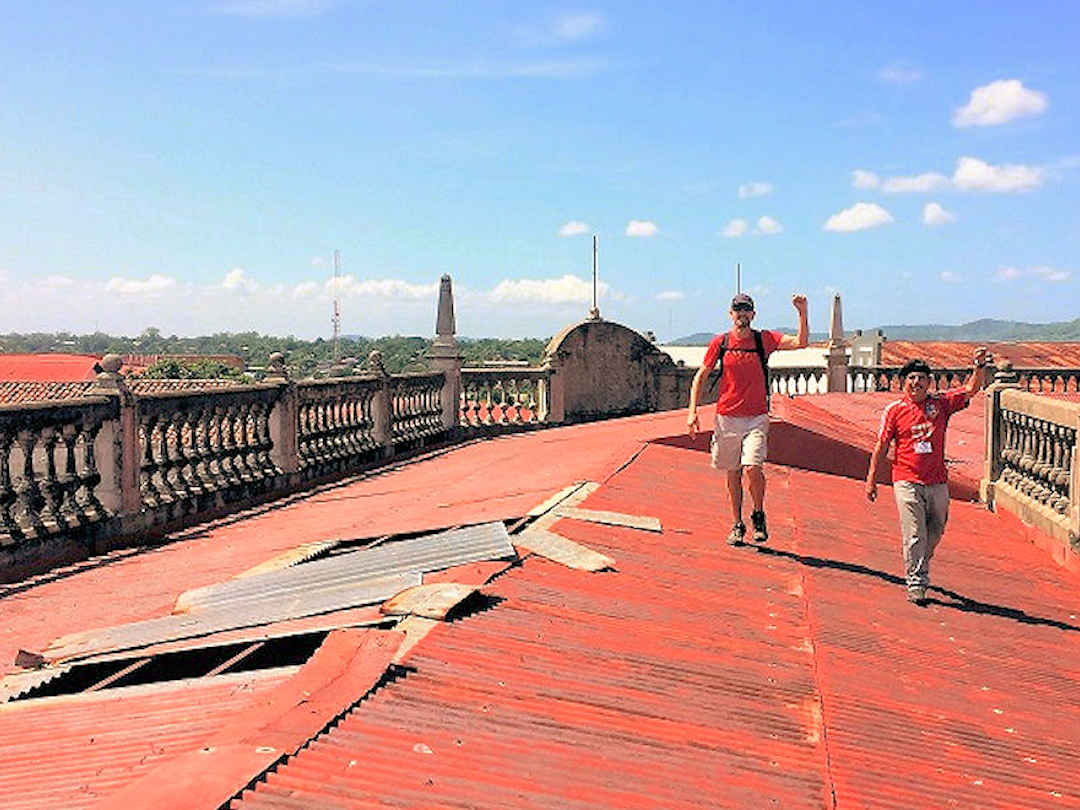 Walk barefoot on the roof of the Santa María de León Cathedral [Official website, Google Maps location] and enjoy the views (all the way to the volcanoes of the Cordillera de Los Maribios in the distance), followed by a loop walk to check out some of León's other beautiful churches: the Calvary Church – Sweet Name of Jesus / Iglesia El Calvario [Google Maps location] with its beautifully decorated facade, the Church of the Recollection / Iglesias La Recoleccion [Google Maps location] and Diocesan Sanctuary of Our Lady of La Merced / Santuario de Nuestra Señora de La Merced [Google Maps location] with their impressive wooden ceilings.
We really enjoy markets. They provide one of the best ways to experience local life, and El Mercado Central [Google Maps location] in León is no exception. A great place to stock up on fresh fruit and veggies (even fresh meat if you so desire). The market is located right behind León's Cathedral. It is also a great place for a bite to eat in the evening, with stalls serving plates of delicious and cheap Nicaraguan fare.
You can get in touch with León's indigenous roots in the Old Sutiaba neighbourhood [Google Maps location], about 10 blocks west of Parque Central. The Iglesia San Juan Bautista de Sutiaba [Google Maps location] mixes Christian and indigenous elements.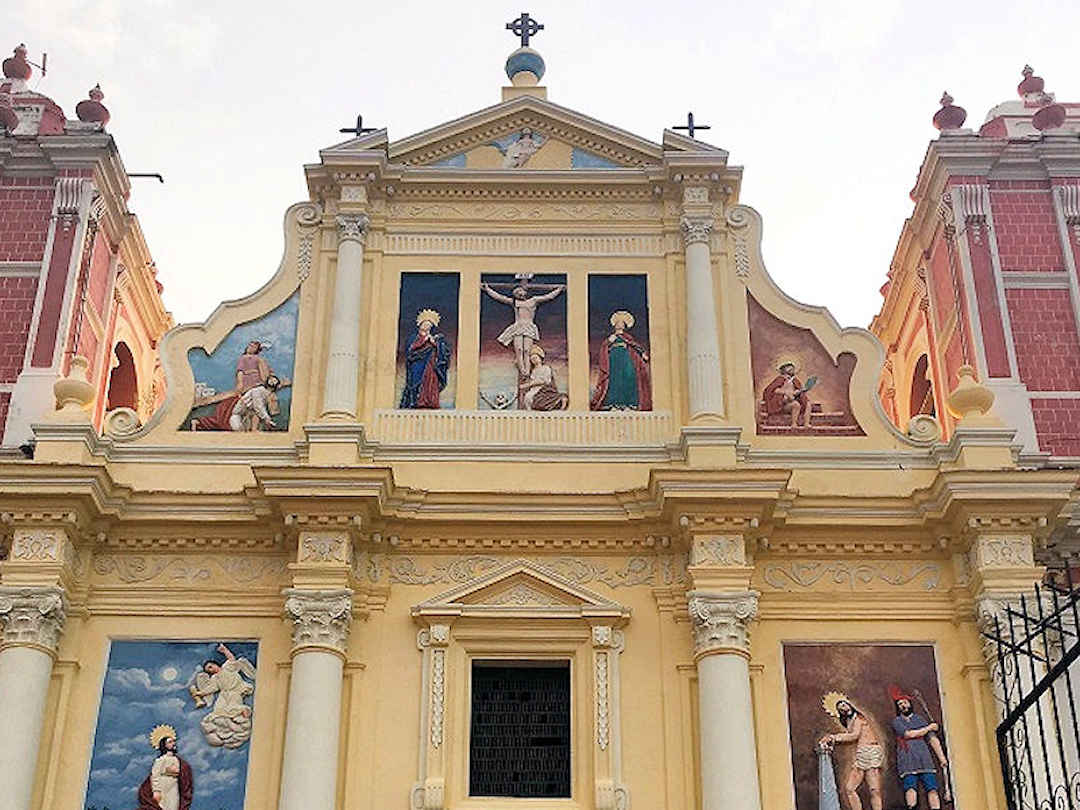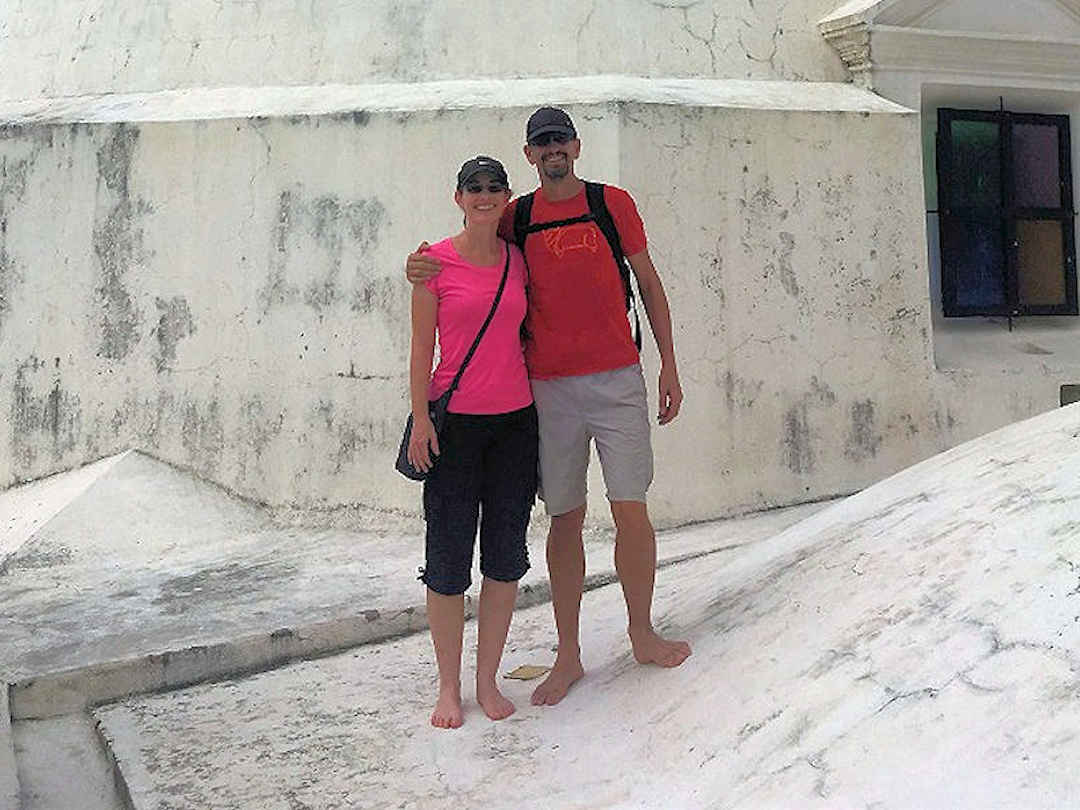 León is close to the Cordillera de Los Maribios [Google Maps location], a range of volcanoes lined up like pearls on a string, and only 20km drive away from the Pacific coast.
If you are an adrenalin junkie, boarding down Volcano Cerro Negro [Google Maps location] might be for you. If you love hiking, there are a number of volcano hikes available – from half-day tours to multi-day hikes. An outfitter to check out is Quetzaltrekkers [Google Maps location], with proceeds from their tours supporting local communities.
With the Pacific coast so close by, you should also check out the nearby beaches, especially if you are a surfer, for example, Las Peñitas [Google Maps location] or Salinas Grande [Google Maps location], or arrange a day tour to the Juan Venado Island Natural Reserve [Google Maps location].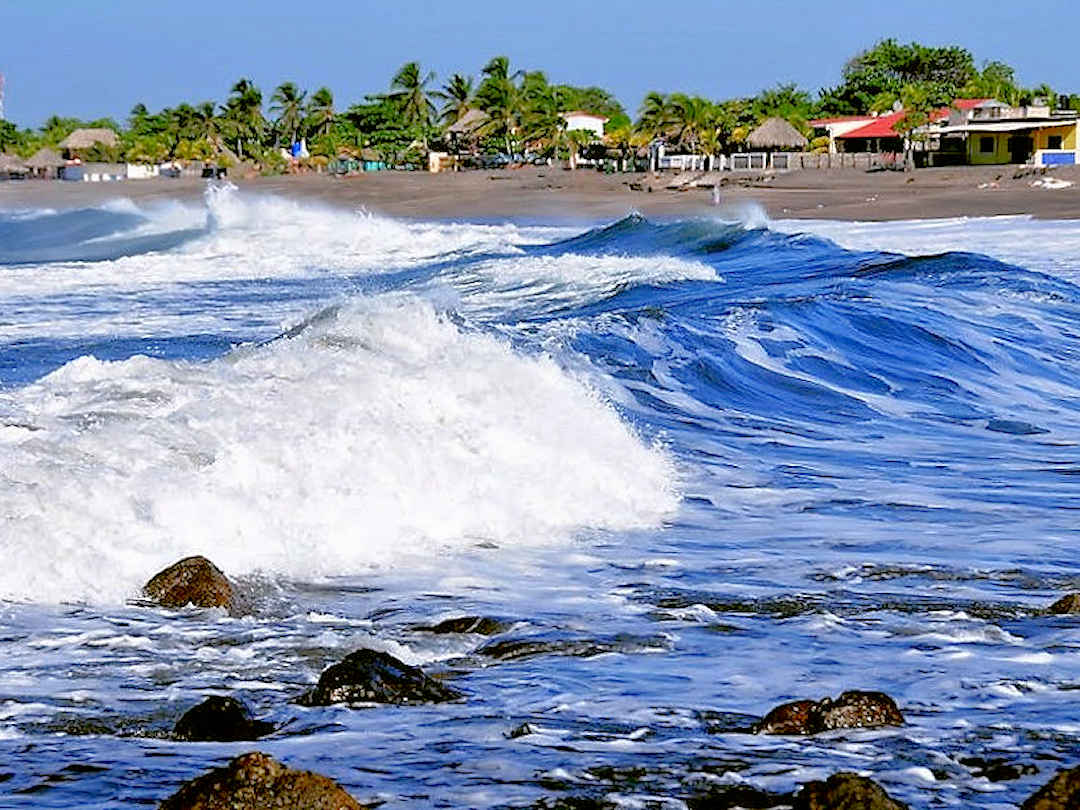 Granada
We found the prices for meals in Granada to be double the prices we were charged in León. We did find though two places which were good value for money. Unfortunately, we didn't note their names, but our description hopefully helps to find them:
There is a good Comedor right next to the BAC bank branch on Calle Atravesada serving a variety of meals for just over NIO100 (excluding drinks). They are open for lunch only.
One evening, we enjoyed a huge plate of Parillada (a variety of grilled meats) at a restaurant on Calle La Libertad, a few doors down from the Hotel Colonial (opposite Parque Central) for NIO400, which was more than enough for the two of us to share.
León
For a cheap, delicious local meal check out Comedor El Sagrario on Calle de Ruben Dario (around the corner from the Museo Rubén Darío and the Centro de Arte Fundación Ortiz-Gurdián). It serves a variety of dishes for NIO60 (including a drink) and is open for lunch and dinner.
If you need a change from rice and beans, check out Pan y Paz French Bakery [Menu, Google Maps location]. They also have a nice courtyard with free WiFi to chill in the midday heat.
Granada
Microbuses to Granada depart from the Terminal opposite the Universidad Centro-Americana (UCA Terminal) [Google Maps location]. They leave when they are full. Make sure you are on an express bus (expreso), unless you want to experience a local bus which stops everywhere and for everyone. The trip takes about an hour (on the expreso) and costs NIO30 per person.
At the terminal, keep your guard at all times and on the bus, keep your luggage within arm's reach. We preferred to use the first row of seats as it allowed us to have our travel packs right in front of us. If the bus is almost full, and the seats you're after are not available, just take the next one. You won't wait long.
León
Microbuses to León also depart from the UCA Terminal [Google Maps location] opposite the Universidad Centro-Americana. They leave when they are full, every few minutes. The trip takes 1 1/2 to 2 hours, pending traffic, and costs NIO61 per person.
León's main bus terminal [Google Maps location] (where the microbuses from/to Managua arrive/depart) is in the North East of the city, next to a big market. A shared taxi from there to the city centre (and reverse) costs NIO25 per person.
Be aware: The bus terminal is chaotic. We had touts pressing their noses against the windows of our bus when it pulled into the terminal, looking for fresh meat. Walk away from the hustle until you get to the road to hail a taxi, and keep your guard at all times.
What we experienced
Despite their colonial architecture, Granada and León feel very different.
Granada
Granada is visibly wealthier than León, with its colonial buildings looking more polished/done up. It has also more tourists and expats, which may be the reason why it is way pricier. Its people seemed less friendly than the locals in León.
Granada felt less safe walking around after dark, even in the city centre. If you head out to the Centro Turístico and have dinner at one of the restaurants there, take a taxi back to your accommodation. Granada's city centre is a kilometre away from the lakeshore (and even further when you are at the Centro Turístico).
While we saw lots of locals bathing in the lake, the water is dirty, and there is a lot of rubbish along the lakeshore.
León
León is rough around the edges. It feels unpretentious and bohemian. Its colonial buildings are more crumbling and weathered than Granada's.
It is considered the City of Poets. Some of Nicaragua's greatest poets have come from here (for example, Alfonso Cortés and Salomón de la Selva) or died here (like the great Rubén Darío). León is also home to Nicaragua's oldest university, with lots of students around.
León is considered the safest place in the country. People leave their front doors open to let in the breeze during the day. Everyone is friendly and seems happy to help (each other and strangers).
For those travelling to either city from Managua's Augusto Cesar Sandino International Airport (MGA) [Google Maps location], let me also share what to expect.
Managua Airport
Considering the airport serves Nicaragua's capital, we were surprised at how small it was. Upon arrival, as you go through security to get your passport stamped, you are also expected to pay USD10 per person for the tourist card. Conveniently placed just opposite the border officials is a Foreign Exchange booth. However, be warned: their exchange rates are THE WORST. Only change money here if (and whatever amount) you really need to. We were able to withdraw NIO10,000 (approximately USD330) from the ATM in the baggage claim area.
Getting from the Airport to the UCA Terminal
You can probably catch a public bus from the airport to the UCA Terminal, but we didn't test that. So, the next best option is a taxi. You will be bombarded with taxi offers as soon as you walk out of the airport. The quotes we received were NIO300 (approximately USD10) per person. This is for a private taxi (that is, only you will travel in it). The UCA Terminal is a 14-kilometre (normally 30 minutes) ride away. Decide for yourself whether paying the amount is appropriate.
With the Pan-American Highway less than 100m opposite the airport (you just need to cross the parking lot in front), we decided to give these offers a miss and try our luck at the highway. We didn't have to wait long. A collective taxi (that is, three people share a car) cost NIO150 for the two of us (NIO75/approximately USD2.50 per person). Collective taxis are normal in Managua, and unless you arrive after dark, they are generally safe. Do apply common sense though. To be on the side of the traffic heading into town, cross the highway.
Which city do you prefer? And Why?
I wrote this León Granada comparison article and guide based on my own experience. If you have been to Granada or León and you have something to add, please feel free to contact me. If you liked my article and tips and found them helpful, I would appreciate it if you could share them with your friends and family via the Share buttons below. Even better, link to the page from your personal blog or social media platforms.