Before we started our first ever Camino de Santiago (we chose the Camino Portuguese), we spent a few days in and around Portugal's capital Lisbon, followed by a few days in Porto (Portus Cale in Roman times), the city that lent the country its name.
If you are in Porto for a conference, or similar to us, plan to start your Camino from here, you may only have a day to get to know this beautiful city. We have therefore created a one-day itinerary of experiences that pack as much in as sensible while giving you an insider's view of the city that will make you want to come back for more.
Download your Sustainable Travel Checklist and show the world you care
As travellers, we should all be aware of our travel behaviour and its environmental, economic and social impact; and make conscious decisions about it. Too often, we hear negative stories in the media about tourists behaving badly.
Here is your chance to tick some boxes and check out what it really takes to travel with a sustainable mindset.
Porto is a city that is easy to fall in love with. We really like Lisbon, but with its deeper and narrower Douro river valley, its striking bridges and historic (sometimes a bit scruffy) architecture, Porto is even more picturesque than Lisbon (in our opinion anyway).
If you love churches, you're in heaven here (pun intended). It seems the number of churches, especially those with blue azulejo tiles (inside/outside or both), is only topped by the number of places where you can enjoy a drink and/or meal. People from Porto are not called Tripeiros (Tripe-Eaters) for no reason: they love their food (and tripe is just one, albeit unusual, a delicacy you can taste here).
Porto is a very walkable city. We had first planned to get the Andante card (which works in the same way as Lisbon's Viva Viagem card) but ended up walking pretty much everywhere… another good training opportunity if you're starting your Camino from here.
So, let's get right into it…
Mid-Morning
After breakfast, head to the Portuguese Center of Photography [Goolge Maps location] to start your exploration with a free walking tour by Guru Walks. Tours start next to the statue of Camilo Castelo Branco, a few meters from the Clérigos Tower (look for a guide with a yellow umbrella) and take around 2.5 hours.
Knowledgeable and enthusiastic, your morning tour guide will give you a great overview of the history of the city as you walk past some of the main sights. No wonder Porto's historic centre was made a UNESCO World Heritage Site in 1996. Don't forget to tip your guide if you've enjoyed the tour.
Early Afternoon
By the time the tour is finished, you'll have worked up an appetite, for sure. Why not try some local cuisine? Tripe may not be on everyone's culinary bucket list but if it is, by all means, try Tripas à Moda do Porto.
Other local delicacies include
Bifana: a pork sandwich. Try it at Conga [Google Maps location].
Francesinha (the Frenchy): a layered roast beef/ham/sausage sandwich covered in cheese, bathed in tomato sauce and (often) accompanied by fries. You may want to share one because it really is as filling as it sounds. Our recommendations are Francesinha Café [Google Maps location] or Bufete Fase [Google Maps location].
After Lunch
Why not explore the area you've walked through in the morning a bit more?
For a bit of old-world charm with a Harry Potter touch, pop inside Livraria Lello [Official website, Google Maps location]. We're still not sure if having to pay to access a bookshop is the biggest scam or just a clever income and crowd management strategy (to be fair, your entry is being deducted if you buy a book). We let you decide.
Alternatively, climb up the Torre dos Clérigos / Clerics' Tower [Official website, Google Maps location] for (yet more) gorgeous views over the city or stroll a bit more around the Sé / Barredo / Ribeira neighbourhoods for your Instagram fix. If you find yourself at the Ribeira waterfront and are too lazy to walk back up, take the Funicular dos Guindais [Google Maps location] (just to the east of the Dom Luís I Bridge).
Mid-Afternoon
Given you only have a day (and the tours really are that good), we recommend joining the Free Tour of the Old Town (Ribeira neighbourhood). Giving you an insight into the cultural side (or soul) of Porto, it covers a different area (and a different, though no less enthusiastic guide, will provide their own twist to the tour). The meeting point is the same as in the morning.
Can you afford not to explore Portugal?
Would you like to travel to Portugal and wonder how much to budget? Check out how much it cost us to explore this beautiful, historic country.
Early Evening
Your tour will be finished just in time to make it to Casa da Guitarra for another cultural experience: Fado at 6h (Fado at 6). Ana Margarida and her two musicians will introduce you to this melancholic and uniquely Portuguese style of music. The show takes 60 minutes in all (including a 15-minute break during which some port wine is being served).
You may want to make a reservation to not miss out: we turned up at the door about 15 minutes before the show, and there were only about five seats left.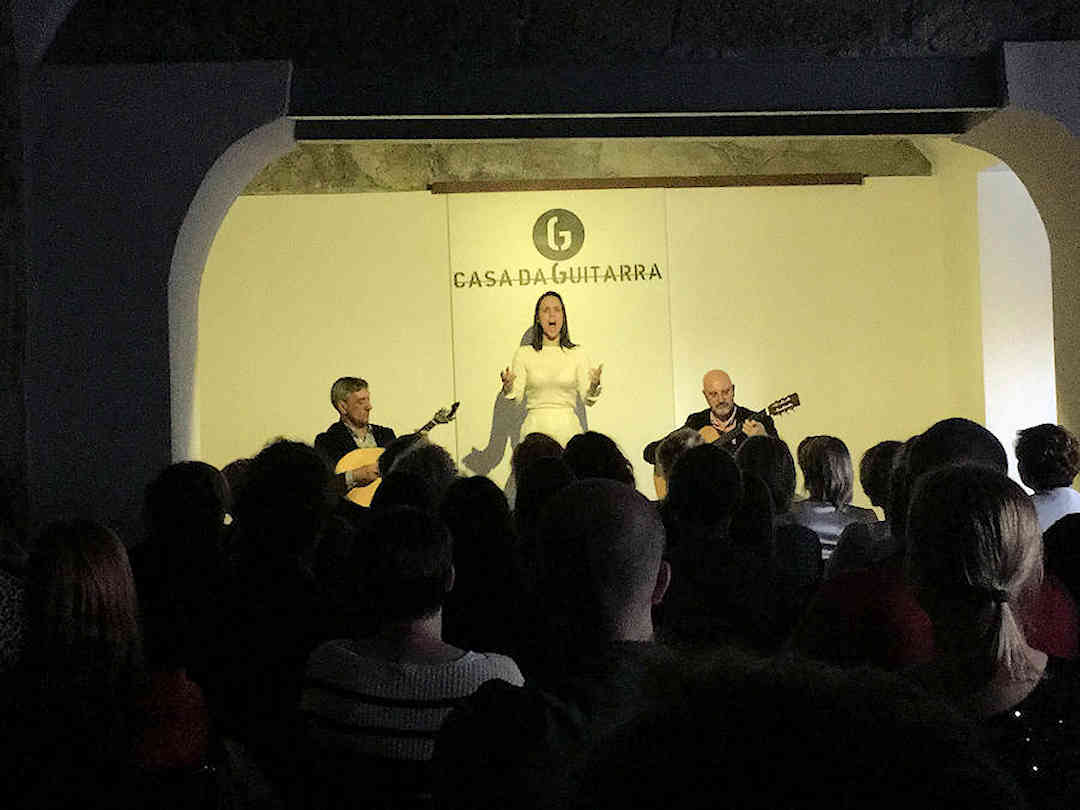 Evening
After the show, if you visit Porto in summer, you may want to head back across the Dom Luís I Bridge to watch the sunset from the Miradouro da Serra do Pilar just outside the monastery (where you finished your cultural tour). It is one of the best spots (of not THE best spot) to watch the sunset in Porto.
Your tour guide/s, for sure, will share some recommendations for dinner with you (if not ask). So either before or after sunset, dip into some more authentic Porto cuisine.
Finish off the day with a stroll along the Vila Nova de Gaia waterfront, and maybe some more port wine for dessert.