Need some comfortable, lightweight and quick-drying undies for your next trip? Whether it's a multi-day hike, a business trip or exploring the world, merino underwear should be on your shortlist. We've tested different undies over the years – from technical underwear (ExOfficio) to those made from natural fibres like Lyocell (Saint Basics) and Merino (Icebreaker and Macpac). Boxer briefs from Unbound Merino are the most recent addition to my packing list. Here is my full unbiased review.
Sign up to receive our email newsletter full of actionable tips and practical advice every month
Who is Unbound Merino?
Unbound Merino is a private Toronto/Canada-based clothing brand, designing and selling garments for men and women. Their clothing has no flashy brand labels. Instead, words and phrases like simple, high-performance, versatile, pack and own less and freedom through simplicity describe the essence of the brand.
Where does Unbound Merino's wool come from?
Unbound Merino sources its wool from Australia.
Merino wool comes from Merino sheep. This breed of sheep produces one of the softest and finest wools in the world. They are also extremely hardy. Merino sheep live in the freezing backcountry of the South Island of New Zealand and the harsh extremes of Australia.
Merino wool has hypoallergenic properties. It is breathable, moisture-wicking and odour-resistant. Which makes it suitable for all seasons and a variety of uses. Unbound Merino co-founder Dan Demsky reportedly once wore one of their Merino Crew Neck T-shirts for 46 days straight. To work, hot yoga, in the sauna, and dining out — that's 6 1/2 weeks of wear without a single wash.
Full Disclosure
Being regular users and big advocates of Merino clothing, Unbound Merino approached us earlier in 2022 and offered several garments for us to try (without requesting a review in return). The pack we received included a T-Shirt, Boxer Briefs, All Season Crew Socks and All Season Ankle Socks. All were replacements for items on my packing list that had reached their end of life. As with all our reviews: You can't buy our opinion.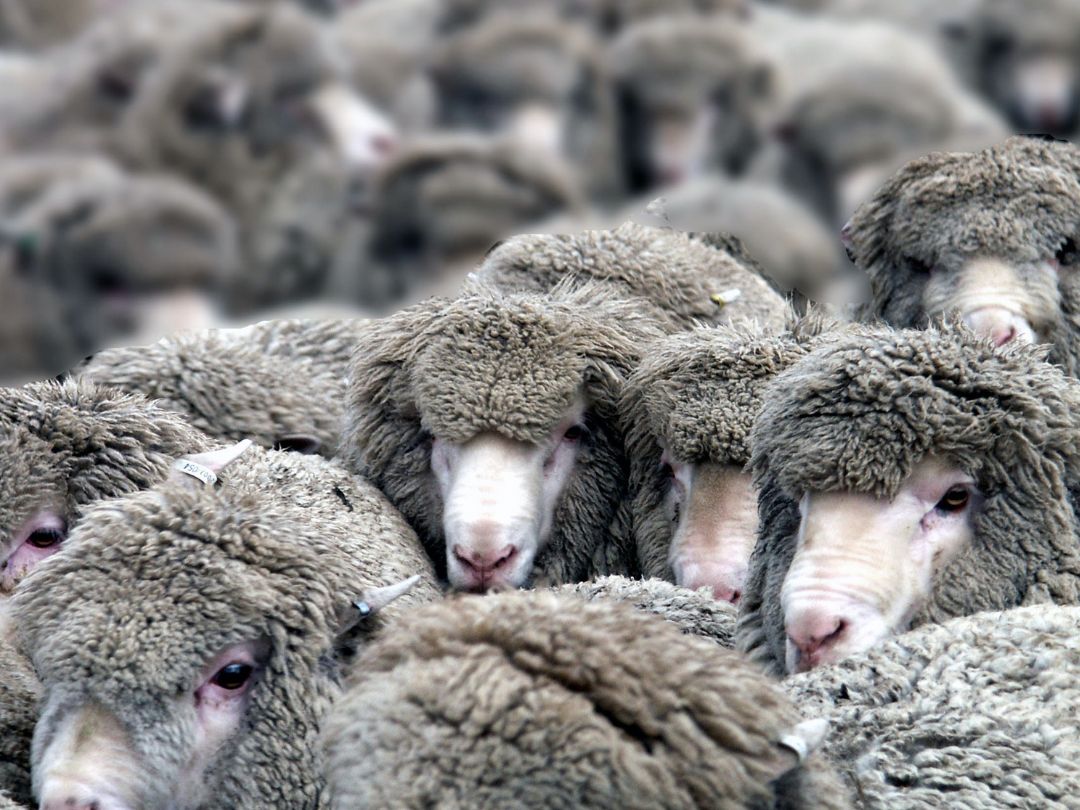 Are there differences in Merino wool?
Yes, there are. Merino wool is differentiated by micron size (the smaller the softer):
| Wool Type | Measurement (in Microns) |
| --- | --- |
| Extra Ultrafine | 16.0 and under |
| Ultrafine | 16.1 to 17.5 |
| Superfine | 17.6 to 18.5 |
| Fine | 18.6 to 19.5 |
| Fine-Medium Wool | 19.6 to 20.5 |
| Medium | 20.6 to 22.5 |
| Strong | 22.6 upwards |
Each type is used for different purposes:
(Extra) Ultrafine wools are usually blended with silk and cashmere to create fabrics for the high-end fashion market.
(Super) Fine to Medium wools are those you'll find in most merino knitwear.
Strong wools are harder wearing and thus generally blended with polyester and/or acrylic fibres to produce commercial mid-weight jersey wool.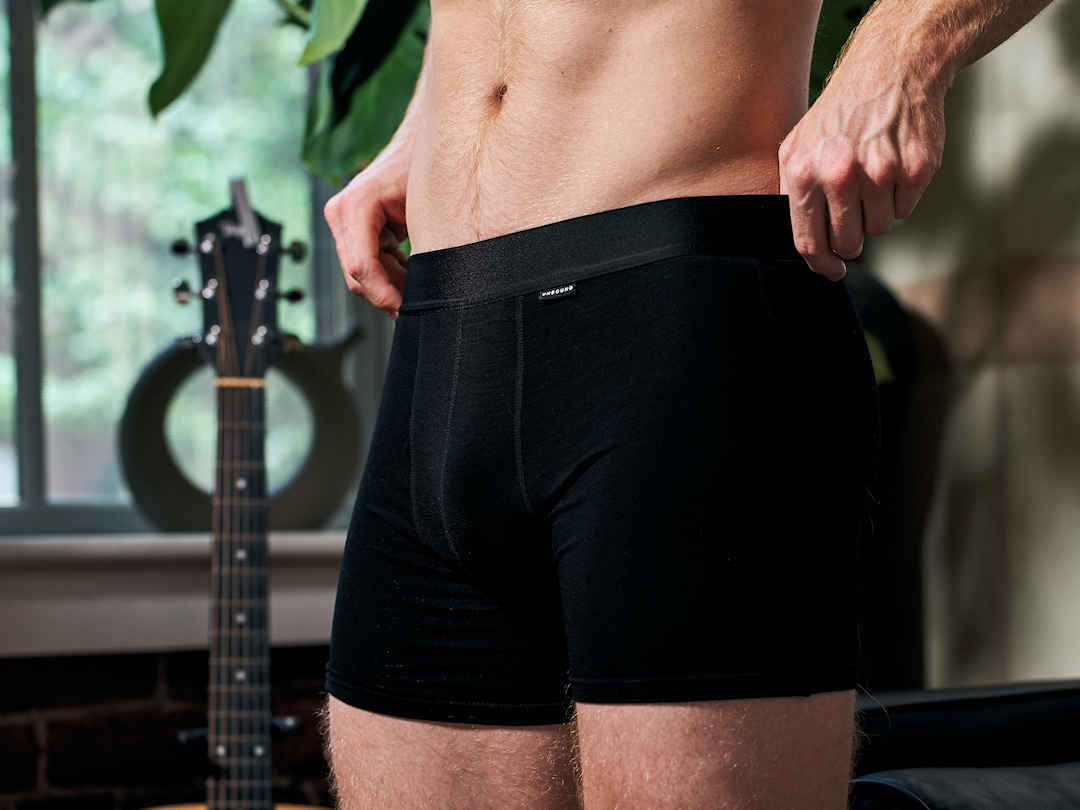 How sustainably and ethically produced are Unbound Merino's products?
We asked Unbound Merino very specific questions about the sustainability and ethics of their supply chain.
What certification programs does Unbound Merino participate in?
Unbound Merino's suppliers are certified by Woolmark® and the Responsible Wool Standard (RWS). They are also Worldwide Responsible Accredited Production (WRAP) accredited and ISO 9001 certified.
Like a lot of clothing manufacturers, it was difficult to identify Unbound Merino's wool suppliers and if they were truly certified by Woolmark®. Woolmark-certified products have a unique batch number, enabling you to trace them through the supply chain. Unbound Merino garments however don't display that number on their garments. So, we just have to take their word for it.
The RWS certification program ensures that a professional, third-party certification body audits each stage in the supply chain. According to Unbound Merino, the treatment of animals is important to them. They follow applicable government regulations and won't tolerate willful mistreatment, neglect, or acts that maliciously cause undue suffering and harm, such as mulesing.
Mulesing is a surgical procedure that removes wool-bearing skin around the breech of a sheep to prevent flystrike (a parasitic infection). Mulesing is strictly prohibited on farms that are RWS-certified. And companies like Unbound Merino will happily promote the fact that their merino wool comes from mulesing-free farms.
Where are Unbound Merino's garments manufactured?
All garment production and manufacturing are completed in Jiaxing and Wuxi, China.
How are factories monitored to ensure employees' well-being and the payment of living wages?
Unbound Merino works hard to choose reputable business partners who are committed to ethical standards and business practices compatible with those of the company.
The factories producing Unbound Merino garments are WRAP-accredited and follow Global Sourcing Guidelines. These guidelines require all suppliers to respect employment standards that safeguard employee health and well-being. This includes legally mandated standards for workplace health and safety, reasonable work hours, fair compensation, anti-discrimination, anti-harassment/abuse, and freedom of association. Unbound Merino asks that all suppliers pay above minimum wage (as per the laws of the country or the prevailing local industry wage) and that employees receive all legally mandated benefits.
Independent, certified third-party assessments ensure inclusive, safe and healthy working conditions and environmental responsibility throughout the supply chain.
The Unbound Merino team also visits the factories to ensure they are close to the process and the people they work with. The team visits the factories twice a year.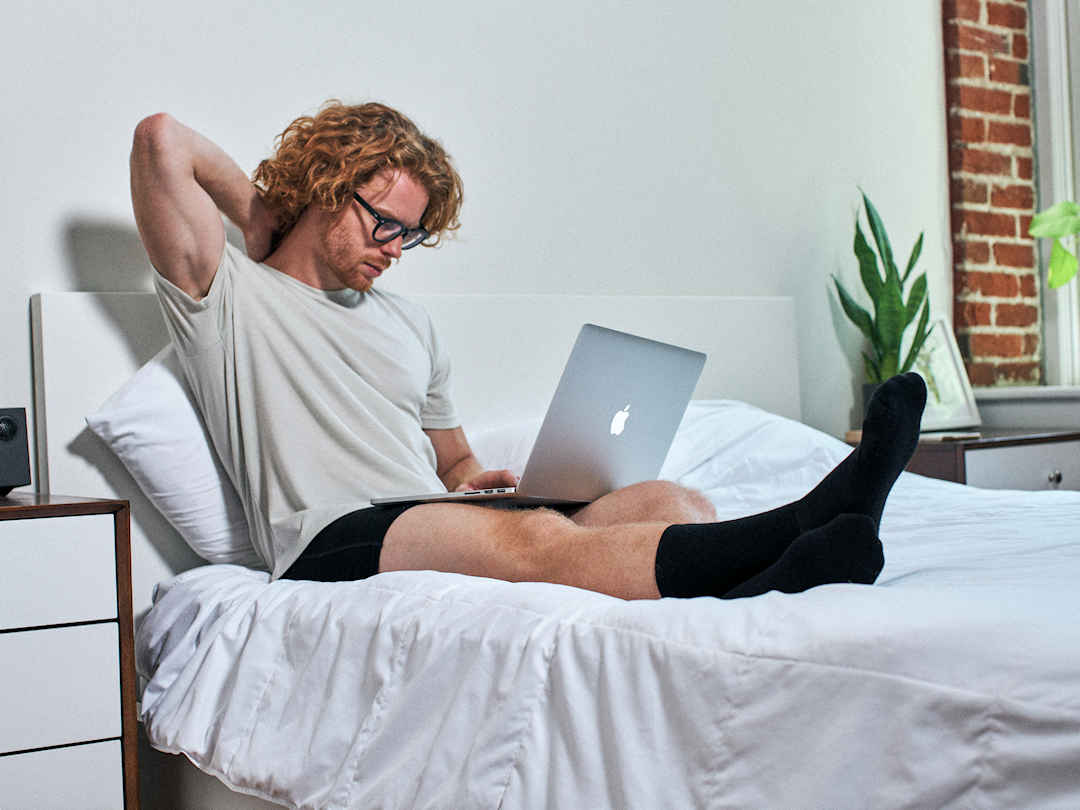 What was my experience with the Unbound Merino Boxer Briefs?
Unbound Merino Boxer Briefs Review
Comfort

Leg length

Moisture control

Durability

Time to dry

Sustainability

Price
Summary
The Unbound Merino Boxer Briefs are made from 84% merino wool, 12% nylon and 4% spandex. The wool used is of the superfine variety (18.5 microns).
The fabric is breathable, stretchy and light, but with enough support to hold everything in place. The crotch is supported top to bottom with a double layer for support, with the same reinforced stitching that is used in the Unbound Merino T-shirts.
While merino wool is naturally odour-resistant, I change my underwear daily. That said, if I was to do a multi-day hike and had to wear the same briefs the whole time, I'd feel comfortable doing so with these.
The briefs are available in the following sizes: small, medium, large, extra-large and extra-extra-large. And the colour options are navy, tea, vintage indigo, charcoal and black.
As expected, underwear is FINAL SALE and cannot be returned or exchanged for sanitary reasons.
Are they the best travel undies? After having worn ExOfficio Give-N-Go Sport Boxers for nearly five years, I was happy to try others. These are super comfortable and fairly priced. I have already ordered six more pairs since his review was published.
Comfort
The Unbound Bound Merino Boxer Briefs are very comfortable. Made from 18.5-micron superfine merino wool (plus 12% nylon and 4% spandex), they are soft yet firm without being restrictive (something I don't like about my Icebreaker briefs).
Leg length
I really like the leg length. For my medium pair, it is 10cm (measured on the inside leg). That said, the leg length for each size is not mentioned on the website – something Unbound Merino can easily improve upon.
Moisture control
I've worn these briefs in temperatures from -3 degrees (26 degrees Fahrenheit) to 30 degrees (86 degrees Fahrenheit) and am yet to have any issues with feeling sweaty in my nether regions.
Durability
With a fabric weight of 180g/square meter, the Unbound Merino's boxer briefs are slightly thicker than my Icebreaker Anatomica Boxers (150g/square meter). I've worn them now for three months, washing them once a week, and they have so far retained their shape and fit. I'll post an update here if that changes over time.
Time to dry
As men's underwear marketed towards travellers, the Unbound Merino Boxer Briefs dry very quickly. The woven elastic waistband might be the last part of the briefs that dry. But in testing the drying time between my ExOfficio Give-N-Go Sport Mesh 3″ Boxers, my Icebreaker Anatomica Boxers and the Unbound Merino Boxer Briefs, the Unbound Merino Boxer Briefs still dried the fastest.
Unbound Merino's suppliers are RWS-certified and WRAP-accredited. While there is no comprehensive sustainability policy on their website, Unbound Merino responded to our questions in detail. The company appears to genuinely care about the sustainability and ethics of its supply chain. Greater transparency around their sustainability policy/supply chain due diligence and displaying the Woolmark batch number would add credibility.
Price
The retail price is USD45 for a single pair. When you buy a 2-, 3-, 5- or 10-pack, the price per pair reduces (up to USD33 per pair). This is comparable with similar brands, especially if I take into account the value I place on the relative transparency and ethical nature of the company.
A minimalist design and stylist fit, the antibacterial, moisture-wicking Unbound Merino Boxer Briefs are designed to keep you cool and comfy.
When are Unbound Merino Boxer Briefs NOT suitable?
I wouldn't wear the Unbound Merino Boxer Briefs when I exercise and particularly when I run. There is just too much material for my liking. I have specialised running underwear as part of my running kit.
What to look out for when buying Merino products?
Before buying a merino product, review the following checklist:
Is the merino wool traceable to its source?
Does the wool fibre come from mulesing-free wool farms?
Are there regular audits of supply chain practices?
Can you readily access information about the practices and audits?
Are there care instructions on the clothing label?
The more positive answers and transparent disclosure, the more confident you can be in buying a sustainable and ethically made product.
How to care for your Unbound Merino Boxer Briefs?
Look after your Unbound Merino boxer briefs, and they will last for years.
Machine Wash
Wash your boxer briefs in water temperatures less than 40 degrees Celcius / 105 degrees Fahrenheit or on a wool program. If possible, use wool-specific detergent. Do not use fabric softeners or products that contain bleach.
Hand Wash
Fill your basin with lukewarm water. Use wool-specific detergent if possible. Leave your boxer briefs soaking for 15 minutes. Agitate the clothing and rub lightly together if required. Squeeze out excess water, but do not twist or wring. Thoroughly rinse.
Drying
Whether you hand or machine wash, to extend the life of your boxer briefs, we do not recommend putting them into a clothes dryer. If you have to, tumble dry at a low temperature.
More recommended products from Unbound Merino
Below are the Unbound Merino clothing items worn and recommended by the team from Minimalist Journeys.
What underwear do you wear when you travel and why?
Are sustainable and ethical underwear important to you? What is your criteria when you buy underwear? Is price a major factor? I'd love to know if you have tried merino underwear (even if it is not from Unbound Merino).