If you're a fan of the original Xero Shoes HFS running shoe, you might be wondering if the Xero Shoes HFS II is worth trying. After five years and almost 5,800km in my (three pairs of) trusty HFS, I was in two minds about giving the HFS II a go. But curiosity got the better of me, and I decided to take the plunge. In this article, I'll explore what sets the Xero Shoes HFS II apart from its predecessor and if it lives up to the idea of being the ultimate minimalist running shoe.
Want to do your bit to halt global warming and climate change?
Download our poster of 50+ simple and effective ways to reduce your carbon footprint. Pick those that apply to you and get started.
Why wear minimalist running shoes?
In a world where super shoes are dominating the running scene, lets first talk about the benefits of minimalist running shoes.
While big name shoe brands vie for the fastest shoe, using the Abbott World Marathon Majors like major car brands do the Formula 1, manufacturers of minimalist running shoes offer a different approach. Rather than relying on expensive, one-time-use (and thus environmentally disastrous) super shoes to do the hard work for you, minimalist shoes focus on activating and strengthening your feet and lower leg muscles. By promoting a lighter and more grounded stride, these shoes allow you to connect with the surface you're running on, encouraging a more natural and efficient running form (which in turn reduces the impact on your hips and knees naturally).
So, while the allure of super shoes may be strong (thanks to some very smart marketing), minimalist running shoes with their long-term benefits and sustainability advantage are here to stay.
What running gear to pack on your next trip?
Do you travel a lot but still like to go for a run? Learn from a seasoned marathoner what go-to pieces he travels with and get your running gear organised before your next trip.
What are the key features of the Xero Shoes HFS II?
The Xero Shoes HFS II have these same great features as the original HFS:
Wide Toe Box
Flexible Upper
Lightweight, removeable insole
Adjustable instep and midfoot straps
100% vegan.
Like all Xero Shoes, the HFS II is zero-drop (that is, there is no height difference between the heel and the toe box). Especially if you've used running shoes with 8mm drop for many years (as I had), the lack of drop is the first major thing you'll notice. Minimalist shoes like the Xero Shoes HFS II also don't have arch support and due to the low collar/heel notch, provide little Achilles support. You definitely need to build up muscle and tendon strength in these areas before running long mileage (more on that below).
The Xero Shoes HFS II sole is made of a single FeelTrue® rubber piece with add-ons glued at the front, rear and middle sections. The tread isn't very deep, which makes them easy to clean. On the flip side however, you can feel large stones underfoot – especially if you don't wear the insoles. That said, the HFS II are designed for road running, not for rough trails. They do not have a lot of sole grip, but they are very flexible, and you use your feet to grip the ground. Running in the HFS II is almost like running barefoot.
The mesh upper has a barely-there feel with a moisture-wicking lining. The toe tip, quarter and heel counter are strengthened. To hold the laces, there are three eyelet holes and two loopholes – alternating on either side. The laces are round in design. The loophole straps extend all the way down to the sole. Thus, when tightening the laces, the laces pull from the sole to give you a snug yet comfortable fit. The flashing on the side straps looks like it could be reflective, but it is not.
Like other Xero Shoes, the HFS II are also extremely lightweight, which is a big advantage for someone like me who only travels with carry-on luggage – the low profile means they don't take up much space in my Travel Pack.
What is the difference between the Xero Shoes HFS II and its predecessor, the HFS?
While subtle, the Xero Shoes HFS II is a definite upgrade from the original HFS:
The tread changed from a car tire look on the original HFS to a mountain bike tire look on the HFS II.
The Xero Shoes HFS II have a new foam layer, called BareFoam™, between the sole and upper. This makes the total stack height of the HFS II 9 millimetres compared to the original HFS' stack height of 7.5 millimetres. The outsole on both is still 5 millimetres.
The toe box on the HFS II also seems to be slightly roomier (than the already noticeably more comfortable toe box on the HFS, compared with non-minimalist shoes).
What are the Xero Shoes HFS II best used for?
Like its predecessor, the Xero Shoes HFS II is particularly suited for road running – perfect for distances up to the marathon. How do I know? I am currently training for the 2024 Marrakech Marathon, running 80km/50 miles plus per week in my Xero Shoes HFS II. I also ran two marathons in my HFS.
But you don't have to be a road runner to benefit from the features of the HFS II. The shoe is also used in other sports and exercise (including walking, strength training/gym workouts and tennis).
They are also quite stylish and look fine with a pair of casual pants or shorts. Depending on the colour you choose, you can go for the under-stated look (Black/Asphalt) or go with the funkier grey (Asphalt/Alloy) or blue with a touch of yellow (Blue Aster).
The Xero Shoes HFS II is offered in both a male and a female version.
Recommended Books
Older Yet Faster by Keith Bateman – Do you want to learn how to run correctly in your minimalist running shoes? Keith Bateman's book Older Yet Faster is an evidence-based manual that provides the results that many of us are after. Keith's M55 age-group world records demonstrate with his prescribed minimalist running technique, that you can indeed run faster as you get older.
Born to Run by Christopher McDougall – A tale that is both gripping and energising for all who aspire to run the perfect race. And in the end, you are pulled into the emotions of the characters as they race through the desert. If this book doesn't make you want to lace up afterwards and at least go for a jog, nothing will.
Born to Run 2 by Christopher McDougall and Eric Orton – If the original Born to run book whet your appetite for running in the mountains of mexico and elsewhere and gives you the WHY, Born To Run 2 gets into the nitty gritty of HOW to run. Refreshing with new anedotes, tips and the answers of actually how to di it.
How (easy is it) to transition from other running shoes?
Unless you already run on the balls of your feet (and don't roll from your heels), transitioning from cushioned, full-support running shoes to zero drop, minimalist footwear like the Xero Shoes HFS II will take a bit of adjustment. You will find that you use different muscles that have not been used for a (long) while. A bit like having sore muscles after a work-out, learning to run in the Xero Shoes HFS II may cause some initial discomfort.
To help you with your transition, Xero Shoes have a full set of instructions on their website. Most importantly: Be patient with yourself.
How did I transition?
When I restarted my training after knee surgery in 2020, I first walked – building up to 5 kilometres every other day and a 10 kilometre walk on the weekend. After about a month of walking, I felt ready to start running again. Instead of walking all the way, I would run a kilometre, then walk a kilometre and so forth, keeping the overall distance of 5 kilometres and 10 kilometres, respectively. It wasn't until 14 weeks after I first started running again that I ran all the way (back then in my Xero Shoes HFS). My running style had changed from being a heel striker to a full-foot runner.
Since changing from cushioned, full-support running shoes to (initially the Xero Shoes HFS and more recently) the Xero Shoes HFS II, I have run the Hawke's Bay Marathon and the Nagano Marathon as well as multiple other races in Australia, Japan and New Zealand.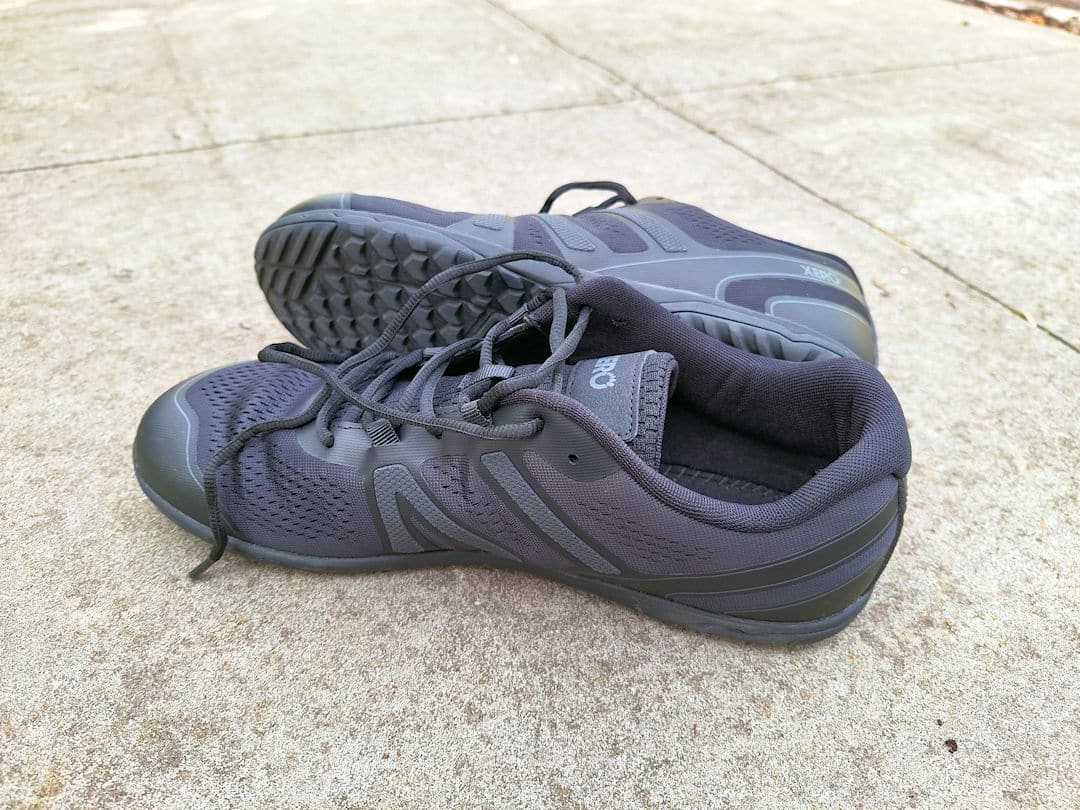 What has been my experience with the Xero Shoes HFS II?
Review of the Xero HFS II Running Shoes
Comfort

Breathability

Fit

Durability

Customer Service
Summary
Comfort
The HFS II are very flexible and mould to your feet and toes nicely. The shoe's wide toe box means your toes aren't squashed together but have room to flex and stretch. You could even wear Correct Toes inside the shoe (although I wouldn't do so on longer runs).
With a sole of only 5 milimetres, your feet feel the road surface, as they're supposed to. This means however you'll also feel every stone – not everyone's cup of tea, and certainly something that takes getting used to. I'm now so used to it that I've even removed the insole for an even greater almost barefoot feel.
While the shoe only has a low collar/heel notch, there is additional reinforcement and stitching around the heel cap, rewarding you with stability and control (once your biomechanics have adjusted to minimalist footwear). I can comfortably wear them all day.
Breathability
The upper material is a breathable mesh fabric. You can really notice the difference from non-minimalist running shoes – more air gets to your feet. Another great feature is the moisture-wicking material on the inside which is a bit rougher to touch but keeps your socks firmly in place.
Fit
Xero Shoes recommend to go up a 1/2 size on some of their models (for example, the Forza Runner and Xcursion Fusion), but in my experience (and as stated on the website), the HFS II is true to size (I wear size US size 12). That said, if you do need a half size, you can get them between size 5 and 12 for women and from size 6.5 to 12.5 for men.
The Xero Shoes HFS II are ideal for people with a wider foot. If you have a narrow foot, you might find the HFS II too roomy.
For a tighter fit, the shoes come with a lace lock (via an additional eyelet hole at the ankle). However, the laces of the shoe are too short to be able to make use of the lace lock – an oversight easily addressable by Xero Shoes.
Durability
Common industry recommendations are to change (more cushioned) running shoes every 500-800km. The foam in cushioned running shoes compacts with use, meaning you end up with a worn down shoe that lacks the support it gave your feet once new, increasing your risk of injuries.
The Xero Shoes HFS II are built to last. With only 1.5 millimetres of foam in the HFS II, there is nothing that can compact over time. I ran between 1,500 and 2,400km in each of my three HFS, and I expect nothing less from its successor.
Are there any potential weak spots? The mesh upper material looks like it could rip easily – though none of my three HFS ever had a tear on the top. The eyelets on the HFS II are reinforced but not domed – which means you stretch the eyelet hole when tightening your shoelaces. I had no issues with the eyelets on any of my HFS, and I'm hoping the same will be the case with the HFS II.
Customer Service
Like most other running shoes out there, the Xero Shoes HFS II are manufactured in China. And as with all products, there are occasionally production issues. But it is the response to those issues that really count.
So far, I've only had two occasions to talk to Xero Shoes' Customer Service team – each time a pleasant one:
The left insole of my first HFS kept slipping out the back of the shoe, no matter how tight I would adjust my shoelaces – which got quite annoying. So much so that I took the insoles out and started running without them. I then contacted Xero Shoes via their Facebook Page, and they responded promptly: "It has come to our attention that the factory may have put the wrong size insoles in some of the HFS shoes." They then asked for proof of purchase and my mailing address, and promptly sent me new insoles to match my shoe size.
The second time I had to contact Xero Shoes' Customer Service was in relation to a hole that had developed in the sole after 1,500km (again in my very first pair of the HFS). Triggering Xero Shoes' 5,000-mile warranty, it was honoured propmptly: With normal wear and tear of the rest of the shoe taken into account, I received my replacement pair at 50% discount.
Note: While the FeelTrue® sole is backed by Xero Shoes' 5,000-mile warranty, the warranty only applies to the sole. Manufacturer defects are covered by a 12 month limited warranty from the date of purchase. For further information on Xero Shoes' warranties, check the Xero Shoes website.
VALUE FOR MONEY
When comparing the cost of the Xero Shoes HFS II with the cost of cushioned, full-support running shoes, it is worth to keep in mind that the HFS II don't need to be replaced every 500-800km. There is no cushioning that wears out. Which means, you get more mileage out of the shoe. My three pairs of Xero Shoes HFS averaged almost 2,000km each, and I don't expect anything less from the HFS II.
Pros
Zero-drop between the heel and the ball of the foot
Wide and deep toe box
Breathable mesh upper
Right amount of cushioning to provide support and comfort without sacrificing the near barefoot running experience
Extremely lightweight
Dry easily
Materials used and finish are of a high quality
Sustainability (and cost) advantage as shoes provide significantly longer mileage than cushioned running shoes
Cons
The laces are a little short, making the lace locks unusable
Not ideal for people with narrower feet – shoe might be too roomy for them
Adjustment required for those experiencing zero drop, minimalist running shoes for the first time
Just because these shoes are minimalist in design, doesn't mean they are cheaper than cushioned running shoes
Where can I buy the Xero Shoes HFS II?
Pending on where you are in the world, Xero Shoes has two official websites – XeroShoes.eu (for those in Europe) and XeroShoes.com (for everyone else).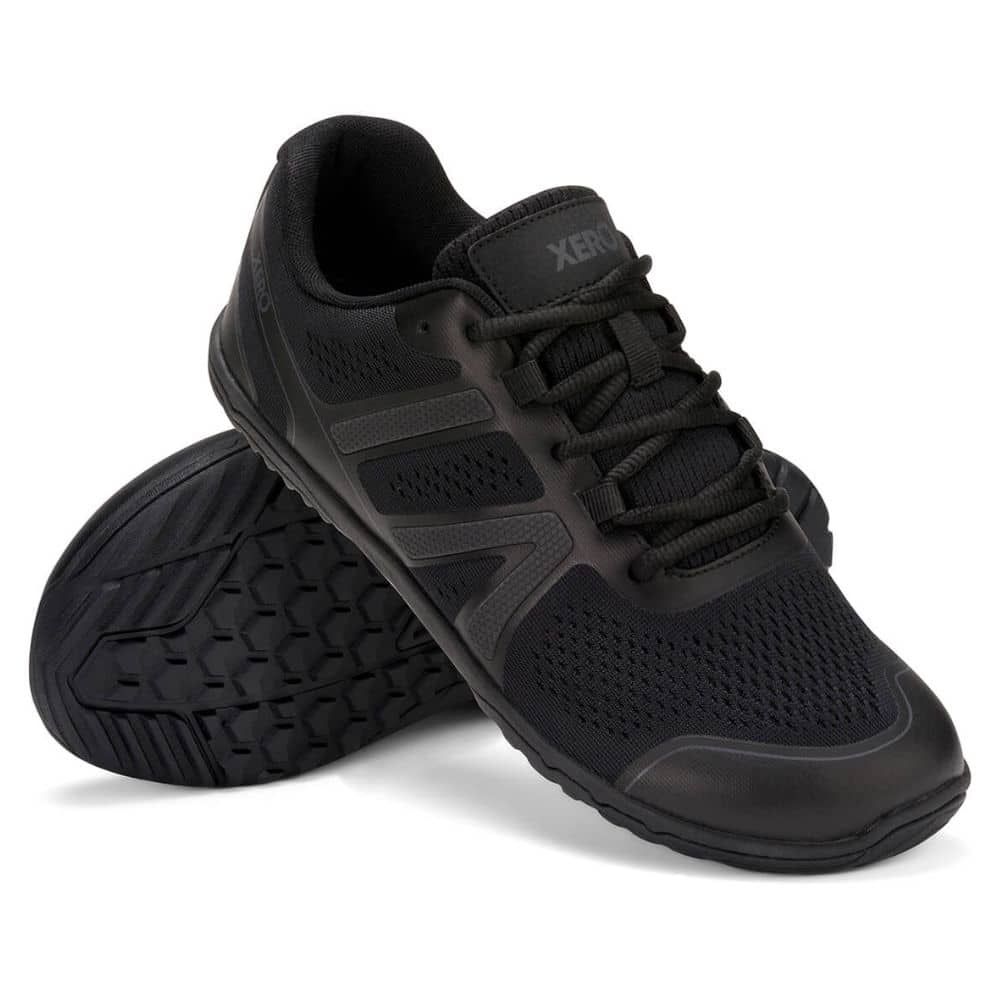 The Xero Shoes HFS II is a Lightweight Road Runner designed for natural comfort and performance. An evolution of their best selling road running shoe, the HFS II offers even more performance and more stylish. While they call it a road runner, they know you'll do much more in it and can't wait to see the pics of where it takes you and what you do.
There are also a number of official dealers and stockists of Xero Shoes around the United States – go to the website for the store nearest to you. If you are in Colorado, you can also pop into their physical store:
11777 East 55th Avenue
Suite 101
Denver, CO 80239
Hours: Monday-Friday: 11 AM – 6 PM
Saturday: 10 AM – 4 PM
Phone: +1 (303) 447-3100
Why I like Xero Shoes as a brand
The Xero Shoes HFS II are my seventh pair of footwear from Xero Shoes since 2017, so I have had a few years of experience with the company and its products. Xero Shoes are a small business trying to make a difference:
Since its humble beginnings (in a bedroom) in 2009, Xero Shoes have helped thousands of people around the world transition to healthier, more sustainable footwear.
The people running the business genuinely care whether you are happy with your purchase and provide additional tips around running and posture more broadly.
Xero Shoes also support people in the developing world who need footwear for work and school through donations to Soles for Souls and One World Running programs.
More recommended shoes from Xero Shoes
As a location-independent, carry-on only traveller, I own three pairs of footwear and all of them are from Xero Shoes. Below are the other two.
Do you run in minimalist shoes? What has been your experience?
I wrote this Xero Shoes HFS II review based on my own personal experience after running more than 300km in them. If you have worn the HFS II, Xero Shoes or indeed other minimalist shoes as well and you have something to add about your experience, please feel free to contact me.
If you liked my review and found it helpful, I would appreciate if you could share it with your friends and family via the Share buttons below. Even better, link to the page from your personal blog or social media platforms.