Do you love rail journeys as much as we do? Chances are that's why you're here. If you wonder whether the rail journey from Bar to Belgrade (or Belgrade to Bar) is worth your money (and your time) or how to secure a ticket you've come to the right place.
We actually did the journey twice:
the first time around during the day from Bar to Bijelo Polje on the border between Montenegro and Serbia (northbound); and
about six weeks later, overnight from Belgrade to Podgorica, the capital of Montenegro (southbound).
So, we can comfortably help you, no matter which direction you consider travelling.
Download your Sustainable Travel Checklist and show the world you care
As travellers, we should all be aware of our travel behaviour and its environmental, economic and social impact; and make conscious decisions about it. Too often, we hear negative stories in the media about tourists behaving badly.
Here is your chance to tick some boxes and check out what it really takes to travel with a sustainable mindset.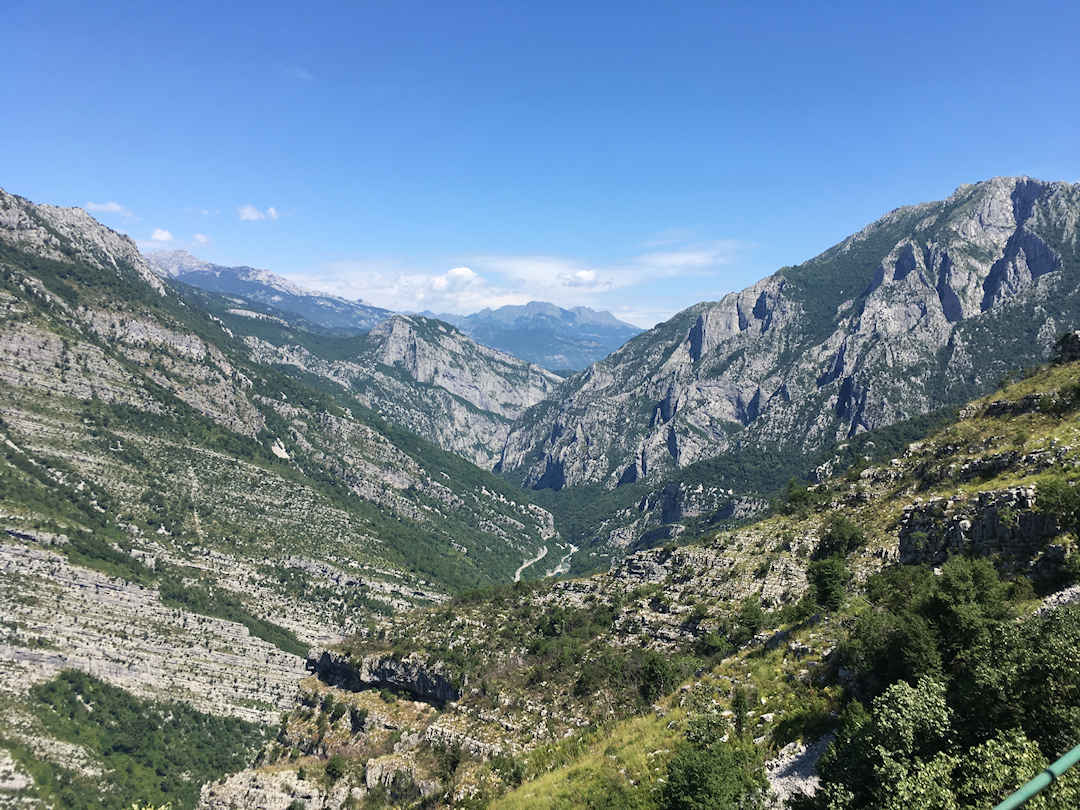 Show me the Bar Belgrade Railway on the map
Unless you want to buy a physical railway map, for example, the European Railway Atlas, this detailed zoomable map at OpenStreetMap.com is the best digital map we could find. Locate Bar (on the coast) and follow the line all the way to Belgrade.
How much does a trip on the Bar Belgrade Railway cost?
A journey on the Bar Belgrade Railway is very affordable:
Riding the most spectacular stretch of track from Bar to Kolašin or reverse (approximately 130 kilometres) is less than EUR6 per person.
The complete overnight journey (in a 2-berth cabin with a washbasin) costs approximately EUR40 per person.
The prices quoted were accurate at the time of our travels in July/August 2019.
Which train ride provides the best experience?
The international trains run twice daily in either direction – one in the morning (arriving in the evening) and one in the evening (arriving the following morning).
UPDATE 30 April 2022: The train between Bar and Belgrade now departs and arrives at Belgrade Centar Station. Belgrade Topčider has been out of service since October 2021.
Make sure you check the Montenegro Railway or Serbian Railway websites for the latest timetable (and double-check the departure/arrival station when you buy your tickets):
| | Day (Train 430) | Overnight (Train 432) |
| --- | --- | --- |
| Bar | 09:00 | 19:00 |
| Podgorica | 10:00 | 20:05 |
| Kolašin | 11:15 | 21:20 |
| Mojkovac | 11:33 | 21:38 |
| Belgrade | 20:02 | 06:12 |
| | Day (Train 431) | Overnight (Train 433) |
| --- | --- | --- |
| Belgrade | 09:00 | 21:10 |
| Mojkovac | 17:24 | 05:35 |
| Kolašin | 17:42 | 05:53 |
| Podgorica | 19:04 | 07:12 |
| Bar | 19:56 | 08:08 |
To experience the most beautiful part of the journey, the stretch between Podgorica and Kolašin in Montenegro, we recommend taking the morning train from Bar or Podgorica (Train 430). During the summer, you can also experience this particular stretch in reverse as the sun rises. If that's what you want to do take the evening train from Belgrade (Train 433). While descending the mountains is not quite as spectacular as the ascend, it's a pretty close second.
If possible pick a clear and sunny day as the views are absolutely stunning.
Where to stay in Bar and Belgrade?
For accommodation, as with any other travel expenses, it's worth shopping around. When we booked our accommodation in Belgrade, we looke across a number of booking platforms to find the best value for money option, but found in this case that Booking.com offered us the best choice and price point. Wherever you book, do make sure you read the fine print to make sure you compare apples with apples. For example, your stay may incur extra charges (like local tourist taxes or cleaning fees). Some booking platforms include them, while with others, you have to pay them to your host upon arrival.
Can I experience the Bar Belgrade Railway on a day trip?
Yes, you can. Simply join in Bar or Podgorica and get off in Kolašin or Mojkovac. Kolašin is the more interesting one of the two (and it's also the highest point on the railway). But if you want to add a few nights to explore Biogradska Gora National Park Mojkovac is closer to the park.
From Kolašin or Mojkovac, you can
If you're doing this stretch of track as a day trip, you can take local trains as well. These trains have a four-digit number (for example, train #6100 leaves Podgorica at 0631h in the morning and arrives in Kolašin at 0800h). Local trains do stop at every single station. This makes for a slower, more idyllic trip but also takes longer. The international train only stops at major stations.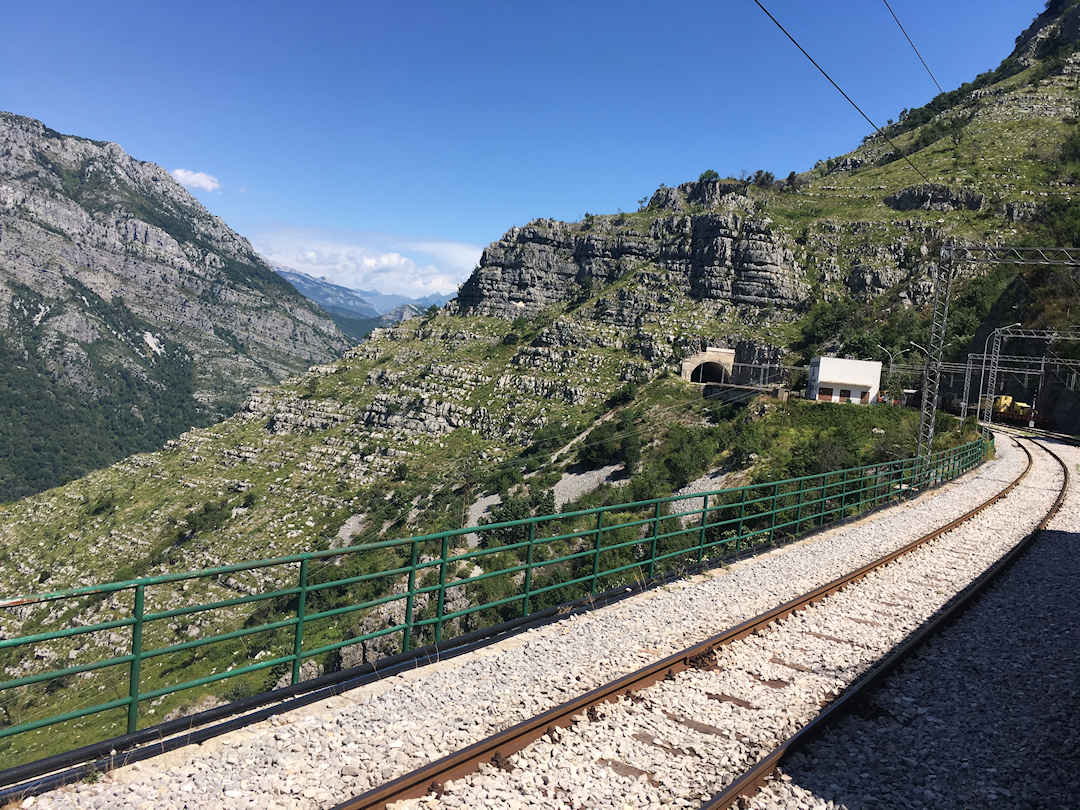 Where to buy tickets for the Bar Belgrade Railway?
From Bar or Podgorica
For your day trip, we recommend heading to the Bar train station or Podgorica train station at least 30 minutes before departure. You don't require a seat reservation if you travel from Bar or Podgorica to Kolašin or Mojkovac.
Seat reservations though are mandatory if you travel all the way to Belgrade. If you do the complete journey, we recommend heading to the train station a few days in advance to avoid disappointment.
If you travel overnight (trains 432 or 433) you can choose between two, three, four and six berth cars (with supplements between EUR6 for a bed in a six-berth car and EUR20 for a bed in a two-berth car) – though not all types of cars may be available during your trip.
From Belgrade
If you want to do the complete journey from Belgrade you can buy tickets at Belgrade Centre railway station (also known as Prokop).
If you buy your ticket on the day of your departure be at Belgrade Centre railway station at least an hour before your train departs as there tends to be a long queue (there is only one ticket counter). As berths may be fully booked by that time, we recommend heading to Belgrade Centre railway station (also known as Prokop) a few days before your departure.
Final note: If you are doing the complete journey, given you are crossing a border, bring the passports of all those travelling with you when you buy the train tickets. They may not ask for them, but you don't want to be without them if they do.
What to expect on the rail journey from Bar to Belgrade (or Belgrade to Bar)?
The train
The day trains have old-style carriages with six seats (three on either side facing each other) and windows that can be opened, and a more modern large compartment with rows of seats (but only a small number of windows that can be opened). We recommend the old-style carriages as they are easier to move around in, and windows can be opened to take photos or film.
For the best views, make sure you sit on the left/northbound (right/southbound). If you're a non-smoker choose a compartment as close to the engine as possible (ideally in the first carriage) as people smoke in the back (even though it's supposed to be a non-smoking train).
The overnight train has carriages with seats as well as sleeper cabins with two, three, four and six berths. Our two berth cabin had a bunk bed and washbasin, and the cabin was lockable from the inside.
Toilets are in the same carriage but shared among the passengers. Unlike the Amtrak trains we used in the US, there are no showers on the overnight trains.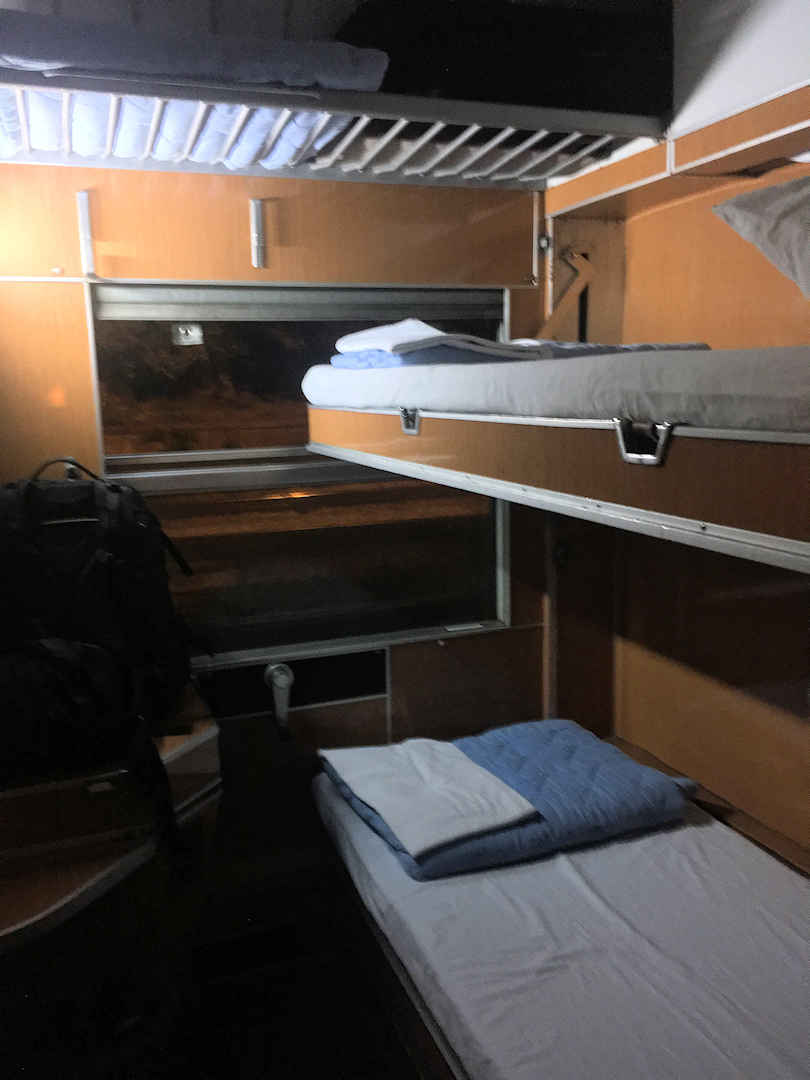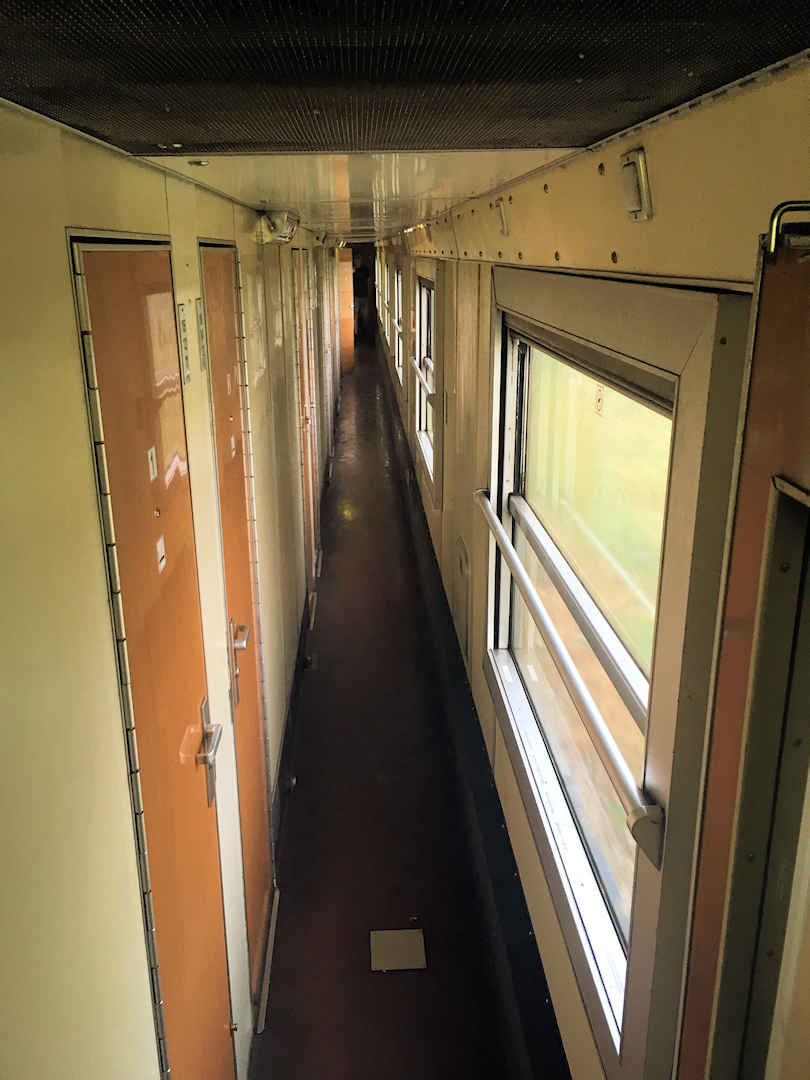 During the journey
The train journey from Bar starts at just above sea level. For the first few kilometres, the train follows the Adriatic coast. Shortly after Sutomore (a package holiday hotspot), the train turns inland and passes through the first long tunnel. Once on the other side, the train passes through Virpazar and crosses Lake Skadar.
The train starts to ascend just north of Podgorica.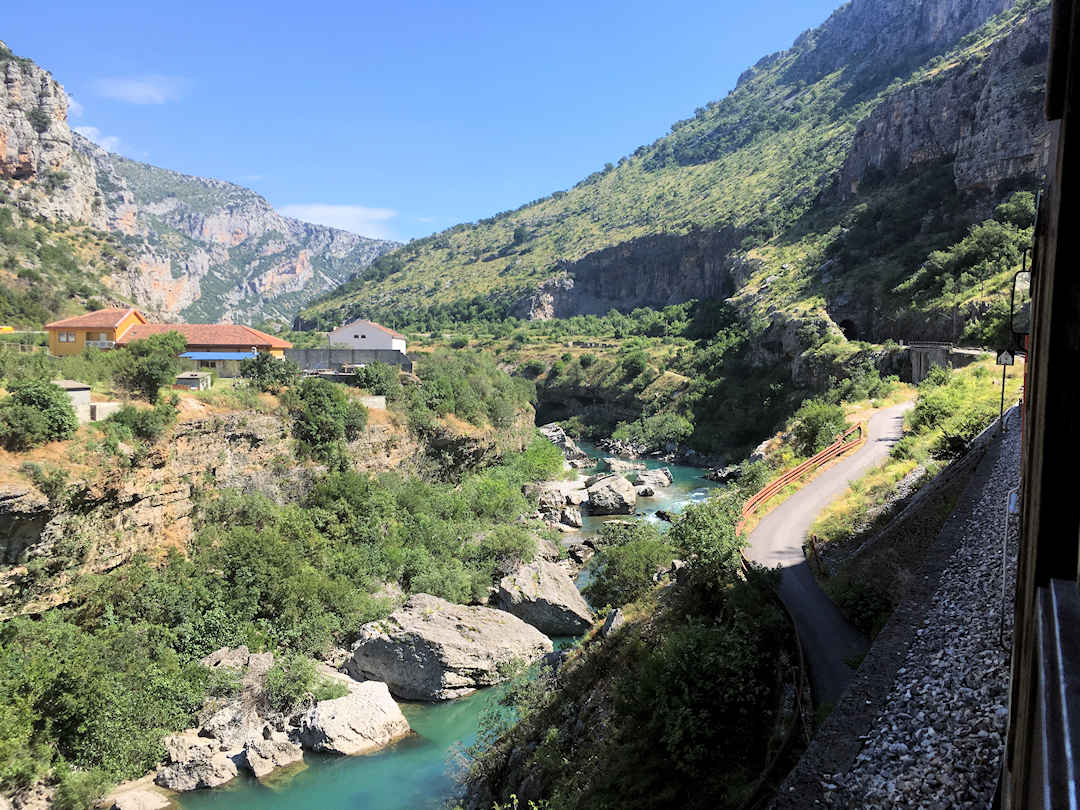 One of the coolest experiences is crossing the Mala Rijeka Viaduct between Bioče and Bratonožići, about 25 kilometers north of Podgorica. We had hoped the train would slow down for the crossing but it didn't. So, keep an eye out the window (and on MapsMe) and have your camera ready.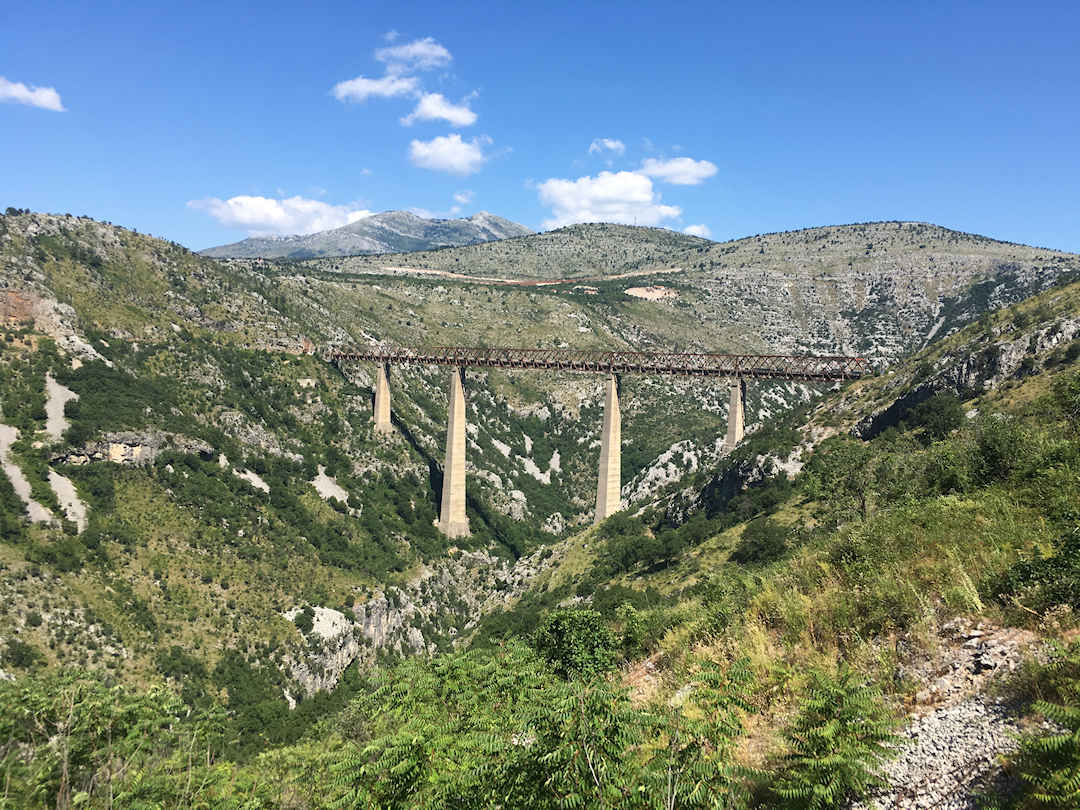 The gorges of the Mala Rijeka and Morača rivers become deeper and deeper, and the surrounding mountains more and more rugged and impressive the further you climb.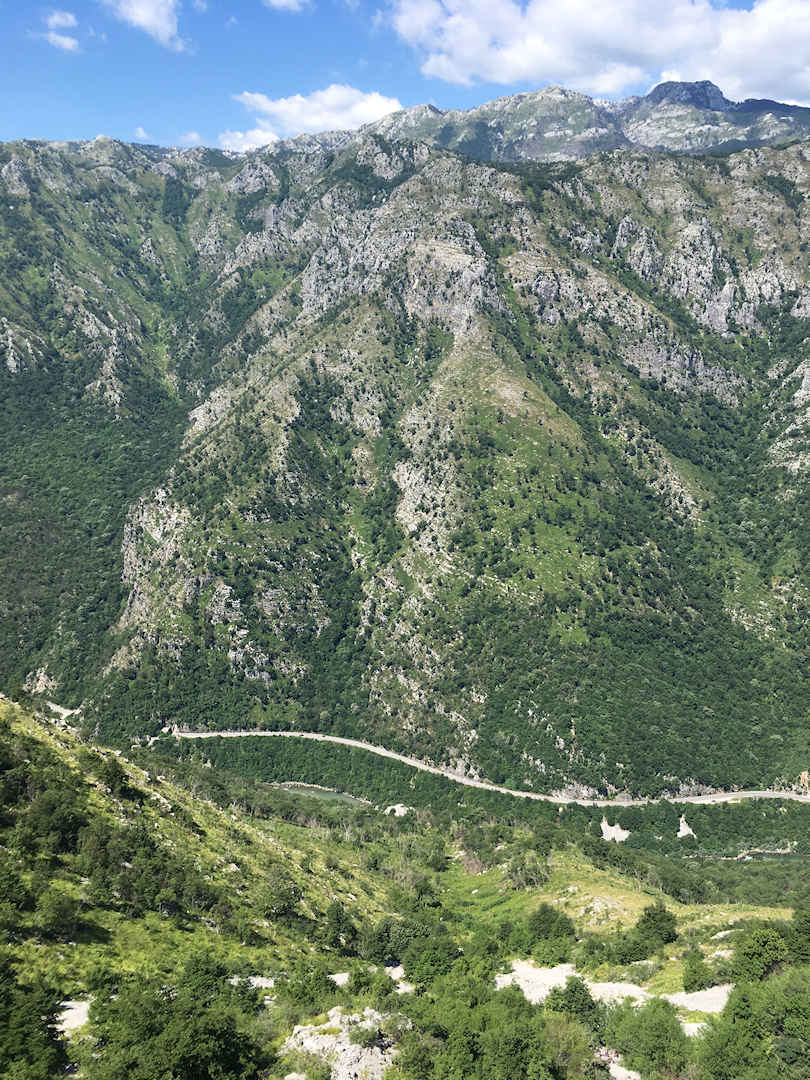 In Kolašin, the landscape, architecture and climate are distinctly alpine. If we didn't know better, we could think we're somewhere in Switzerland.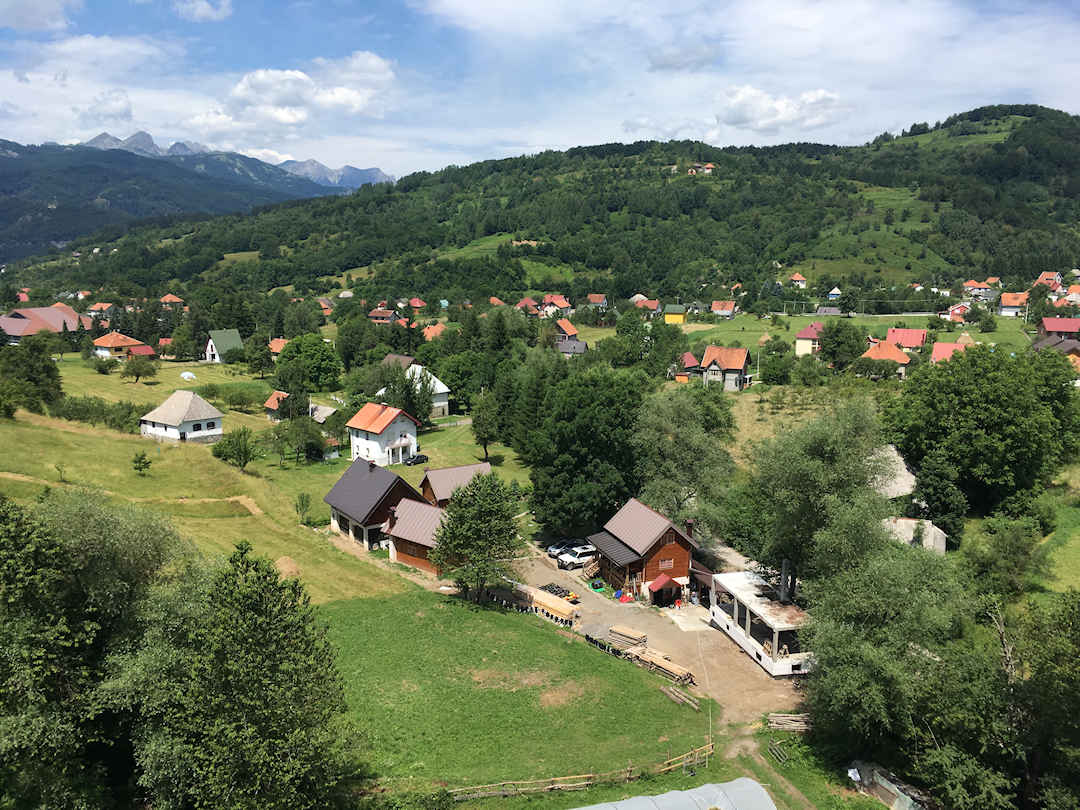 The border crossing
If you're doing the complete journey, you'll be crossing the border between Serbia and Montenegro. This means your passports will be collected by uniformed border personnel (and returned to you) twice. Once on the Serbian side and once on the Montenegrin side (or vice versa if you travel northbound).
The stops on either side of the border are meant to take 20-35 minutes each (according to the timetable), but it took more than 30-45 minutes each when we crossed the border.
Also, don't bother setting your alarm for the border crossing. The trains are never on time. And the knock of the border personnel on your cabin door will wake you up.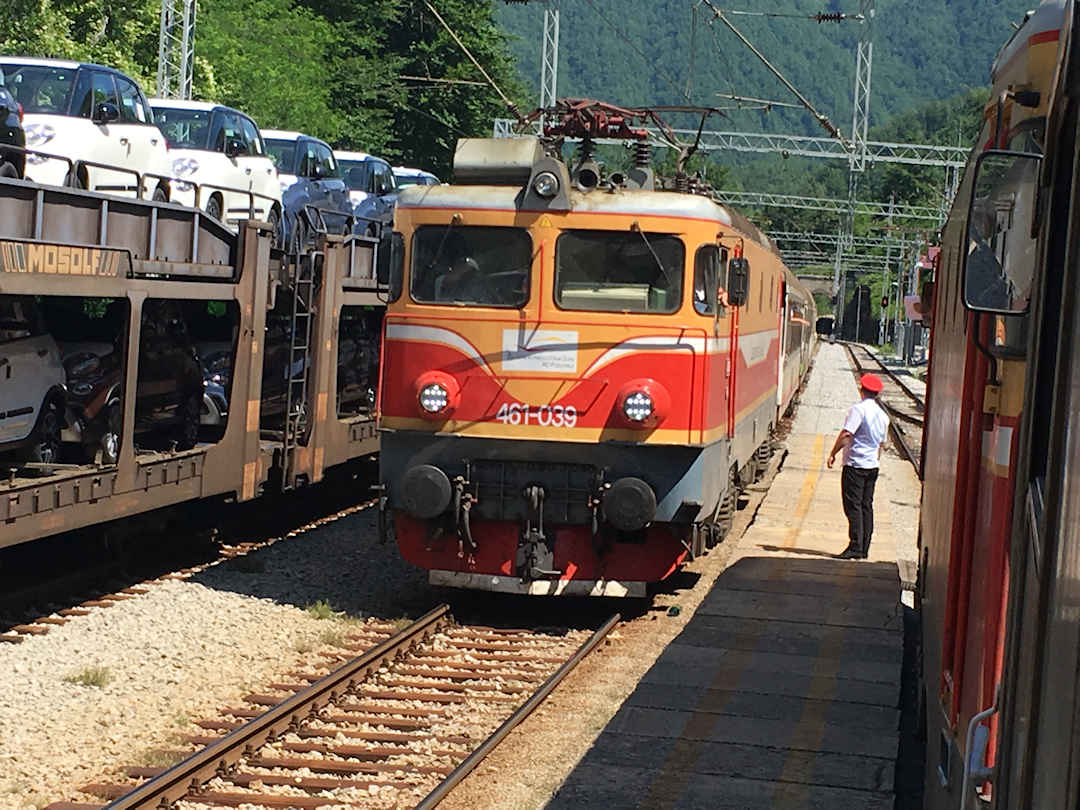 What else is important to know?
It gets pretty noisy in the tunnels. And there are 250 of them, some as long as 6 kilometres. If you take photos or film be prepared to close and reopen your windows frequently.
While there was a restaurant car (at least on our overnight train), they only served coffee. So, make sure you bring sufficient food and water for your day trip or overnight journey.
The age of the train line and delays at the border mean the trains are always late. Our train from Belgrade for example arrived in Podgorica over an hour later than scheduled. So if you have onward travel plans on the same day make sure you leave enough buffer.
Why consider train travel in the first place?
I grew up travelling by train. Every school holiday, I would make the 6-hour/250km journey to my grandparents (and back home) – often on my own.
Travelling by train remains our preferred mode of transportation, for various reasons:
We love the space and the ability to move around. We can admire the landscapes passing by our window. All the while someone else is in charge of taking us from A to B.
Train travel has become so much more comfortable and faster since my childhood days in East Germany. Maybe with the exception of the Bar Belgrade Railway… but that is part of its charm. In European countries with a reliable, high-speed rail network, train travel has become a viable alternative to flying.
Furthermore, with many trains running on electricity these days (often from renewable sources), taking the train also reduces our carbon footprint – a win/win.
Have you got a question we didn't answer or other recommendations you'd like to share?
I wrote this Bar – Belgrade Railway Guide based on our own experience. If you have been on the Bar to Belgrade Train as well and you have something to add to this guide, please feel free to contact me. If you liked my Bar – Belgrade Railway Guide and found it helpful, I would appreciate it if you could share it with your friends and family via the Share buttons below. Even better, link to the page from your personal blog or social media platforms.