One-way vehicle hires for a multi-week road trip can get expensive, especially in a country like New Zealand. It doesn't have to be. Vehicle relocation deals (including campervan relocations) are an increasingly popular (and more affordable) option. We tested relocating a campervan from Auckland to Christchurch, and in our post today, we share our experience. We'll discuss whether vehicle relocations are worth doing and what potential pitfalls to look out for.
But let's start with the basics.
What are vehicle relocations?
Rental vehicle companies allocate vehicles to locations around the country based on (projected) demand. Seasonal changes in demand and one-way rentals may lead to some locations not having sufficient stock to satisfy demand while others have more vehicles than they need.
A relocation occurs when the renter drives a vehicle (on behalf of the rental vehicle company) from a location that has too many vehicles to a location that needs the vehicle. This is more cost-effective for rental vehicle companies than transporting surplus vehicles from A to B on the back of a truck.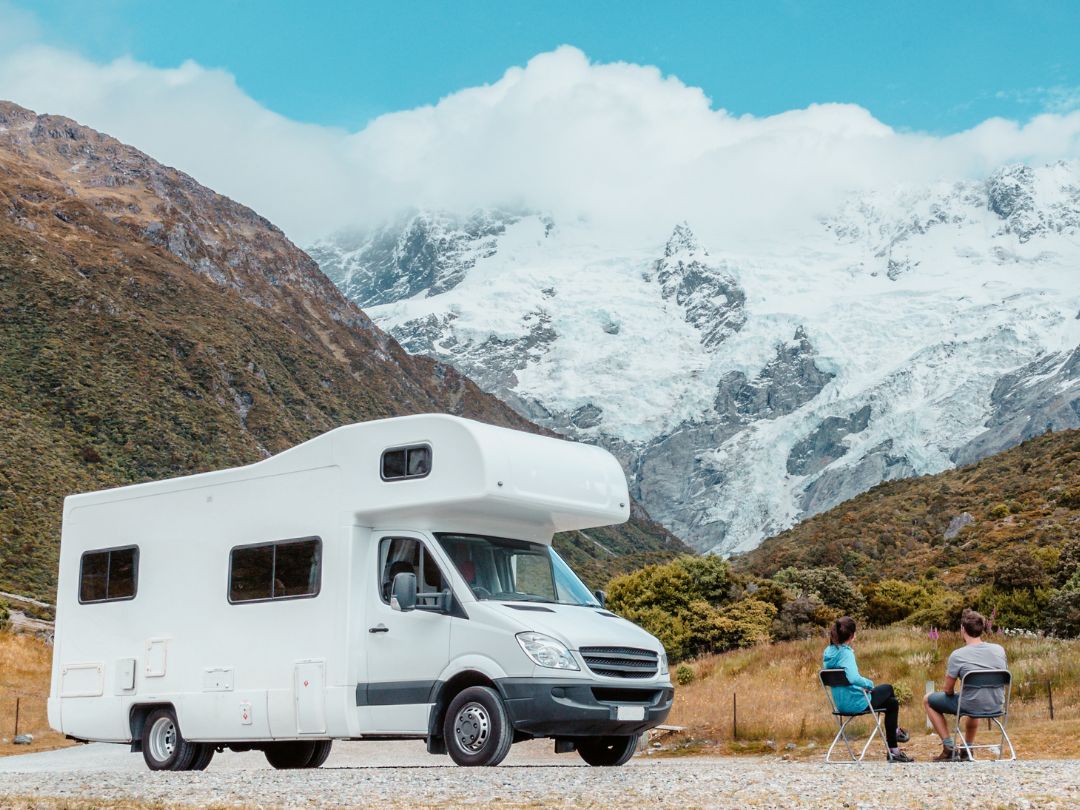 How are vehicle relocations different from standard vehicle rentals?
Relocation deals have a specific start and end destination and a finite date by which the delivery of the vehicle needs to have occurred. Relocation deals usually also stipulate a specific number of days the renter gets the vehicle free of charge and a (maximum) number of additional days the renter can add (at a reduced rate).
Let's give you an example. Below campervan, relocation is from Auckland Airport to Christchurch Airport. Renters need to deliver the vehicle to Christchurch Airport on 30 January at the latest. The renter gets one free day and can get up to an additional 20 days at a rate of $169/day.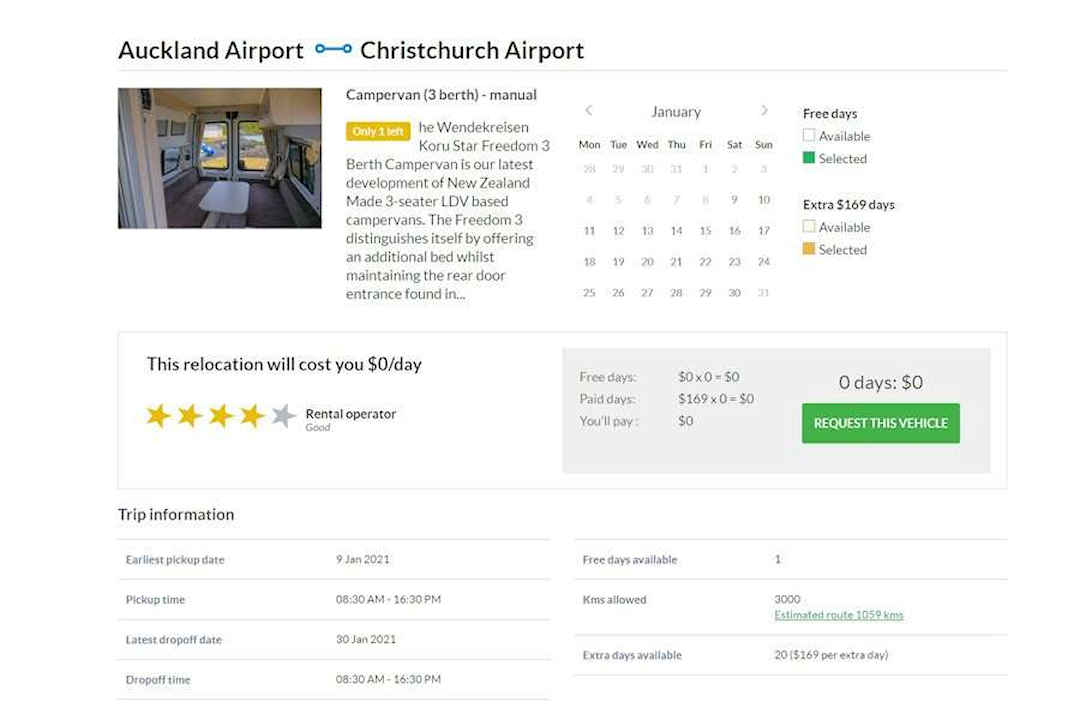 Why consider vehicle relocations as an option when planning a road trip?
Relocation deals are effectively one-way rentals with very defined parameters. Because of those restrictions, and because renters are doing the rental vehicle company a favour by relocating the vehicle for them, the vehicle is offered for free or at a (sometimes significantly) reduced rate.
If you are flexible with your dates, a relocation deal could be a very cost-effective transport option to get from A to B. Terms and conditions for each deal, however, dictate whether it's worth your while or not. So, always make sure you read the fine print before applying for a relocation deal. More on that below.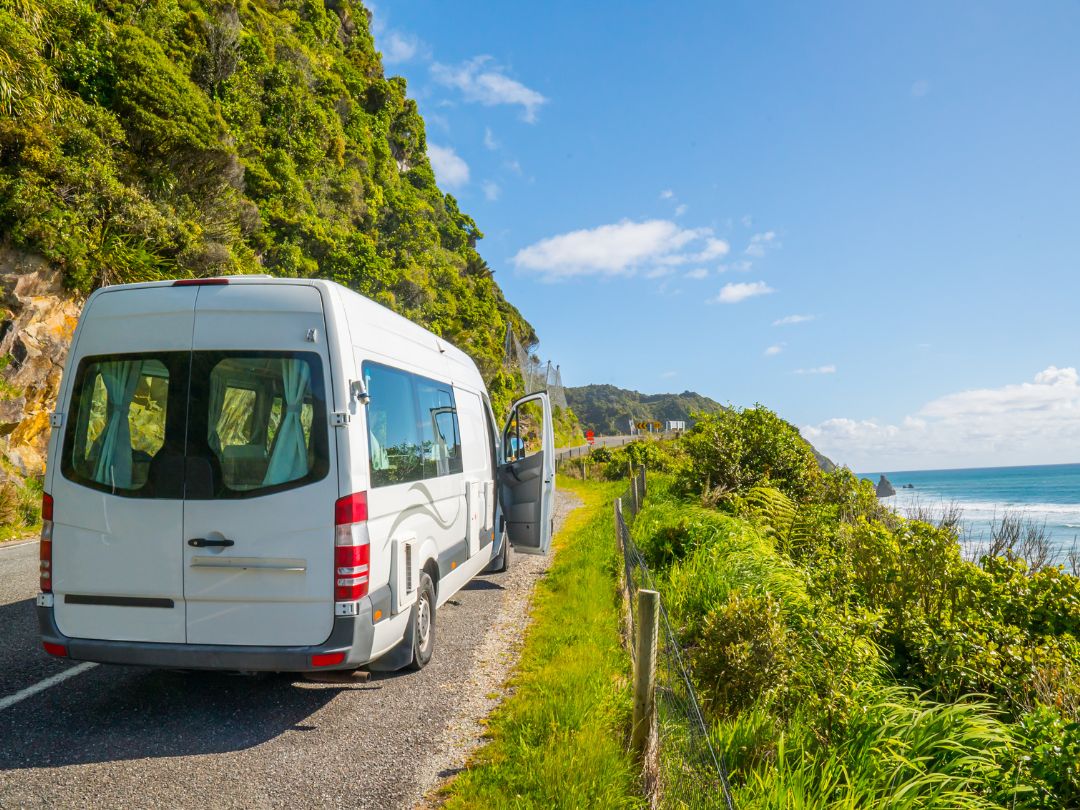 Where and when to find vehicle relocation deals?
Aggregator websites are the best place to find relocation deals. In New Zealand, we have used Transfercar (they also operate in Australia and the US). IMOOVA is another aggregator operating globally. Or google campervan relocation or vehicle relocation and the search results will point you to the best options for your country.
An aggregator website is essentially just a platform that connects rental vehicle companies with potential renters. Rental vehicle companies list their vehicle relocation deals on the aggregator website, and renters apply for deals through the aggregator website. The rental vehicle company then processes the application. Once accepted, all further communication is directly between the rental vehicle company and the renter.
Rental companies usually post relocation deals no more than 4 weeks in advance. And with limited vehicle numbers, you have to make up your mind quickly (or risk missing out).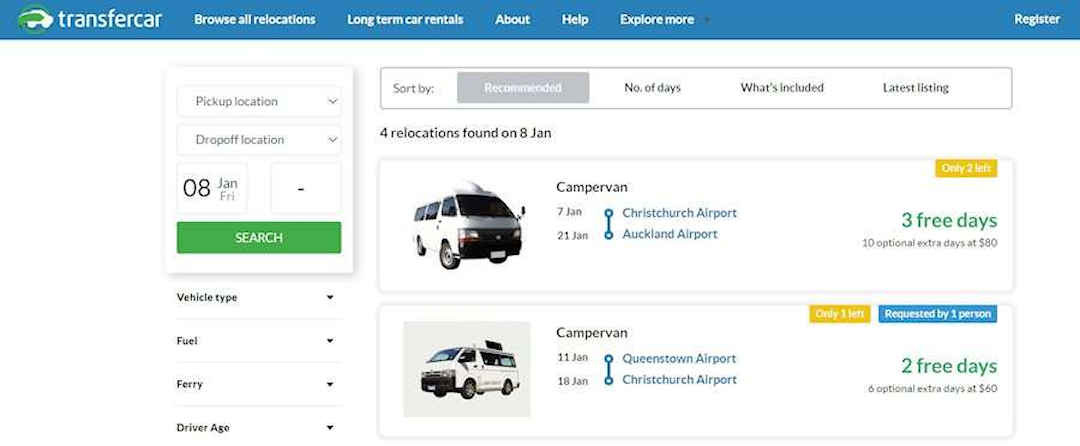 What to consider before applying for a relocation deal?
Let's use the example from above to see if that deal might be worth considering.
Is it worth it financially?
In this example, the relocation from Auckland to Christchurch includes 1 free day and up to 20 additional days at $169/day.
Everyone who's ever been to New Zealand knows that making it from Auckland to Christchurch in one day is pretty much impossible: It's over 1,000km (a minimum 16-hour drive) plus a 3.5-hour ferry crossing. But you wouldn't hire a campervan to sprint across New Zealand anyway. You'd want to hire the van for at least two weeks to see a bit of the country along the way.
So, let's say you'd want to rent the campervan for a total of 14 days. 1 free day plus 13 extra days at NZD169/day adds up to NZD2,197 (or ~NZD157 per day). Not bad given these campervans rent for NZD289/day in the summer season (which would be a total of NZD4,046 for 14 days – not considering the one-way surcharge).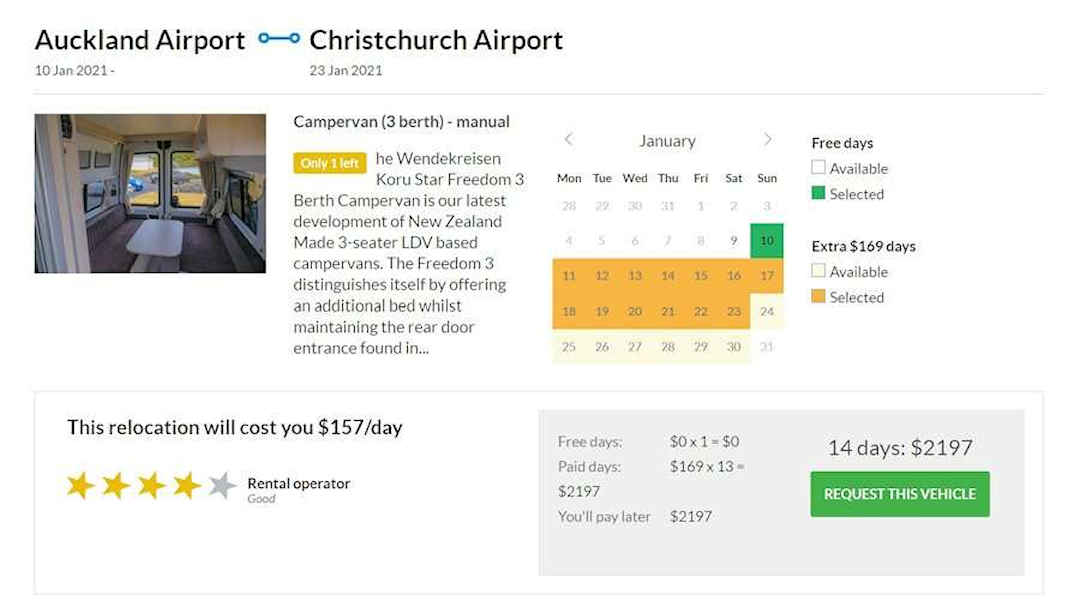 By doing the relocation, you could save (at least) $1,849 (or more than 45%) on your 2-week road trip.
Sounds good, right? Hold the horses. Do you need to get back to Auckland after your trip? If so, you may want to check the cost of airfares to see how much those NZD1,849 would dwindle down to.
Alternatively, if you are not in a hurry you could look for a reverse relocation deal (and explore a different route on your way back). Or you could continue your road trip with another relocation deal to a different destination from here.
Does the vehicle have everything you need?
Before you apply also make sure the vehicle has everything you need for your road trip.
The campervan in our example is a Koru Star Freedom 3 Berth from Wendekreisen. While the aggregator website may provide some details about the type of vehicle offered, go to the website of the actual rental company to learn more about the vehicle.
Then think about your needs. Do you want to be fully off-grid? If so, the vehicle needs solar panels. Are you easily cold at night or travel with a toddler who needs it warmer? Make sure the vehicle comes with a diesel heater unless it's summer (or stay at a managed campsite on colder nights and plug your electric heater into mains power). In our example, the vehicle has it all. Sweet.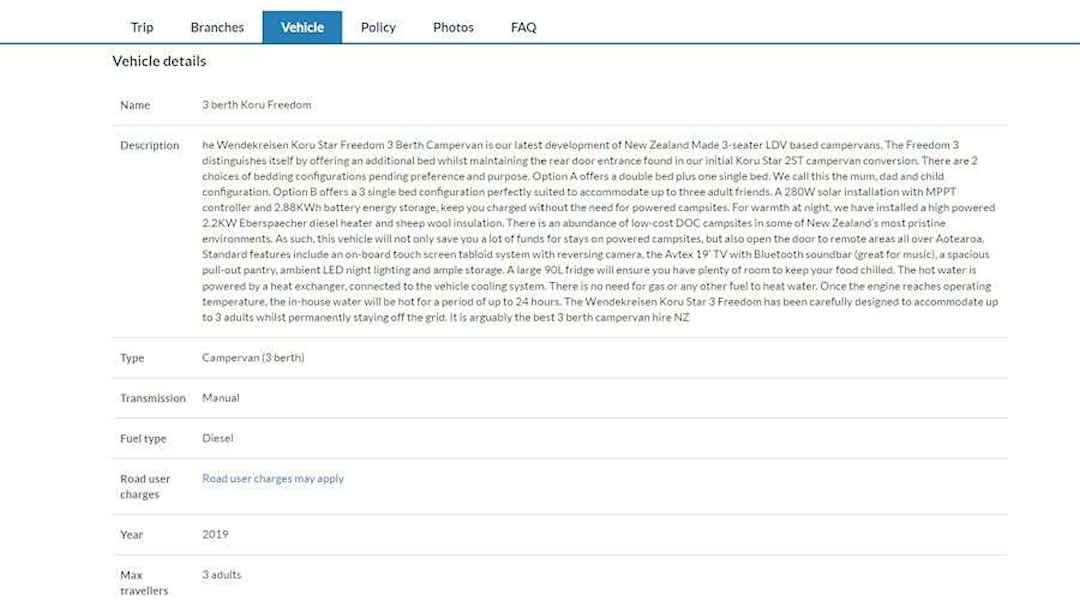 If the aggregator website doesn't provide the name of the rental vehicle company or vehicle model (as is often the case), it might help to copy the description of the vehicle into your search engine, as rental vehicle companies often just copy snippets from their own website into their aggregator listings.
If need be, contact the aggregator website and see if they can answer any remaining questions.
How many kilometres are included?
For relocation deals, rental vehicle companies stipulate a maximum kilometre amount, with any kilometre driven above that being charged at a fixed per-kilometre rate.
In this example, 3,000km are included, which is plenty to get you from Auckland to Christchurch with heaps of side trips along the way. That said if you do plan significant detours do calculate your route (and leave enough buffer) before you apply for a relocation deal.
Read the fine print (thoroughly)
Also, make sure to check any inclusions/exclusions and other terms and conditions.
In this example (and in fact in most relocation deals that are not super restrictive) the ferry from the North to the South Island is not included. And neither are your fuel and any other expenses, such as road tolls.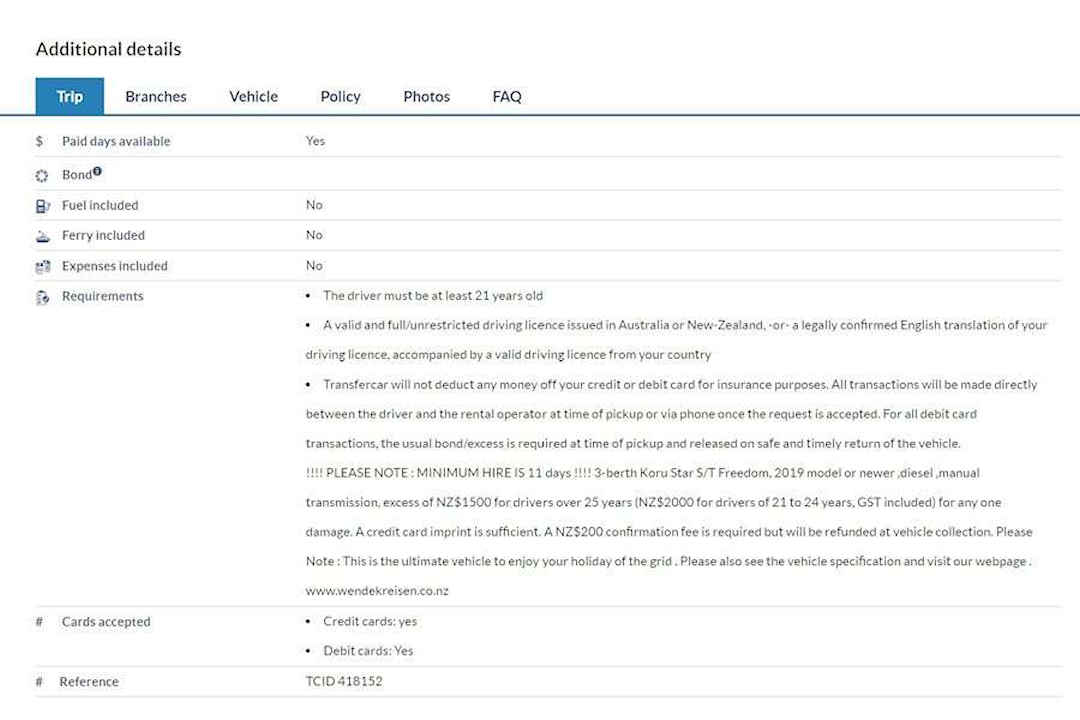 Looking at the requirements, the rental vehicle company stipulates a minimum hire of 11 days. So your intended 14 days would be fine. More importantly, though is to check the insurance coverage. In this instance, your excess would be up to $2,000 (pending your age). So make sure you are comfortable with that and get extra cover if possible (at an additional charge).
Also, check the cancellation policy and any other terms and conditions. If you have any questions contact the aggregator website before applying for the relocation deal.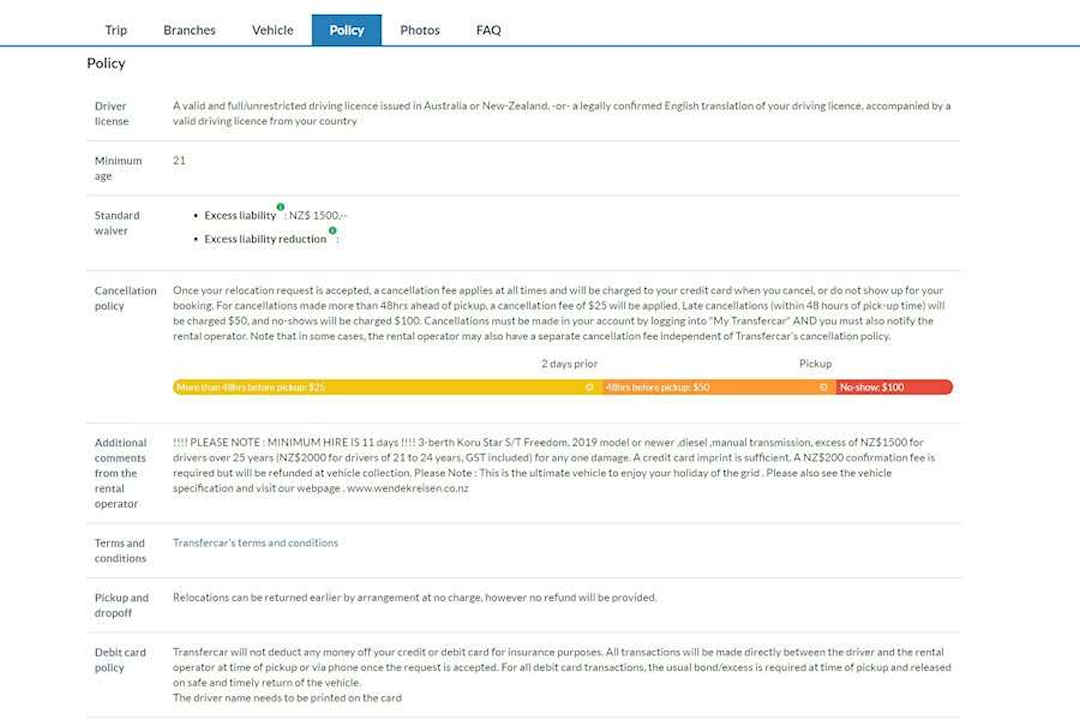 Finally: If the information provided by the aggregator website (and any other information you can find about the rental vehicle or company) is not sufficient to give you comfort that you get (a) a vehicle that is safe and (b) a deal that is worth financially don't apply for that particular relocation deal.
Trust your gut – if something doesn't feel right it often isn't.
What to look out for when picking up the vehicle?
The pick-up of the relocation vehicle works pretty much the same way as any standard vehicle rental. But it pays to take your time, read the fine print and ask questions.
Be aware of your hirer's obligations
When hiring a vehicle, we expect the vehicle to be in good working order and mechanical soundness to be the responsibility of the rental vehicle company. Right? Well, not necessarily.
For example, hirer obligations may include the following (extract from our relocation contract):
The water in the radiator and battery in the vehicle is maintained at a proper level.
Oil is maintained to a proper level.
The tyres are maintained at their proper pressure.
In the case of our relocation deal, the contract also stated:
Towing and retrieval of damaged vehicles to the closest depot are not covered under standard Cover or CDW Damage protection. The cost of towing or retrieval will be charged to the hirer's credit card or funds held.
In other words, if you break down for whatever reason, and Roadside Assist can't help you on the spot, you are responsible for getting the vehicle to the closest depot (at your own cost). Ouch. Given the rental vehicle company we used only has one depot each on the North and the South Island (in Auckland and Christchurch), if push came to shove, this condition could potentially be challenged in the Disputes Tribunal.
Bear in mind any potential additional charges
Before signing the contract, we were advised of the following surcharges that may apply (our clarifications in brackets):
Toilet/grey water not emptied and rinsed out – NZD100
Vehicle in (an unusually) unclean state (on the inside) – NZD200
Parking/Traffic/Freedom Camping Infringement – NZD60 (admin fee on top of the actual infringement fee)
An administration fee is payable if (the vehicle is) damaged – NZD150.
Handover
If your insurance excess is greater than Zero, make sure you walk around the vehicle, mark any existing damages on the handover sheet and take pictures to avoid being held responsible for damage that already existed when you picked up the vehicle.
What was our experience?
Our relocation deal
We applied for a campervan relocation from 2 to 11 December 2020 through Transfercar. The deal provided five free days and up to five extra days at NZD50/day, which we all requested. The online application process was easy, and the application was accepted by email within a few hours.
When we applied, we did not know which rental vehicle company we'd hire the car from nor the age of the vehicle. All we knew was that it would be a petrol-powered, 2 (+1) Toyota Hi-Top Hi-Ace with a porta-potty. I knew the type of vehicle as I'd rented one before.
The vehicle we got was a 3-berth Toyota Hiace Hitop from Freedom Campers (Path Finder 2/3). The vehicle complied with the New Zealand Standard for Self-Containment of Motor Caravans (NZS 5465:2001). It came with a portable toilet (which had to be moved out of the way when making the bed each night), 42l of fresh water and a 42l grey water tank.
The campervan was a 2008 model, which had driven more than 450,000 kilometres (astonishing for a petrol engine). Despite its high mileage, it worked perfectly well, and we had no issues during our rental.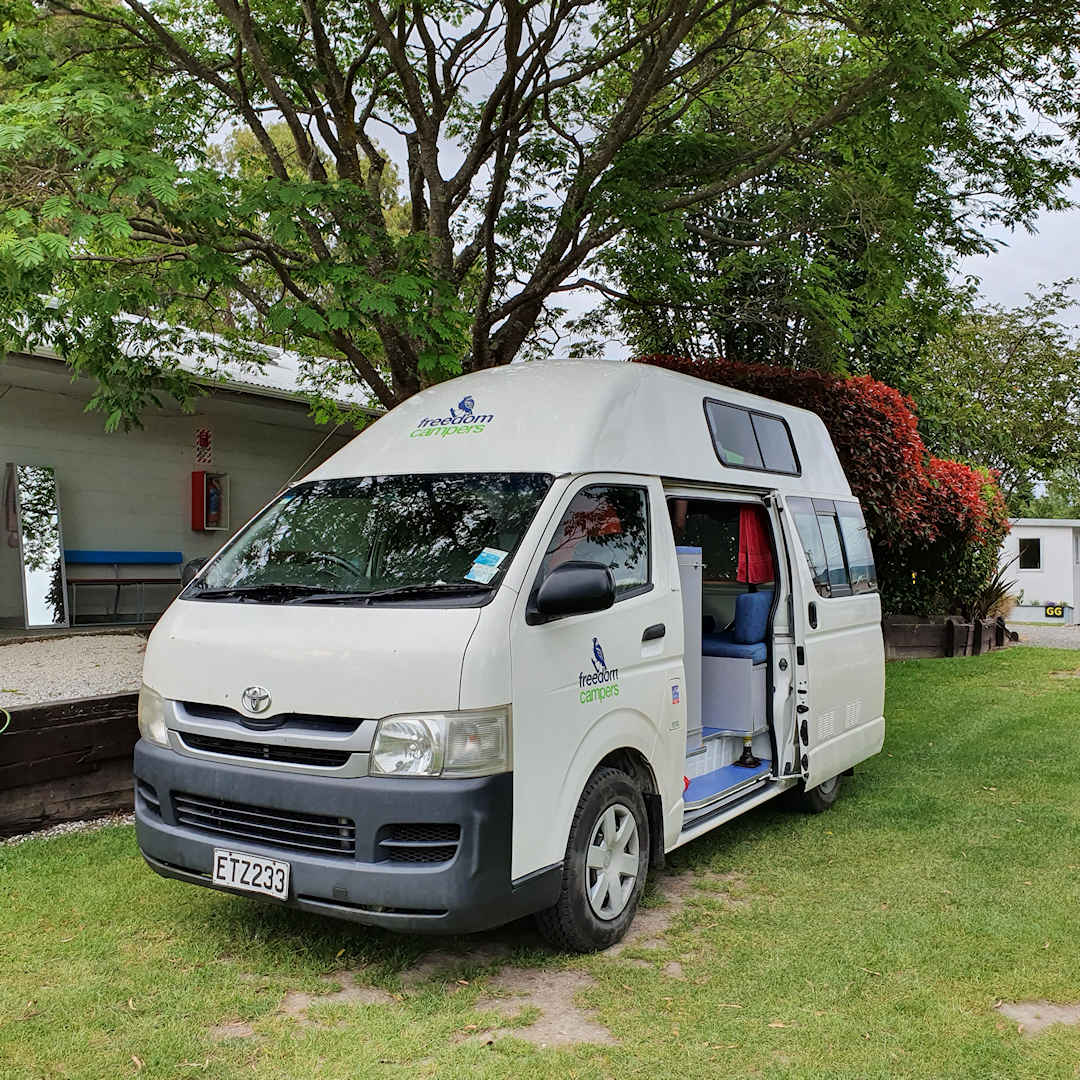 The campervan kitchen was fully equipped with every utensil you could ever need – a nice surprise after having stayed in some very sparsely equipped short-term rentals before that. Bedding and linen were also provided.
As with the above example, our insurance excess was NZD1,500 which could not be reduced. The NZD1,500 were taken as a credit card imprint which they (apparently) ripped up after we returned the vehicle. We received the vehicle with a full tank of fuel and were able to return it (more or less) empty.
About 4 weeks after returning the vehicle, we received an email from Transfercar, advising that the relocation was complete and that the rental vehicle company had left a review (something we weren't aware of when we had booked the vehicle):
How much did our road trip cost?
Our 10-day road trip cost us a total of NZD1,747.31 (including our airfare from Christchurch back to Auckland):
| Item | Cost in NZD | Comments |
| --- | --- | --- |
| Vehicle hire charges | 336.89 | 33.70 per day |
| Fuel | 361.75 | 0.16 per kilometre |
| Ferry crossing and road tolls | 241.50 | |
| Camp ground fees and laundry | 211.00 | 42.20 per night |
| Groceries and dining | 352.17 | |
| Return flight for two | 244.00 | From Christchurch to Auckland |
| Total road trip costs | 1,747.31 | |
Vehicle hire charges included the daily rate of NZD50 for the five extra days (NZD250 in total). It also included flat rates per rental for an inverter, a 4.5kg LPG bottle, portable toilet chemicals and an additional driver.
Based on approximately 2,200 kilometres driven, our fuel consumption worked out to cost us about NZD0.16 per kilometre (not counting the free tank included in the relocation deal).
Since the campervan did not come with solar panels, we knew that we couldn't be off-grid the whole time. We ended up alternating between freedom camping one night and staying at a managed campsite plugged into mains power the next (with five paid nights in total).
Was it worth it and would we do it again?
Excluding our return flight to Auckland, our road trip in December 2020 cost us N$167.03 per (full) day as a couple. In comparison, our van life in 2018 cost us NZD130.38 as a couple on a like-for-like basis.
Now let's have a look at the actual deal:
With a standard rental rate of NZD50 per day during the rental period, we saved NZD250 or 50 per cent (plus the one-way surcharge).
The NZD1,500 insurance excess was also 50 per cent off Freedom Campers' standard excess of NZD3,000 for our age group.
While the vehicle was a petrol vehicle, with road user charges of NZD0.076/km applicable to diesel vehicles in New Zealand, the fuel costs would have been about the same for a diesel vehicle.
The vehicle performed well (even on inclines). It was clean and well-equipped (only missing a connector for the freshwater hose – our first campsite gave us one of their spares).
While we wouldn't recommend anyone covering 2,200 kilometres in ten days (at least not in New Zealand), relocating a campervan was definitely a worthwhile option for us, and we would consider another relocation deal in the future.
Have you done a vehicle relocation? Please share your experience and any other tips in the comments below.