Whether you've walked the Camino de Santiago for the first (or the n-th) time, the feeling as you walk through the old streets of Santiago de Compostela, and you catch a glimpse of the towers of the Cathedral, is indescribable. No matter how tired or hurting you are, no one can wipe that big smile off your face as you enter Praza do Obradoiro. YOU MADE IT.
After weeks of walking through the countryside, just putting one foot in front of the other, no one really wants to go home and recommence their old lives. At least not immediately. There is so much to reflect upon. New friends to say goodbye to. A hurting body to take care of.
If you have the time… don't fly back immediately. Rest in Santiago for a few days and just be gentle with yourself. For a bit of guidance to those who seek it, here are a few tips on what to do (in Santiago) after your Camino to help you ease back into normal life.
Download your Sustainable Travel Checklist and show the world you care
As travellers, we should all be aware of our travel behaviour and its environmental, economic and social impact; and make conscious decisions about it. Too often, we hear negative stories in the media about tourists behaving badly.
Here is your chance to tick some boxes and check out what it really takes to travel with a sustainable mindset.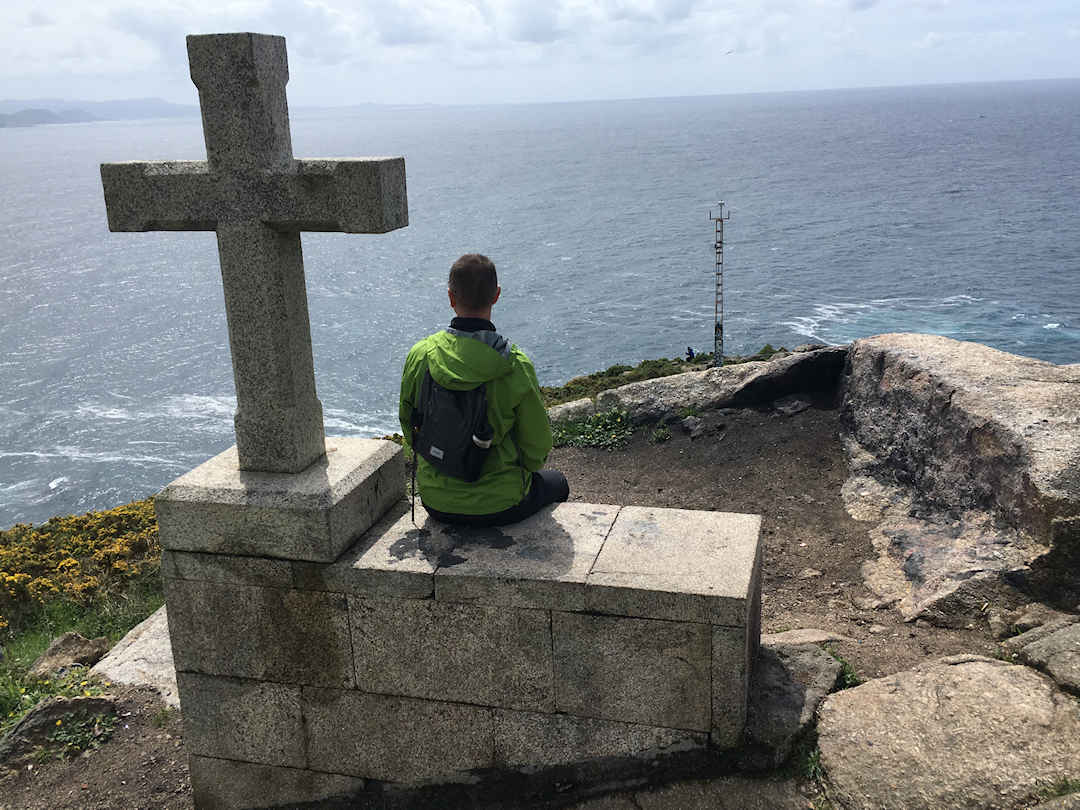 Reflect on your Camino
Taking time to reflect upon and digest your Camino experience is so important. Everyone who has walked it says the Camino changes you. And it does, in all sorts of different ways.
I found it hugely helpful to write my thoughts down as we walked… on a daily basis: How easy or difficult was this stage? What pain or discomfort did I encounter? What did I see? Whom did I meet? What did I enjoy and dislike? What did this stage teach me?
Once in Santiago, go through your notes. Reminisce. And think about what you want to take with you into your normal life from here on: Are there any changes you want to make? If so, what steps do you need to take to make those changes?
If you find it difficult to reflect upon/digest your Camino experience on your own, you can get assistance, especially once in Santiago.
For one, there is the Pilgrim Lounge at the Pilgrim's Office (take the stairs one floor up after you received your Compostela). Staffed by volunteers who've walked the Camino themselves, the lounges provide a safe haven. A place where you can have a cup of tea and chat as much or as little about your Camino experience as you like. There are lounges for different nationalities/languages: German, English, Dutch… But you can go to any one of them, and they will welcome you with open arms.
Secondly, there is the Pilgrim House, a Christian not-for-profit. The Pilgrim House provides debrief notes in various languages. You can also join the group and/or private debrief sessions as well as reflective meditation sessions. The Pilgrim House offers quiet spaces for personal reflection (which is great if your Albergue is too busy), a communal lounge and kitchen to meet with fellow pilgrims, as well as a laundry and luggage storage service.
Where to eat in Santiago?
While right in the middle of it all, on Rúa das Carretas (the same street as the Pilgrim's Office), we had great pilgrim's lunches at Restaurante Tarará (EUR10). Another good spot, whether to stop and eat lunch or buy fresh produce, is the Mercado de Abastos. We stocked up there with fresh fish, locally made cheese, veggies and pastries (cooked at our accommodation).
Pay your respects to St James
We arrived in Santiago de Compostela just before Easter with what felt like thousands of other pilgrims, especially from other parts of Spain. The queue to enter the Cathedral was just ridiculously long. So we waited… Thankfully, we were in Santiago for a few days.
On Easter Monday, we went to the Cathedral when it opened at 0900h, and there was hardly anyone there. We were able to take our time at St James' tomb: Write a thank you note. Light a candle. Stand and kneel in quiet contemplation without feeling rushed. A beautiful experience even for those who are not religious.
It seemed all the weight I had been carrying on my shoulders since Paul's accident (figuratively and literally) finally came off. I couldn't help it: Tears just started rolling… Out of gratitude (that we made it). Out of exhaustion (having tried my best to keep it all together for the last 8 months). And out of sadness (that our first Camino experience had come to an end).
When we left the tomb, a small queue had started to form at the staircase leading up to the statue of St James at the main altar. We joined the queue to fulfil the pilgrim's ritual of embracing the Apostle, but touching the cold metal of the statue didn't induce the same feelings as being at St James' tomb.
Learn about the pilgrimage and Santiago in the Pilgrimage Museum
Right next to the Cathedral at Praza das Praterías (with the Fountain of the Horses) is the Museo das Peregrinacións. Over several floors, you can learn more about the famous pilgrimages around the world, how they and especially the Camino de Santiago came about, what it was like for the early pilgrims, and about the history of Santiago de Compostela itself.
Through the rooftop windows, you get a close-up view of the Cathedral towers. There was even an exhibition about the Kumano Kodō which we completed in 2023.
Visit Finisterre and/or Muxía
Did you know that Kilometre Zero is not in Santiago but in Finisterre (Fisterra in Galician)? If you don't want to stop walking (just yet) you can continue your Camino for a few more days, to Finisterre or Muxía, or both.
If you don't want to walk it (or don't have the time) you can still visit both: on a day trip by bus. While not quite the same as walking it, standing at KM-0, overlooking the sea from the Cape behind the Lighthouse (Faro de Fisterra) or watching the waves crash into the rocks in front of the Church of Nuestra Señora de la Barca in Muxía are very special moments.
Interested in learning about the countries we explore through entertainment? These inspirational travel movies will allow you to go on your own virtual tour around the world.
Reward yourself with a massage
Also by the Cathedral in Santiago, in the old Quintana building at Praza da Quintana de Mortos, there is a massage practice in the basement. Quintana Massages are open daily from 1000h to 2030h. The one-hour whole-body massage (EUR35) was just the perfect ending to our Camino, loosening up our tight back, leg and foot muscles before we embarked on our next adventure.
Book your spot online and access the building through the Campus Stellae entrance (to the left of the souvenir shop as you face the building). The concierge will let them know you're there.
What did you do after completing the Camino de Santiago?
Have you walked the Camino de Santiago? What did you do to digest your Camino experience and return to normal life?