Are you planning to walk your first Camino de Santiago and have (like we did) gazillion questions about what to expect? Are you after some insider tips beyond your Camino guidebook? Having walked our first (and very likely not our last) Way of St James, we have learned a few useful things we wish someone had told us before we started our Camino de Santiago. To help fellow pilgrims who will walk in our footsteps, we have summarised our most important lessons below.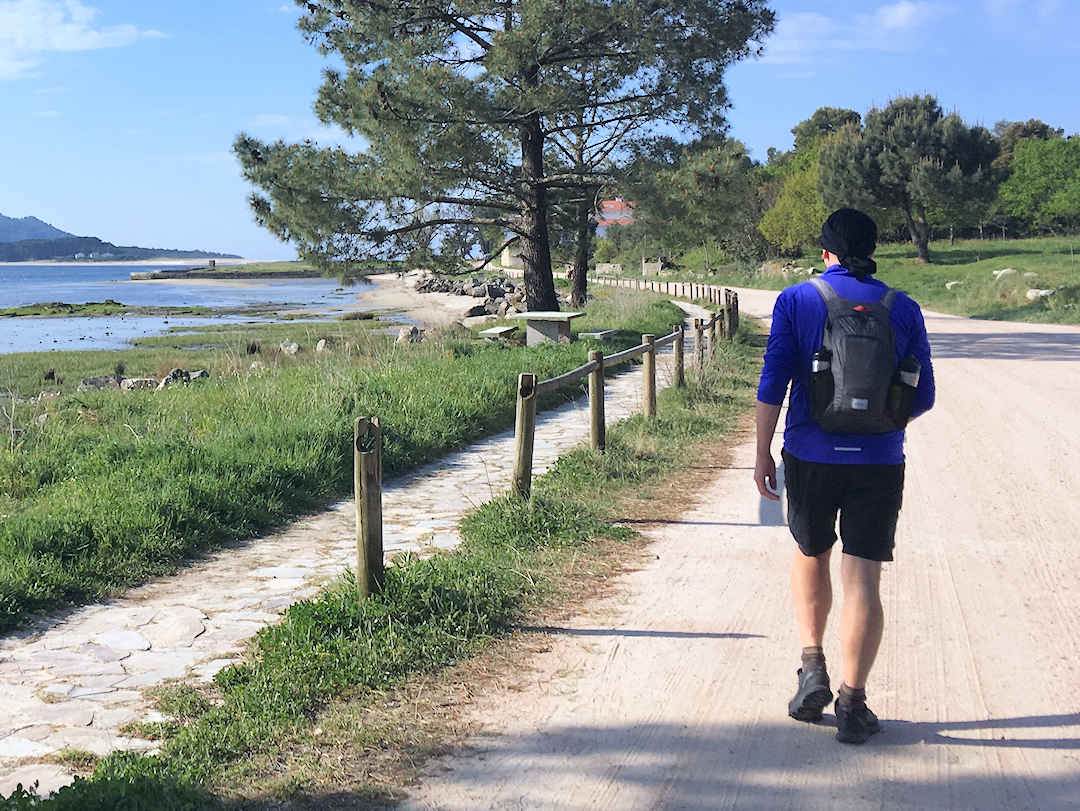 Sign up to receive our email newsletter full of actionable tips and practical advice every month
1 – Carry no more than 10% of your body weight
While we only carried 12 kilograms / 26.5 pounds between us, I carried 9 kilograms/ 20 pounds in my normal carry-on backpack, and Paul's Matador Freerain22 Daypack weighed 3 kilograms /6.5 pounds. He had undergone back surgery only three months before we did our Camino, so he couldn't carry full weight just yet. It was doable, largely because we only averaged 10 kilometres (6 miles) per day, but it wasn't the most comfortable.
When we do it again (assuming it would be without either one of us having an injury), we'd split the weight more evenly between us – our recommended backpack weight is 10% of your body weight (maximum 6 kilograms /13 pounds for me and 8 kilograms / 17.5 pounds for Paul) – and use a proper hiking backpack.
Based on our personal choice and our research into sustainable, eco-friendly companies, we recommend the Osprey brand.
Need an ultralight packable
daypack
for your everyday needs AND your travels? Find the one that's right for you with our
buyer's guide
.
2 – Mix up your Camino accommodation to get a good night's sleep
The best place to meet fellow pilgrims and make new friends are the albergues. However, sharing a room with heaps of other people doesn't make for great sleep: A lot of people snore (and often right next to you). Some pilgrims get up at the crack of dawn and wake everyone else: crunching plastic bags, opening and closing noisy zippers, banging doors etc.
While earplugs help to some extent, having your own room and bathroom every once in a while will save your sanity.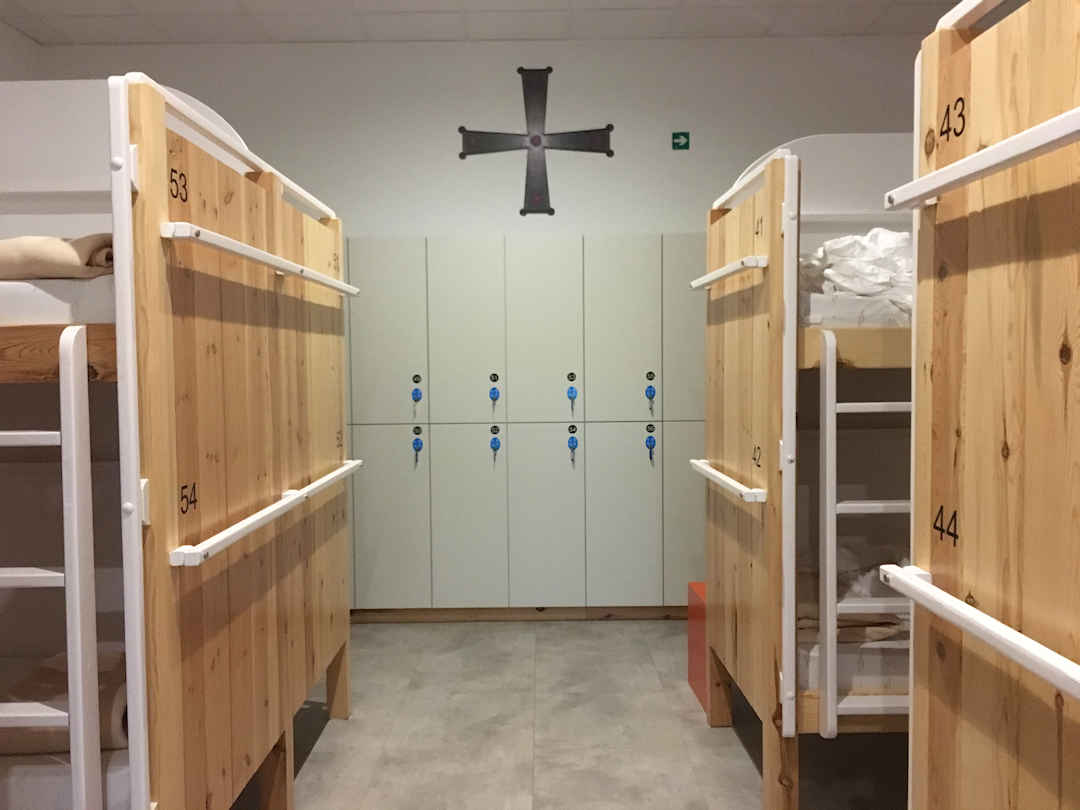 3 – Even a Camino on the cheap costs about EUR25 per day
You can do the Camino on the cheap by staying only in municipal albergues and self-catering every day. To do that, you'll have to carry food with you, as there is not always a groceries shop (open) when you need one (refer to lesson 5).
To give yourself a bit more wiggle room, budget at least EUR25/day: EUR10 for accommodation (in albergues), EUR10 for a pilgrim's lunch plus EUR5 for a DIY dinner and breakfast. And don't forget to budget for the day/s before you start/after you finish.
Would you like to walk the Camino de Santiago and wonder how much to budget? Check out how much it cost us to walk the Camino Portugués.
4 – Protecting the environment is not as easy as you think (but you can do your bit)
Speaking of self-catering: small traditional stores where they shave the ham off the bone or slice up the cheese for you without wrapping them in tons of plastic are surprisingly hard to come by on the Camino. Most food you buy in shops along the way comes pre-packaged, sadly.
If you carry your own food, try and buy at markets (or those traditional stores) as much as you can and reduce plastic waste by bringing a reusable container, a lightweight chopping board and a spork. You can use the container also to bring home any leftovers if and when you dine out (tortilla makes for a nice breakfast the next morning).
Also, bring a reusable water bottle. Tap water is potable in both Portugal and Spain (including the fountains you encounter along the Camino – unless they specifically say NO).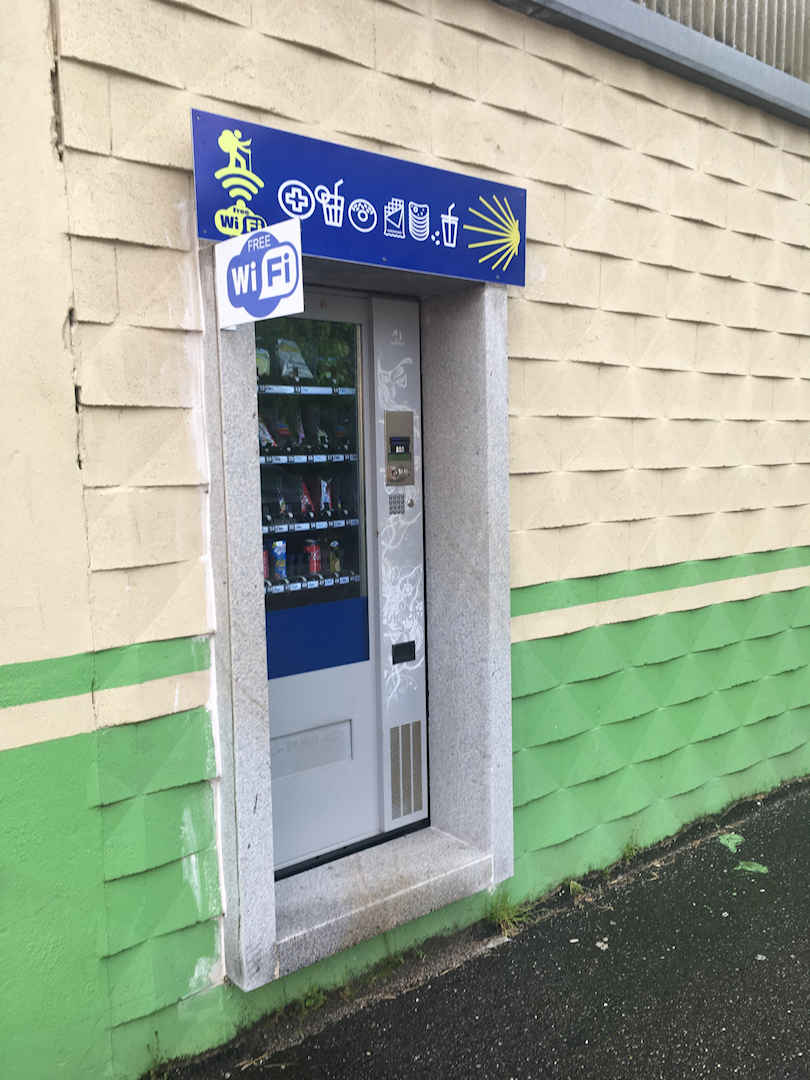 5 – Grocery shops are not open around the clock
Especially if you self-cater your Camino, be aware that most grocery shops are closed from Saturday afternoon to Monday morning, and over lunch. Dinner in Spain is usually not before 2000h, and simple bars/cafeterias often only serve bread-based meals: bocadillos (a baguette sandwich with cheese, ham etc) or tostadas (a toasted open sandwich).
Plan your (weekend) meals ahead and stop for a cooked pilgrim's lunch along the way (which will tide you over until dinner, if not the next morning). Bring snacks (muesli bars and apples are great) as an emergency supply.
6 – A sleeping bag is not always needed
All private albergues (we stayed in) and some municipal albergues provide blankets and linen (at least on the Camino Portugués). Unless you plan to stay only/mostly in municipal albergues, you won't need to bring a sleeping bag (just a liner) in Spring/Autumn. If you are getting cold easily just put on another layer of clothing or grab another blanket, which is easy as in Spring/Autumn albergues are never full.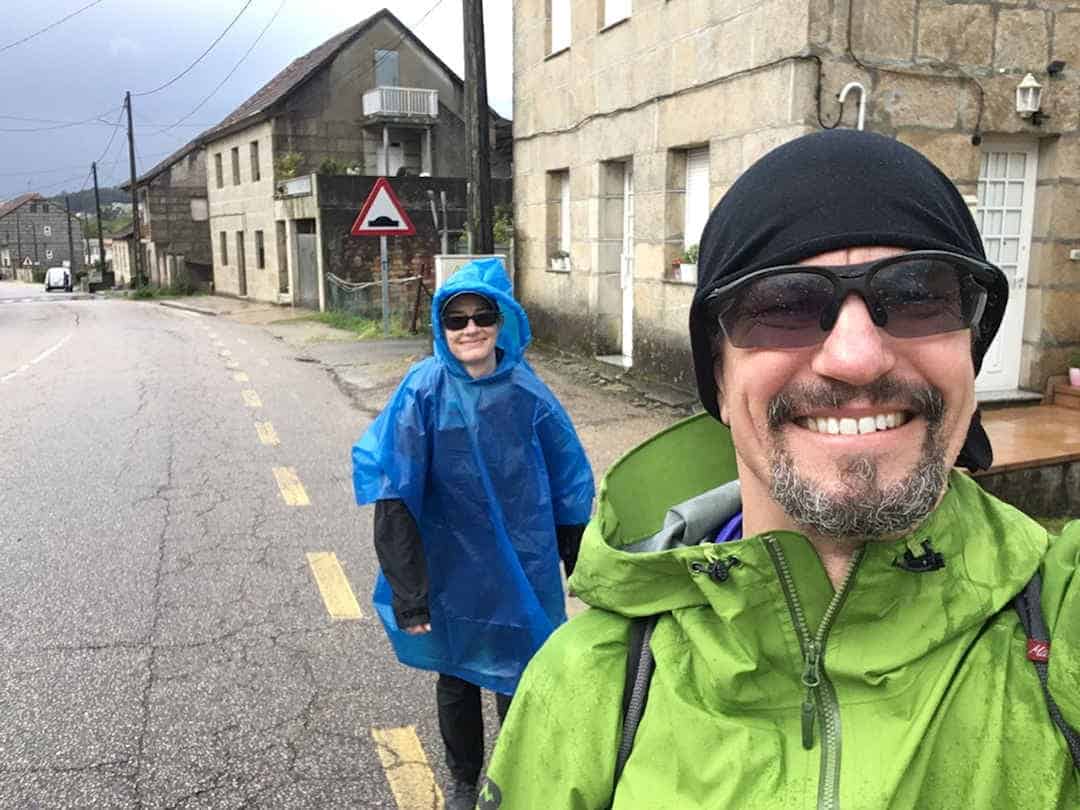 7 – Galicia is juicy green for a reason… it's called rain
It rains a lot in Galicia, at any time of the year. So, don't skip the rain cover, even in Summer. Bring a lightweight but sturdy rain poncho that covers you and your backpack. And count yourself lucky if you do get to Santiago without a drop of rain.
8 – There are trade-offs in walking (less than) the average per day
Many pilgrims walk 25-30km per day. With breaks, that's a whole day of walking (every day). While you cover a lot of ground, you don't actually get to see more than what can be seen from the Camino. If you do it slower you have the time and energy to explore a bit more. Baiona, Redondela, Pontevedra, Combarro and Padrón are all worthy of your time – and that's only the Galician part of the Camino Portugués.
If you do walk shorter distances each day though be aware that you will be meeting and walking with new people every day. And by the time you reach Santiago, most of your new friends will be (long) gone. As a compromise, you could mix shorter with longer days.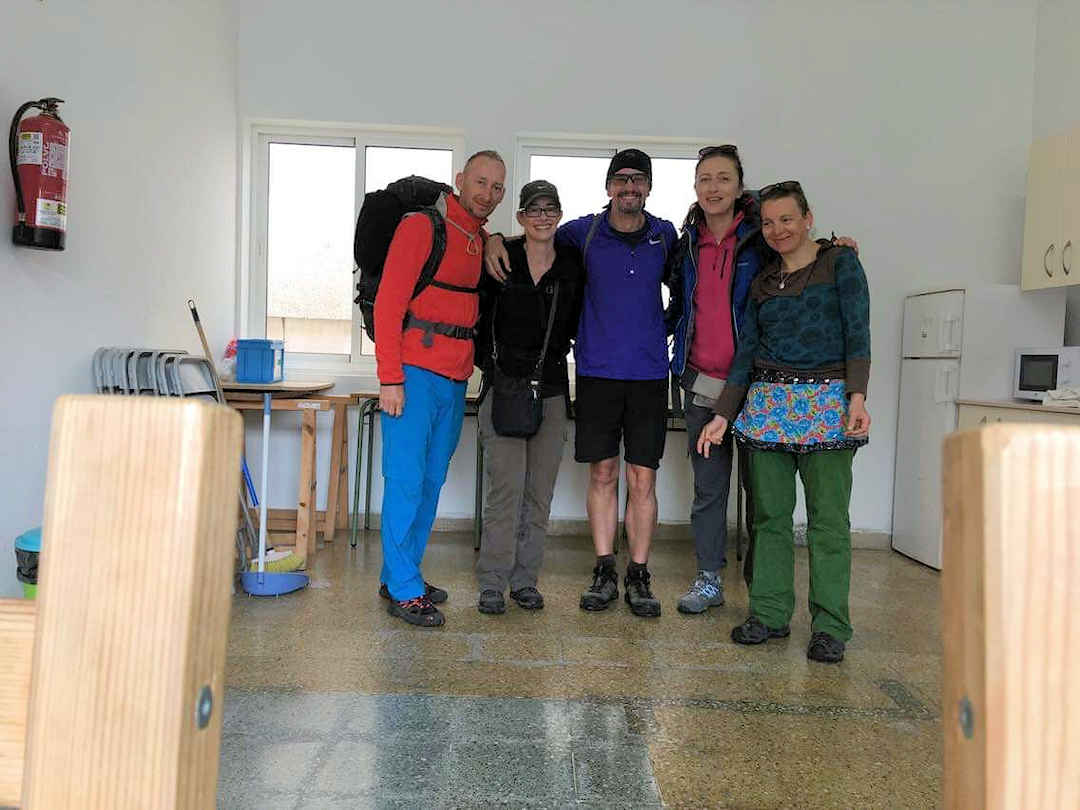 9 – Get at least two stamps a day for your pilgrim's passport
You need to get at least two stamps a day for your pilgrim's credentials. That's especially important for the last 100km of your Camino (200km if you cycle).
We only discovered that requirement, 25 kilometres before reaching Santiago. We only got stamps at our nightly accommodation, but wondered why cafes and churches offered them too. Fortunately, we started our Camino in Caminha, on the Portuguese side of the Minho river which separates Galicia from Portugal, and the Pilgrim's Office was kind enough to give us the Compostela even without the two stamps/day. Phew…
10 – Spring is a great season to walk the Camino de Santiago
Spring (mid-March to mid-June) is a nice time to walk: There are fewer pilgrims. Guesthouse and hotel accommodation is cheaper (a double room with its own bathroom often costs the same as two dorm beds). The temperature is very pleasant for walking – not too hot/not too cold. And everything around you is in bloom (hearing the humming of the bees and chirping of the birds is the most pleasant background 'noise').
Doing the Camino in Spring though also has downsides: Fewer places are open (especially places where you can eat). And the weather can be pretty atrocious (refer to lesson 7).
Which route to walk and when?
Are you concerned about how easy it is to secure a bed each night? Then you might want to know how busy it gets (on the different routes) throughout the year.
It may not come as a surprise that the number of pilgrims walking any of the routes that lead to Santiago de Compostela in Spain is increasing year on year – by about 8% per annum in fact.
The busiest route continues to be the Camino Frances, but the Camino Portugués (especially the Central route) is attracting the most significant growth (a whopping 23% pa over the last 5 years). While facilities are being added all the time, finding a bed during the Summer months can be a real issue. It is best to avoid those busy months and walk in Spring (or Autumn) instead.
The above graphs show the number of pilgrims arriving in Santiago each month (Source: Pilgrims Office Santiago de Compostela)
11 – No pain no gain… just keep going
Expect to hurt. At least to some degree and at some stage. That's normal. Just take one day at a time and continue walking (even if just a few kilometres a day). Only stop if you really have to. Keeping that in mind, make sure you leave enough time for (a) rest day/s.
12 – Test your fitness and your gear
Speaking of pain: We met quite a few fellow pilgrims who did training walks (with and without their backpacks) for months before commencing their Camino. We didn't. But then, we walk (almost) every day with our 10kg/22lbs carry-on backpacks anyway. We also walk in the same shoes (almost) every day (and wear merino socks). As a result, we didn't have any blisters whatsoever, and we don't think they would have magically appeared had we doubled our daily distance.
If your lifestyle is more nascent, and you drive everywhere, definitely get used to walking more (with weight on your back) before you embark on your Camino. You could, for example, carry your groceries home in your Camino backpack instead of taking the car.
Also, get some good merino socks and walk a lot in the shoes you're going to wear. We found our Salomon X ULTRA LTR GTX hiking shoes to be the best all-rounders for the terrain (and weather) on our Camino.
13 – Don't be an easy target… protect your stuff
We've heard of fellow pilgrims who got robbed while sleeping in their albergue. It doesn't happen often but it does happen, sadly. With some pilgrims leaving early, the thieves are long gone by the time you discover that your money or other valuables have disappeared.
Don't assume that everyone staying in your albergue is a fellow pilgrim. If there are no lockers (which is generally the case in municipal albergues), make it hard for others to access your money/valuables: lock your backpacks with a small padlock, attach them to your bedpost, take valuables with you when you go out.
14 – Don't leave Santiago too soon…
Stay an extra day or more. Let it sink in (you've made it, after all) and soak in the atmosphere. You deserve it. You completed your Camino, now what? Here are 5 tips that help you digest your experience and gently re-enter life after your Camino.
Or do what Martin Sheen did in The Way. Don't stop walking…
Oh, and before we forget: Another great Camino documentary to watch is this one with Paulo Coelho (who apparently decided to become a writer while walking the Camino Frances).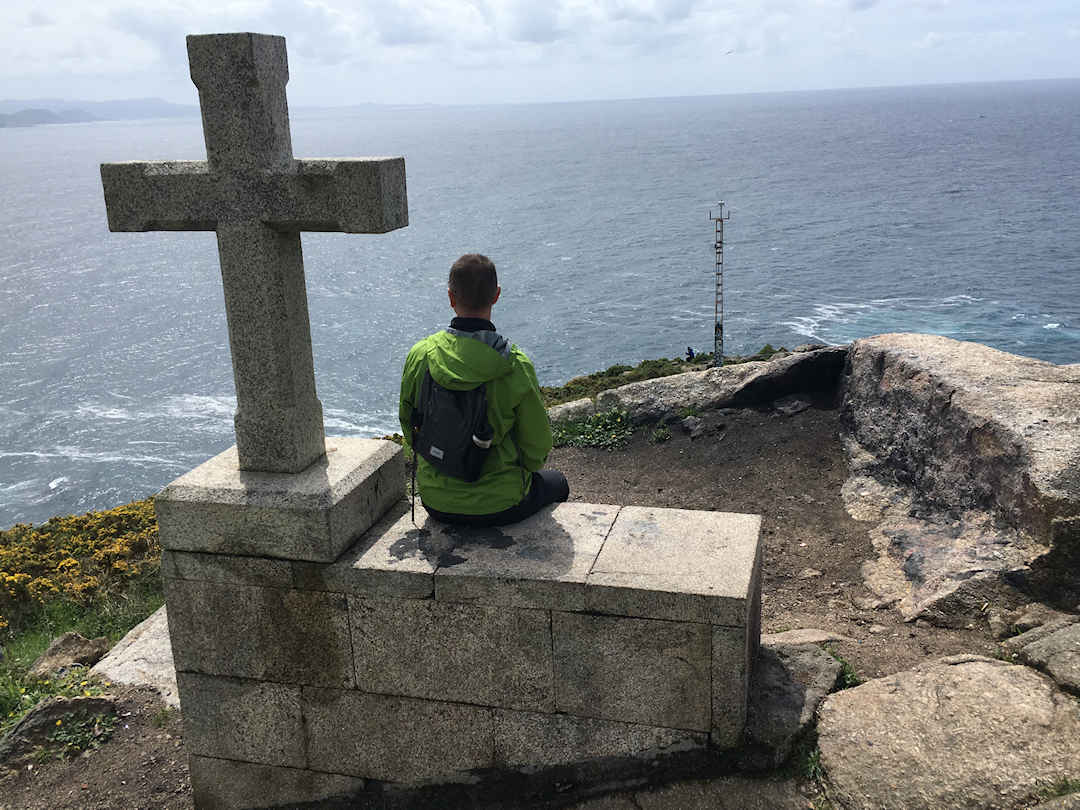 15 – Re-live your experience through these recommended books
Have you walked the Camino de Santiago? What other tips can you give to a first timer? If it's your first time, are there any specific questions we can help you with? Please leave a comment below.