More and more people walk the Camino de Santiago/Way of St James to the Apostle's tomb in the Cathedral of Santiago de Compostela in Spain every year. Movies like The Way, Looking For Infinity and I'll Push You have done their bit in increasing its popularity among the big pilgrimages around the world. And you certainly don't have to be religious to benefit from the experience.
No matter what route, most pilgrims seem to walk on average 25 to 30 kilometres (15 to 19 miles) a day. But what if you don't want to walk that much? Or if you've got an injury/are older and can't? That question bugged us before our first Camino, and we've got good news: You can walk the Camino at your own pace. In today's article, we share with you how we did the Camino Portuguese / Portuguese Way (in April 2019), averaging just over 10km (6 miles) of walking a day, and how you can do it too.
Sign up to receive our email newsletter full of actionable tips and practical advice every month
So how can you walk the Camino Portuguese (or any other Camino route) at a more leisurely pace?
Consider your needs and be prepared to make adjustments
Paul and I were on either side of 50, and we are generally fit and healthy. However, due to a running accident in August 2018, Paul had to have spinal surgery in mid-December 2018.
When we were about to embark on our first Camino, he was still recovering. So, we decided to make the following adjustments:
to choose a less strenuous Camino route
to walk shorter distances each day, and
for me to carry the majority of our stuff.
We reduced our carry-on travel packs down to a minimum and sent Paul's travel pack (with anything we didn't need) from our starting point straight to Santiago de Compostela. I walked with my usual travel pack, which ended up weighing 9 kilograms /20 pounds (about the same weight I carry normally). Paul walked with our usual daypack, carrying one of our laptops, a sleeping bag, and our snacks and water bottle (all weighing in at 3 kilograms /6.5 pounds).
Tip #1: Don't feel pressured by what others do. It's YOUR Camino. Listen to your body.
Choose a route and distance according to your liking and ability
We decided to combine the various routes that are considered part of the Camino Portuguese, walking from Caminha to Santiago de Compostela via the
Why did we choose this particular route? We were concerned that the distance from Porto would be too far for Paul so soon after surgery – we would have had to walk 15-20km/day. On the other hand, we did want to start in Portugal. And we wanted to have the experience of different routes.
Recommended movies to provide Inspiration for your next trip
Interested in learning about the countries to explore through entertainment? These inspirational travel movies will allow you to go on your own virtual tour around the world.
In the end, we walked a total of 183km over 18 days (averaging about 10km/day), with a rest day in Combarro (on the Variante Espiritual).
Interested in replicating our itinerary? Just read on or jump straight to it.
Tip #2: While challenging yourself (at least a little) is part of the whole Camino experience, choose a distance that is achievable and a route that matches your abilities.
Manage your accommodation expectations and prepare as needed
How easy is it to find accommodation and what can I expect? This must be one of the most frequently asked questions we've seen in Facebook Camino Groups/Camino Forums.
If you walk in Spring/Autumn it's easy, and you don't generally need to book ahead (except for some small and very popular Albergues like Casa Fernanda on the Camino Portuguese Central). The accommodations we stayed in were usually only 25 to 30 per cent full. Once, we even had a 16-bed Albergue all to ourselves. If you want to walk in Winter, be aware that some accommodations will be closed. In Summer, some accommodations may need to be pre-booked.
What accommodation can I find along the Camino Portuguese?
Municipal albergues
Municipal albergues, as the name indicates, are owned and run by the municipalities you travel through. They are often staffed by local volunteers. Facilities tend to be basic. But the price of EUR5-6 per person per night reflects this. Municipal albergues cannot be pre-booked. If you're planning to stay in municipal albergues, bring a sleeping bag and liner. Not all provide blankets and/or bed linen. Or if they do, they may not be sufficient to keep you warm.
Private albergues
Private albergues are licenced as an albergue and have to follow the same rules that apply to municipal albergues regarding eligibility to stay and lock-up times. The facilities tend to be (significantly) better than those in municipal albergues. But they also cost twice or three times as much (EUR10-20 per person per night). If you stay in private albergues, you won't need to bring a sleeping bag (just a sleeping bag liner). They all provide blankets and bed linen (some even towels).
Guest houses/Hotels
You will find guest houses and hotels all along the Camino. Many restaurants (that offer pilgrim's menus) also have a few guest rooms. Many rural lodges do not advertise their services on websites like Booking.com. You just need to knock on the door and ask. Most of them offer double or twin beds. Some also have family rooms. Rates for a basic, clean double/twin room with its bathroom start at EUR30 per room per night (in low season). Breakfast is usually not included.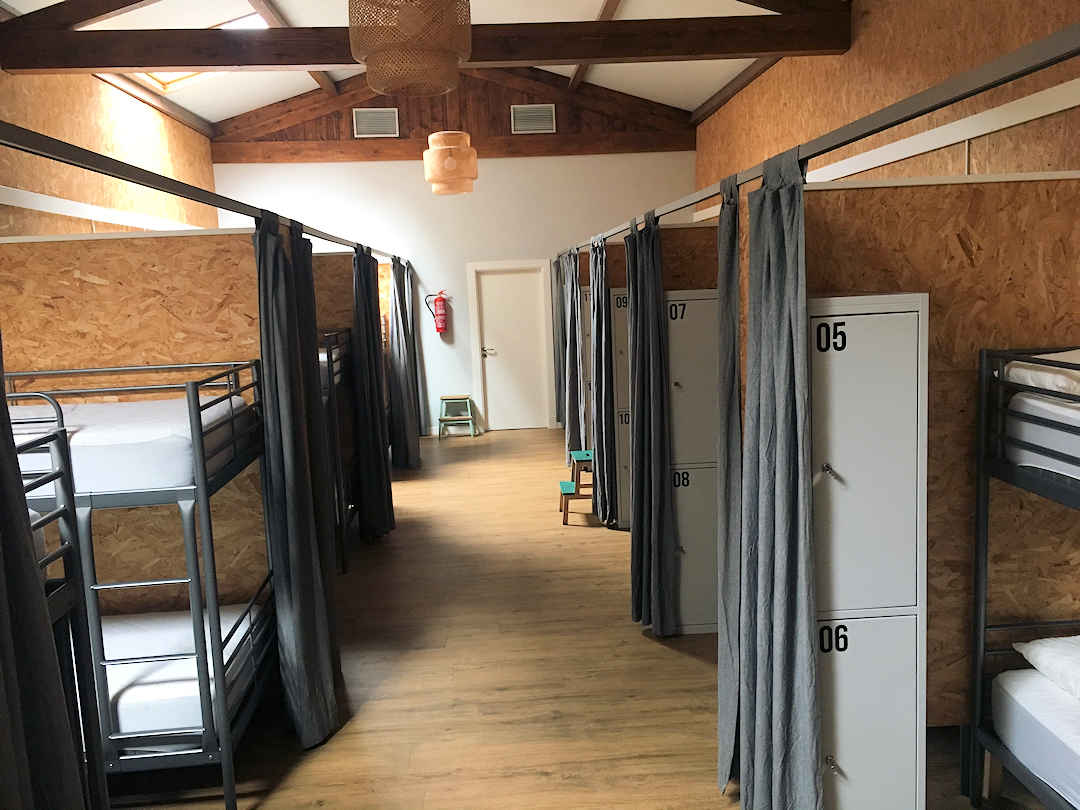 Walk the Camino Portuguese averaging 10km/6miles a day (Sample Itinerary)
If you have three weeks available, and can't or don't want to walk more than 10 km/6 miles on average per day, you may want to replicate our itinerary. This gives you 18 days of walking (along the Coastal, Central and Spiritual routes) and 3 spare days, which you may want to use as (a) rest day/s on the road (there are plenty of places that warrant further exploration) or once you've reached Santiago.
Tip #4: Make sure you leave some time to explore Baiona [Tourist Office], Redondela [Tourist Office], Pontevedra [Tourist Office], Combarro [Tourist Office], Padron [Tourist Office] and of course, Santiago.
We ended up sleeping in a variety of accommodations, ranging from dorm beds in municipal and private Albergues to bedrooms with our own bathroom in guest houses and hotels (including a monastery and a 4-star hotel). Sometimes a room with a bathroom cost the same as two dorm beds. In some areas, guest houses/hotels were the only options.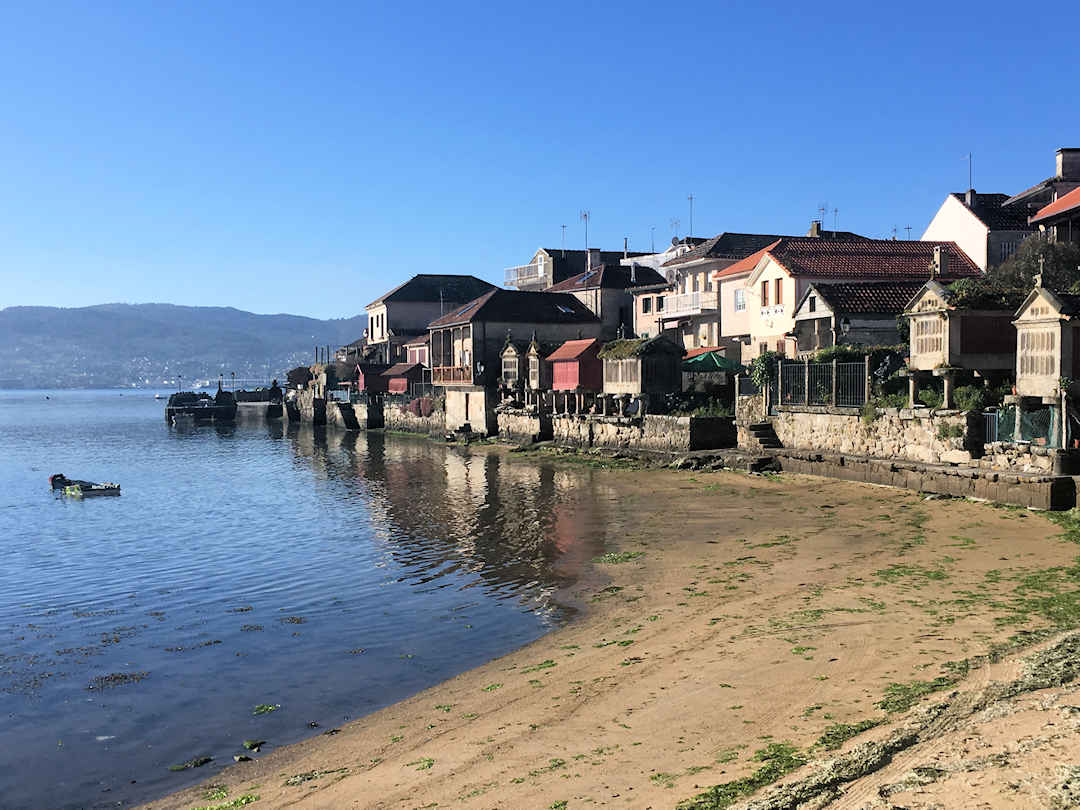 Have you walked these routes on the Camino Portuguese?
Have you walked the Camino Portuguese? Where did you stay and would be happy to recommend it? Please send us an email.